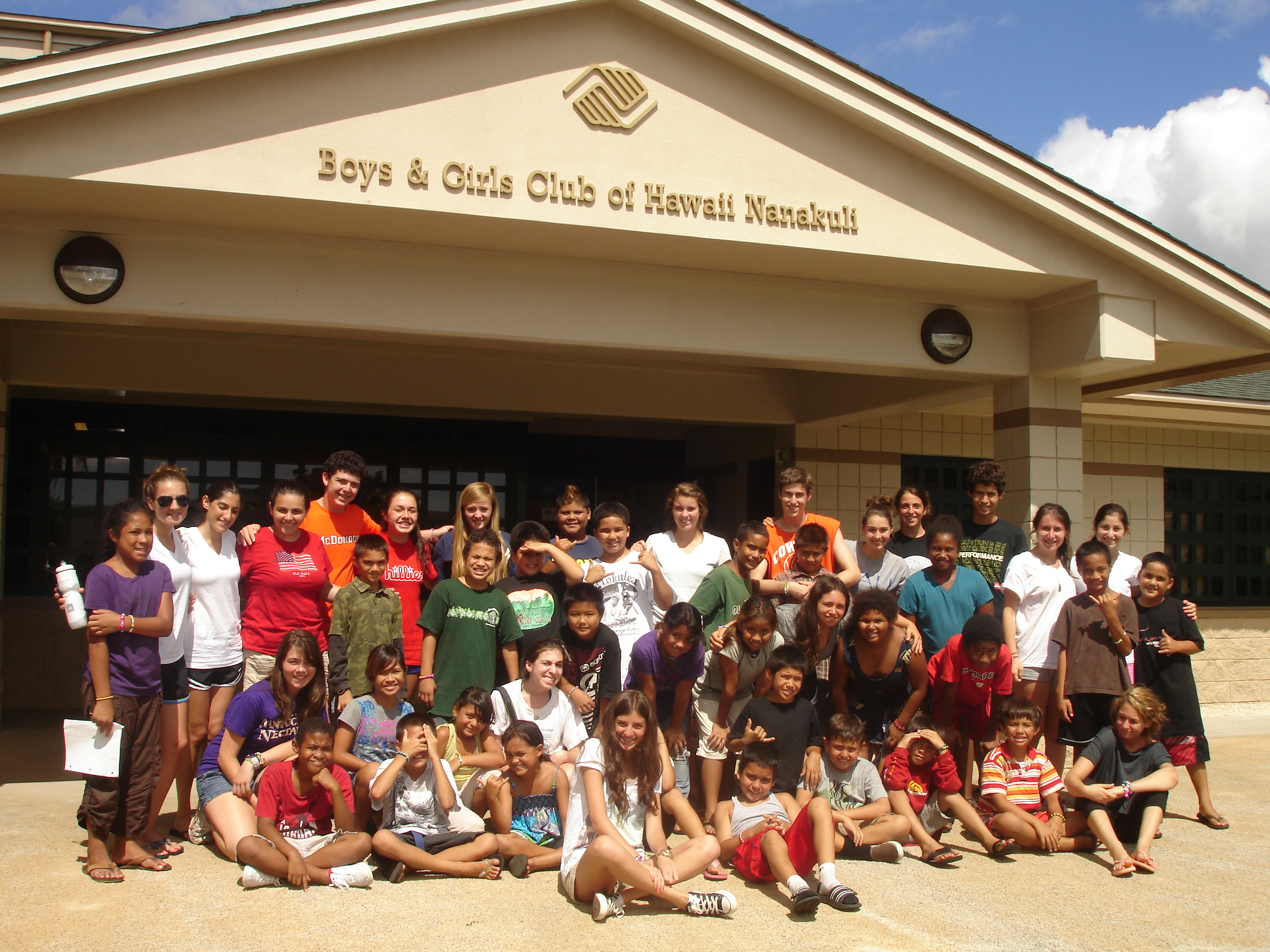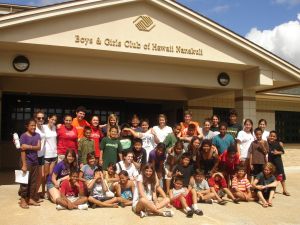 Dear parents and friends of Westcoast Connection Hawaii Community Service Trip,
The past few days have been full of new experiences and adventures. Our dinner at Lulu's was a great preview for the fun and adventurousness we would experience the following day during our Surfing excursion on the North Shore of Oahu. During our evening meal at Lulu's, we enjoyed a local Hawaiian band. A handful of our trip members spontaneously joined the hula dancing in the restaurant, giving us all a good laugh and great end to our night!
Our journey to our surfing destination was a scenic route along the island coast, as we saw pineapple farms and beautiful mountain ranges. All were extremely excited to be able to try this classic Hawaiian sport! Our trip members willingly took the
plunge – Alex, Tori, and Sarah hit some sweet waves within minutes of taking the board. It was great to see Lauren and Justine surprise themselves by overcoming their initial nerves and enjoy the epic ride! Jillian luckily came across a sea turtle – a memorable addition to an already gorgeous view. After our day of gnarly surf, we headed to the local hot spot for "shaved ice", a
welcome treat after a full day of activity!
A historical and reflective morning followed as we took in Pearl Harbor. We were educated by and engaged in a feature video before heading over to the USS Arizona Memorial. Justine and Sara snapped photos constantly as the sites of the wreckage, as well as the wall of names, just had to be captured. Our trip members strolled the museums and the grounds, and concluded with a very
insightful discussion about our impressions. Haylee and Rhea shared the sense of appreciation that they have for the sacrifices that so many endured in order that we enjoy a peaceful world today.
The next two days were action-packed as we took part in service at the Boys and Girls Club of Nanakuli. Our trip members were so excited to see the friends that they had made on Friday again, and as soon as we arrived, it was obvious that the feeling was mutual! While our trip members assisted with the Club's regular programming in the morning, they took the lead in the afternoon. Rhea, Zoe, Alexa, Haylee, Jordie, and Kaylie challenged the club members to an obstacle course, constantly changing it to keep the kids moving. On the basketball court, Marc, Alex, Noah and Sara shared some of their own athleticism while running the "Knock Out" station. It was great to see the creativity and enthusiasm that Lauren, Paige, Tori, and Elyse showed while running a cooperative games station. The kids were able to show off their creativity at Molly, Sarah, Jillian, and Justine's arts and crafts station. After this day, our trip members had shared even more laughs with their buddies and wished that our last day was not
so soon!
We finished our time with the Boys and Girls Club with a fantastic day. The club members got to play their favorite game of "Sham Battle" with us once again. The leadership shown by our trip members was again stellar during the afternoon – Tori, Alex, Sarah, Lauren, Justine, and Sara had the kids show off their amazing dance moves with a game of Freeze Dance. Rhea, Noah, Marc, Paige, Alexa and Elyse set up musical chairs – there may not ever have been as competitive and fun a version of this simple game before! The highlight for many of the club members remained the arts and crafts station, where Molly, Haylee, Jillian, Jordie, Kaylie and Zoe treated the kids to one-on-one time and a lesson on splatter painting. Our trip members and the club members all have a wonderful memento for their time together, as they spent their last hour together making colorful and creative friendship bracelets. Many were thrilled to walk away with "BFF" bracelets, as difficult as it was to say goodbye to these new friends!
We are really looking forward to the opportunity to take on a new and unique community service project this week at Habitat for Humanity. Until then, a hui hou from Honolulu!
The Westcoast Blogger