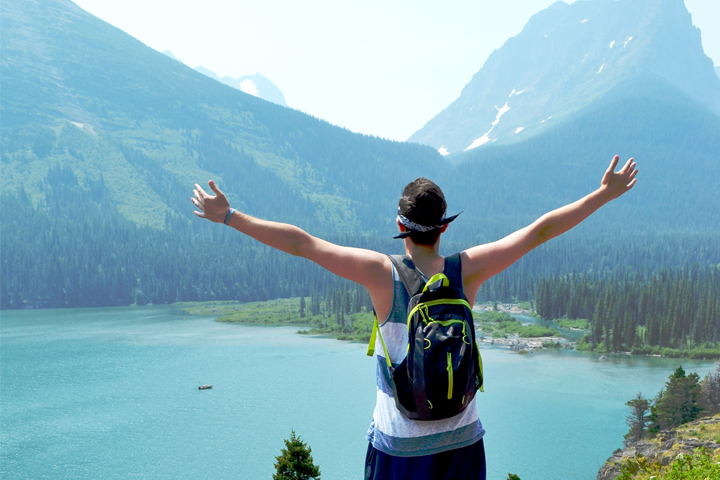 Today November 17th is Take a Hike Day.
Hiking allows us to take a break from screen life, recharge in nature and appreciate breathtaking views. In honor of this great day, we want to give you a sneak-peak (yup, it's the one day of the year that it makes sense) at some of our fave places to unplug and literally, take a hike!
1. Lake Louise to Lake Agnes teahouse,  Alberta, Canada
This is a classic we have been doing ever since our very first American Voyageur trip! From Banff we head over to Lake Louise in the Canadian Rockies and the trail head starts behind the famous Chateau Lake Louise hotel. With the magnificent Lake and perfect V shaped glacier in the background, we head up to Lake Agnes for more great views and the chance to enjoy some delicious treats at the Lake Agnes teahouse. If your parents did a teen tour, there's a good chance they took photos here and can still rave about this incredible spot.
Hike it on the American Voyageur, Northwestern Odyssey, Western Canadian Adventure and The Adventurer

2. Bryce Canyon Sunrise Point going down Queen's Garden Trail, Utah, USA
We've been hiking this classic trail since 1983 and still can't get enough! Visitors from around the world marvel at this giant natural amphitheater created by the erosion forces of wind and water, spiked with hoodoos, regular rocky pillars of pink, purple, and brown. While the Grand Canyon is far better known (and yes we hike there too), our trip members just can't get enough of the natural beauty of Bryce Canyon.
Hike it on the American Voyageur,  The Adventurer, US Explorer, California Extravaganza, Ultimate California and California & the Canyons

3. Cinque Terre, Italy
Part of the Italian Riviera, this rugged coastline aptly named the "Five Lands", comprises the towns of Monterosso al Mare, Vernazza, Corniglia, Manarola, and Riomaggiore. These classic Italian towns are built into the cliffs and rise from the sea looking much like they did when they were first settled in the 17th century. The coastline, villages and surrounding hillsides are part of the Cinque Terre National Park and a UNESCO World Heritage Site. This is a pedestrian paradise. Footpaths connect the villages and on Backpack, France, Switzerland & Italy, you will have the opportunity to stroll from village to village, past vineyards, olive groves and stopping for amazing coastal views.

4. Tongariro Alpine Crossing, New Zealand
This last hike is more of a "trek" that gets you up close and personal with three incredible volcanoes, including Mt. Doom from the Lord of the Rings trilogy. On Backpack New Zealand & Australia join professional alpine guides for what has been rated one of the greatest day treks in the world. No previous experience is needed and your guides provide the equipment and expertise to navigate this stunning journey. Mount Tongariro was the first national park formed in New Zealand, and the fourth in the world.

Feeling inspired yet? Discover these awesome destinations and many more on our website! But for now, get outside and take a hike!
Do you want to start planning your next trip? Get ready for our France and Switzerland tour, including the Eiffel Tower, Swiss Alps & more.