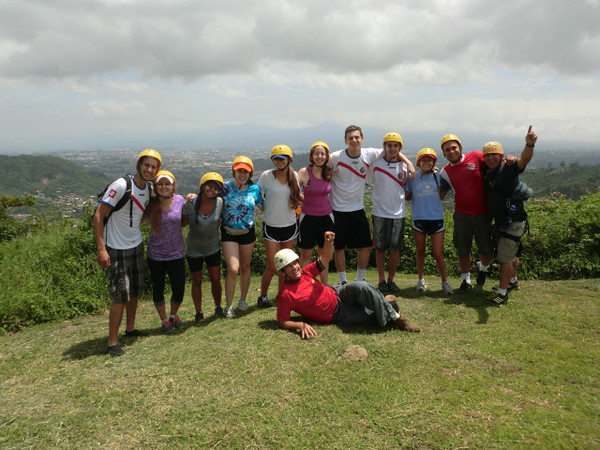 Greetings from Costa Rica!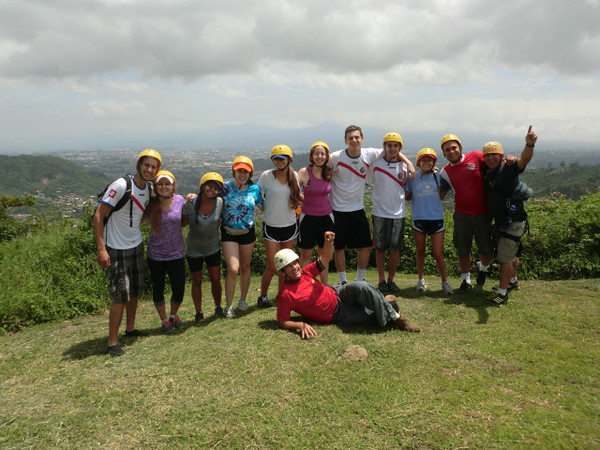 Sixteen lovely and excited trip members arrived Saturday to the lovely San Jose airport. After greeting each other and playing a few get-to-know-you games, we were headed to our beautiful hotel, La Condesa, where we were provided with pizza and refreshments. After a long day, a brief overview of the community service project, some free time at the pool, and a nice local dinner out, the trip members enjoyed a well-deserved sleep.
The next day was full of adventure and fun! We were split into 2 teams, the Bananas and the Loco Cocos. Val and Katie, 2 members of team Banana, loved playing in the whale playground while Jon from team Loco Coco overcame a fear of heights and rappelled down the mountain!  After soaring to new heights on the Tarzan Swing, Jordan and Barrett among others sat down to watch Costa Rica beat Greece, advancing for the first time to the Final 8 in the World Cup. As we drove back to our hotel, Costa Ricans filled the streets to rejoice. It was a great sight to see! We were lucky to come across a place to buy Costa Rican apparel. Lara and friends decided to celebrate our new Costa Rican pride with soccer jerseys.
The next day we woke up excited to do some fun community service projects. While Katie led the sweeping team at a local school, Rachel and Cassidy cleaned off some toys. All of the trip members engaged in games with the little kids. Some played basketball while others enjoyed swinging on the newly constructed swing set! Later, Val helped construct part of a beautiful new and colorful playground. We were served delicious typical Costa Rican food and ended the service part of the day with a fun strategical game.
Back at the hotel Corey led a group to the pool before getting ready for some team-building activities. That night we were also able to socialize with another Westcoast group before heading to bed which was definitely a treat!
Today we had our second day of community service. It was extremely heart-warming to see the faces of the children light up as our trip members waved "Hola"; they remembered us from the previous day! Today was a busy day with many jobs completed. After playing with adorable children, Sydney helped lead a team clear out a space for a new sandbox while Emily helped paint the playground. Later, we all came together to start painting a mural that future Westcoast groups will complete. With a watermelon snack followed by a tasty lunch, we were happily full before heading off to our bus. Listening to the US game, we were upset to hear about our loss in overtime, but we are still proud to be rooting for team Costa Rica!! We finished the day by going to see the movie "Blended", starring Drew Barrymore and Adam Sandler. Although tomorrow is our last day of service this week and we will be sad to say goodbye to the Central Valley, we are excited to travel to Arenal where hot springs and mud baths are in our future!
Hasta luego,
The Westcoast Blogger