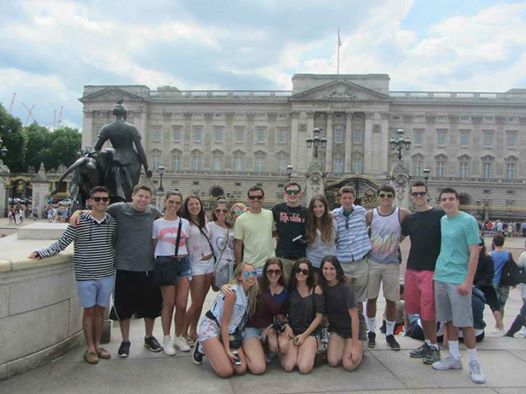 Here we are in the beautiful city of Paris! Our first five days on our On Tour European Experience have been packed with team-building activities and enriching tours of London and Paris. As each group of trip members filtered into our meeting spot in Terminal 5 of the London Heathrow Airport, one could instantly sense that this trip was off to a great start. Each TM (trip member) was relieved to finally reach their destination and begin to meeting new friends. We are so excited about how unique, kind, friendly, thoughtful and mature every one of the trip members are here on our trip. People have already begun to make close friendships, such as Jen and Caroline, who have discovered that they will be attending the same university in the fall. We continue to see acts of caring; long-time friends such as Lindsay and Tori watch out for each other as do Sami and Morgan and siblings Emma and Jane. Though some TMs arrived here with close friends or family, we are so happy to see inclusivity – new friendships continue to blossom every day.
London was full of excitement and culture as we witnessed everything from broadway shows to crazy street performances to watching the world cup with locals. Some of the boys took their "football" skills to a new level, literally, as they played an intense football match 150 meters below sea level traveling at speeds up to 140 km/hr as we traveled to Paris in the Chunnel.
As we are busy sight-seeing and exploring during the day, we make time during our free-time and bus rides to play interactive, fun games. One of our custom-fit trip games involved putting on headphones and sing along to one of your favorite songs. The observers can hear the subject's voice without any background music, and the subject can hear the track but not their own voice. This made for a really enjoyable game and everyone was very involved with smiling faces. In doing this, we discovered that Jane has a very lovely singing voice. Brandon, David, Jake N and Bruce brought out their awesome rapping skills, Amanda rocked out to American Pie and Jarett belted every word of Piano Man. We are so taken with the bravery of these amazing teens. Izzy brought a hush to the bus when she started singing an a capella mash-up of pop songs and we've started hearing Sammi M, Melissa and Lindsay S singing their favorite songs as well with mucho gusto! Emma is starting to share her vocal talent as well and everyone continues to show much interest and amazing listening skills. This team is filled with loads of talent and respectful, attentive listeners.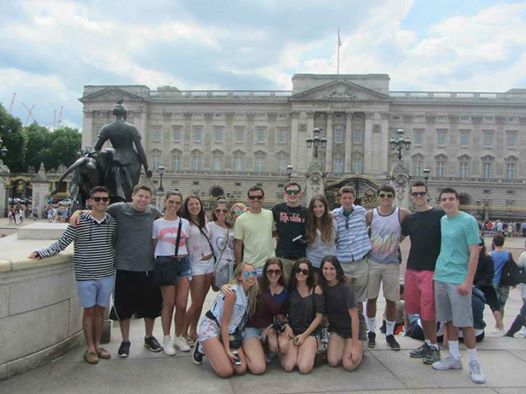 Everyone has been immersing themselves in the culture here, namely with the cuisine. Sami S, Jake, Elle, Jillian, Hallie, Jess, Shayna, Talya, Becca and Emma all tried escargot. Sammi M was brave and ate frog legs. While walking along the beautiful side-streets in Paris and checking out the numerous shops, Elena, Mailah and Amanda indulged in some tasty crepes. Joely, Remi, Jen, Caroline and Dylan visited the renowned La Laudree, a famous macaroon shop in Paris. At another La Laudree location in London, Jake G and Austin decided to dine there for the true British tradition of tea. Jarett joined and enjoyed a macaroon. Hallie, Izzy, Talya, Erika, Elle, Jillian, Jordan, Shayna and Jess also visited the London location and reported back with a very positive review. During our Karaoke night in Paris, many of the TMs ordered a crepe for dessert to add to their authentic French experience.
Speaking of Karaoke, everyone had a blast at Rive Droite as they ate, chatted and performed some of their favorite songs! Becca, Brandon, Emma, Jane, Sammi M and Melissa energized the crowd with their pipes and Jarett serenaded Griffin as he sat on stage listening and smirking.
After considering playing a soccer match in the hall of mirrors, getting swept away into the Garden of Versailles and an art history lesson from Dylan we headed into final picturesque night in Paris as we all enjoyed a breath-taking boat tour on the Bateaux-Mouches. There were joyful cheers each time we passed under each bridge. At one point we threw our hands in the air and did a giant wave atop the boat. The boat cruise was the perfect, relaxing end to a fast paced, culture filled few days in Paris.
The first week of our European Experience has just flown by. We are keeping busy, staying happy, getting some exercise (there are no shortage of stairs here!), comparing accents and home-town culture, sharing our stories and future plans, learning, making new friends and having a formidable summer! We are so pleased to be able to keep you updated throughout our journey, and hope you enjoy our pictures.
The Westcoast Blogger