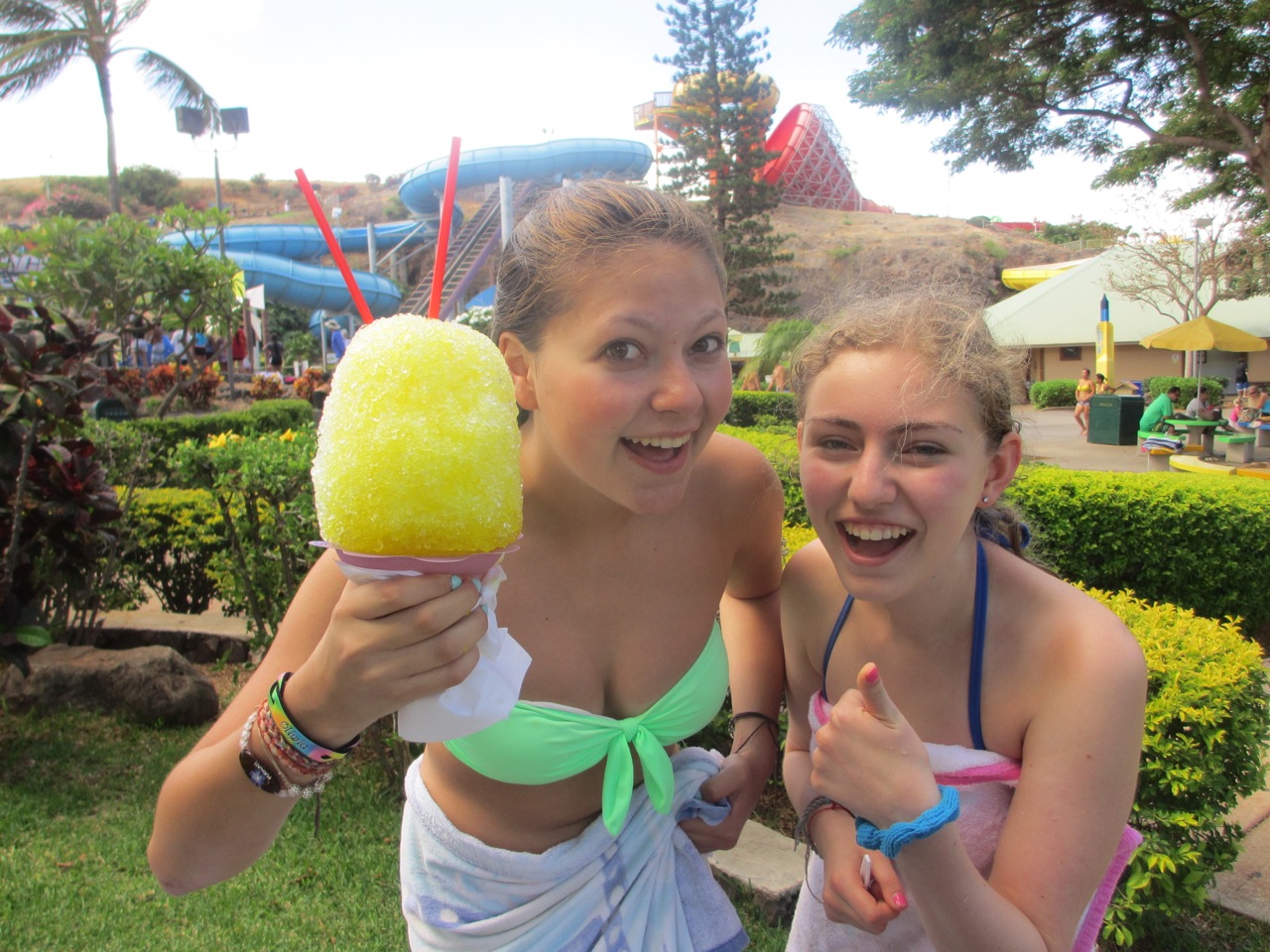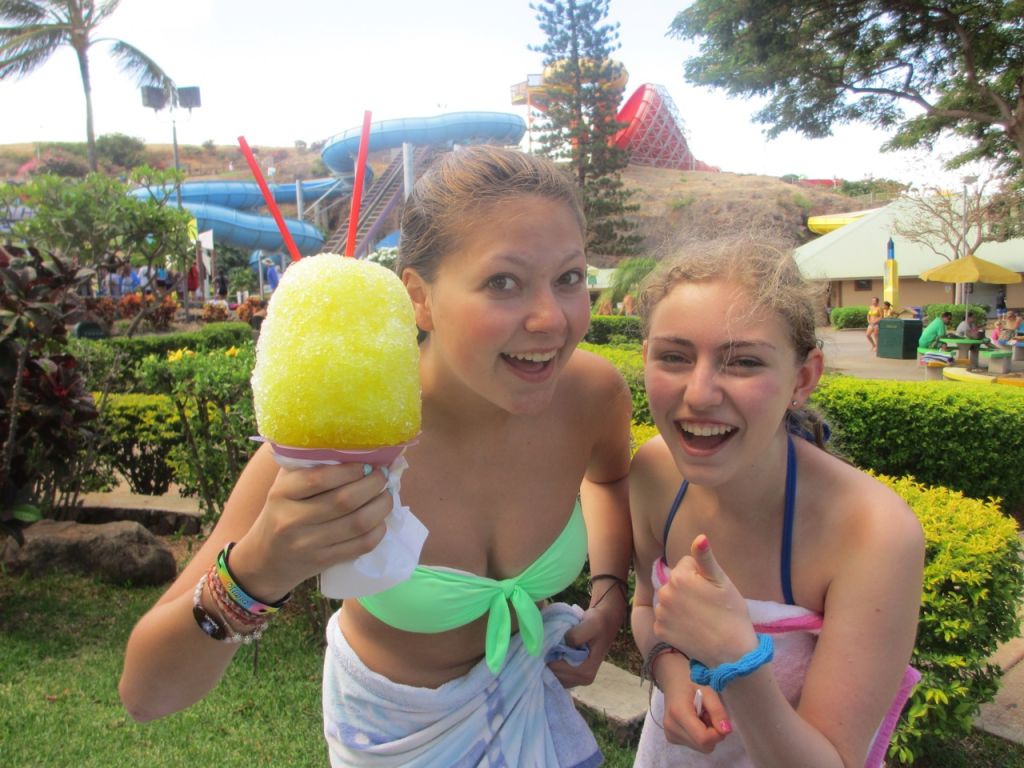 Another update from California Community Service:
Surprise! It is already day 11! Today company director Rich was with us and was a "Swami Day of Surprises" – we were all excited to see what was going to happen this day! We met in the morning and the first surprise was getting to meet Rich's brother (who looks and sounds just like Rich), JP! Sam was really excited because JP was his trip director last year with Westcoast Connection/360 Student Travel! Our second surprise was that the day would be spent at Universal Studios!! We had already been to the City Walk but this was our first time getting to explore the park. We all split up but the rides that seemed to be the most talked about were Transformers simulator, the Jurassic Park log ride and the Mummy Walk. Mallory and Hannah were a bit worried about the Jurassic Park log ride. Beth had been on it before and she kept trying to scare them into thinking that the scary part was coming up when really it wasn't until the very end. When we did get to the giant drop Hannah swore she would never do it again; Mallory wanted to get back on right away! Lots of people ended up doing that ride several times just to cool off it was such a hot day! Our dinner was a delicious meal at the Hard Rock Café. The ladies had a wonderful time discussing with the waiter whether or not they looked like their given names, and what 'name' they looked like. We had some very original names. From there the ladies started discussing what their 'old lady' name would be. We had an Evelyn, Shirley, Pearl and a few others. We had quite the laugh.
This evening we had a very touching and unique experience. Last night we made sandwiches for today's lunch, however since we were at Universal Studios and bought our lunches we had left over sandwiches that we did not want to waste. We decided that we would do a random act of kindness by handing them out to the homeless people who need them. Once we reached our destination, there was someone who was telling us to leave and we weren't sure why. When Rich got out and started talking to this individual, however, it turns out he was skeptical of us and thought we were the media portraying their homes as a 'zoo.' We learned that communication is key to understanding each other and these people are human too. When we started handing out our sandwiches many people came over and were very grateful for our service.
In addition to these homeless people being grateful for our service, we finished up with the Boys and Girls club on Friday and there was mutual gratefulness on that day. We were so grateful that they let us into their club and how happy and welcomed they made us. They were very grateful for our helpfulness, being friends and teaching them new games. We presented a card to the club with pictures of us working with them and all of the kids ran up to us and started hugging group members that they had developed special bonds with. A group of girls celebrated an early birthday for Sydni and made her cards and brought her snacks. Justin had a love note from one of the girls also. It felt really good to know that we really became a part of these kids lives and helped to make their days special.
Friday night was a very upbeat evening filled with a lot of laughter. We went to an Improv show with another Westcoast/360 group and were the stars of the show. One comedian even came up and ate Andrew's ice cream which got quite the laugh. The fun didn't end the next day, as we headed to the beach! This time we went to Manhattan Beach which had plenty of shops and also amazing water! Sam and Philipp were the first to dive in the waves and catch some awesome body surfs. Later on many people joined in including Morgan, Sarah, Beth, Hannah, Rob, Mark and Andrew. On the beach Sydni crossed off yet another bucket list item as she built a sandcastle and even asked a random walking along the beach to help her bury her feet. We saw many more dolphins at this beach as well. Dana was by far the most excited, seeing as these are some of her favorite animals and she got to see them so close and in their natural habitat.
Sunday was a very educational day as we headed to the Museum of Tolerance. After touring the museum and learning a lot about the Holocaust and Tolerance we had the honor of hearing Holocaust Survivor Cathy Weiss speak. She told us of how she was separated from her family, how she escaped death multiple times and the horrors that she witnessed and lived through. To finish off our day we spoke with the manager of the museum, Matthew. Matthew had a very impactful story about himself. When he was 13 his mother kicked him out of his house because he was gay. He lived on the streets for four years and was severely beaten during this time. Eventually he worked up the confidence to ask somebody for help and he received it and worked his way all the way up to managing the museum. He spoke about tolerance and the need for people to accept others differences and not judge or hurt others based on their appearances, actions, races, religions etc. All of the group members found this talk the most influential and motivational.
The Westcoast Blogger