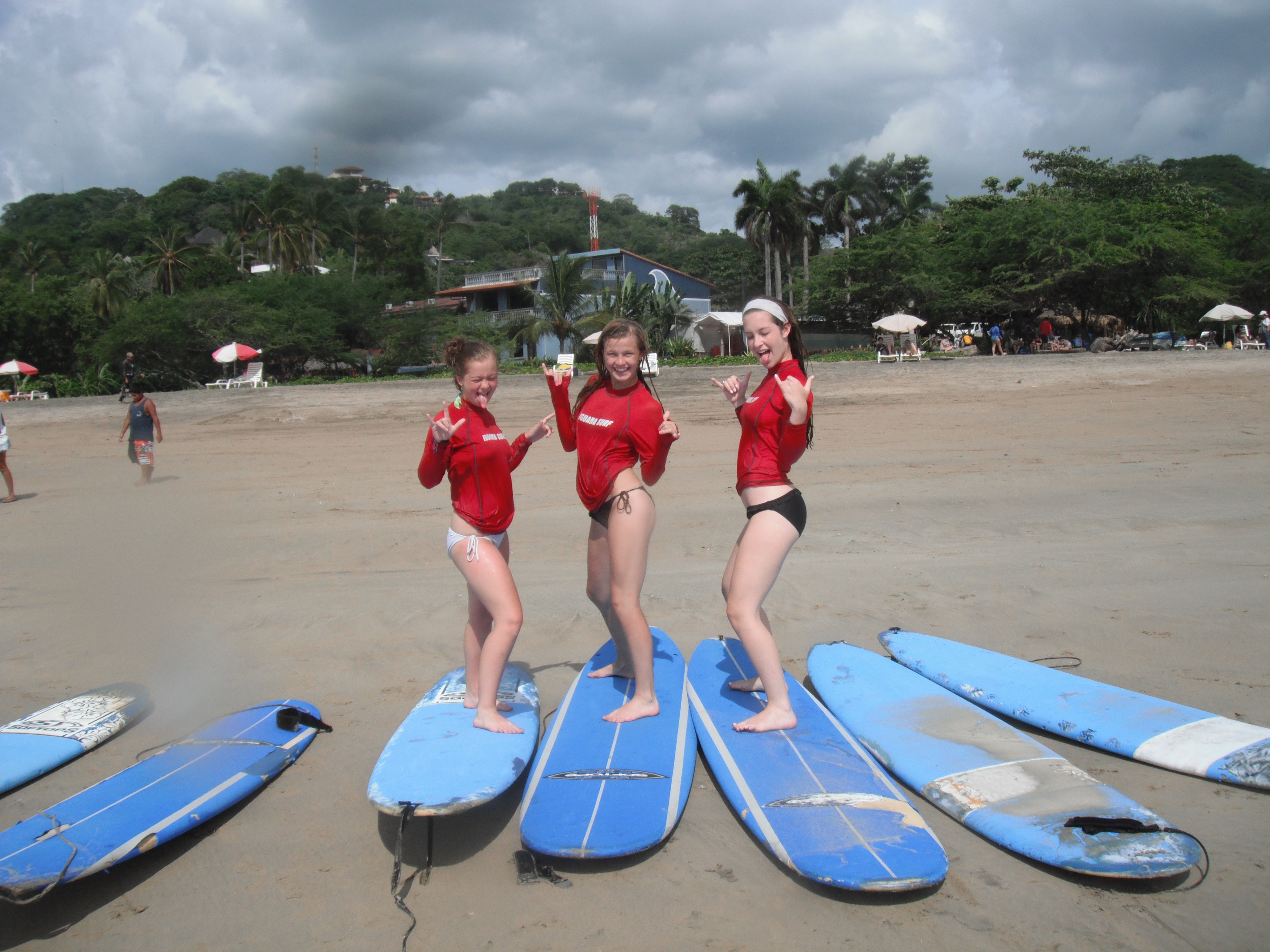 Hola!
 
Our last two days have been spent on the beaches of Tamarindo.  The morning of the first day we relaxed on the beach, drank pipa (coconut juice), and checked out the local shops.  It was then time for some surfing!  Kenzi, Grant, and Ryan really impressed all of us with their natural talent.  The boys paddled out and rode the big waves themselves.  Rachel C. was also especially great at getting up and cannot wait to try it again in California.  Mickey Dee had not been surfing in a while and was so happy to finally get back into the water.  She is a great surfer girl!  All of the team members were able to stand up on their boards! 
 
After our great surfing session we all treated ourselves to smoothies and then headed back to the hotel for a beachfront dinner. Rachel C-Good passed on the TMOD title to Grant for his superb surfing day and for being an all around amazing guy.
 
We kicked off the next day with a morning of service work at a local daycare.  We helped paint desks, stain ceilings, and restore shelves.  Like always, the Dream Team worked hard and did an amazing job.  Our hard working Nina wasted no time and got right into sanding and staining everything!  But nobody could sand in quite the way that Lindsey did; she worked so hard on sanding the leg of one of the desks, which she was extraordinarily proud about.  Great job Linds!  All of the Rachels, Olivia and Ali were on top of painting the shelves bright colors.  All of the new furniture looked wonderful and we know the ninos will appreciate their new classroom.  After the work, we were able to squeeze in a bit of time on the beach.  Claudia and Olivia caught a little crab which they adopted and named. That night we had a bonfire at the beach.  It was so fun to roast marshmallows, and share stories with one another.  Grant passed TMOD to Rachel S. for being a hard worker and for always having a smile on her face; a smile from her can put anyone in a good mood.
 
The next morning was our last at the beach.  Everyone went for a swim and said adios to the Pacific, for it was time to head up to the cloud forest of Monte Verde.  Grant and Ryan were the DJs during our drive which made the time fly by.  Once we got to Monte Verde we headed to the indoor soccer stadium for a soccer game.  Amelia had never mentioned that she was a soccer player and she amazed us all with her skills.  We knew Micky Dee was a pro and was scoring goals from every angle.  Rachel S. and Lindsay were also leaders of their teams with some impressive defending and offensive skills.  The Dream Team is definitely made up of some athletes.  That night Rachel S. passed TMOD to Rachel C. for being a great friend to everyone on the trip and for having the most contagious laugh we have ever heard!
 
 Adios!
The Westcoast Blogger