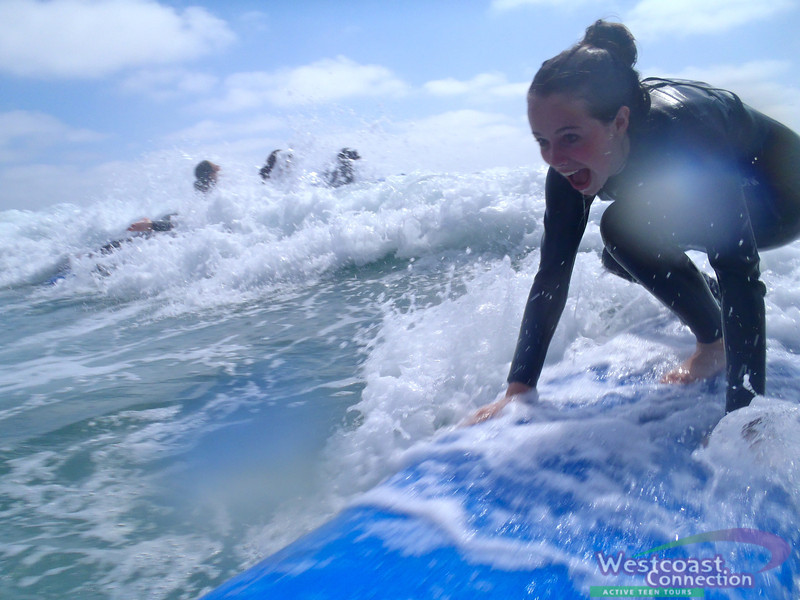 Dear Friends and Family of Californian Extravaganza,
We've had an exciting past few days.  Yesterday we arrived in beautiful San Diego, after finishing up our final days in LA.
As a group, we gave back to the community, by helping out the Los Angeles food bank.  In teams, we worked together to sort various fruits and vegetables, all the items a family using this important service could use.  During our time there everyone was motivated to help out and do as much as they could to contribute.  From Jacob's "5 minutes of insanity" high-speed carrot packing to Rebecca's team leadership, we saw the best in everyone as an honest day's work was done to help those who could use a little bit of assistance. Everyone gave their best effort and we earned nothing but positive reviews from our volunteer coordinator.
After our morning of volunteering, we made our way to one of the highlight stops on the trip: Disneyland.   We enjoyed the Disney parade, the rides, and the spectacular fireworks at the end of the evening. Our quartet of Disney Princesses crown wearers, Lauren, Amanda, Emily and Stephanie, enjoyed the opportunity to take on a few rides during the day at their own pace. While some of our greatest thrill riders, Shelby, Sophie, Danielle C and Evan stood in fast moving lines to enjoy as many rides as possible. By the time the last firework popped, we were a little tired, but still basking in the glow of a great day.
Our final day in LA was spent enjoying some local city sites as well as really getting to experience the best that the UCLA campus had to offer. Our first surprise came with our arrival at the LA Farmer's Market. We enjoyed a well-earned restful morning and then got to immerse ourselves in some of the best food options we've had on the entire trip. After lunch we returned to campus to visit the UCLA bookstore where we stocked up on shirts, hats, souvenirs and, of course, that all-important UCLA sweater. Our last afternoon gave us the choice of something fun and active: time at the pool, taking in a quick workout or spending time shooting hoops. Many of the boys chose to participate in a four-team 3-on-3 tournament. The non-stop action highlighted the skills of Jon, Jake C and Josh G, but Quin, Randy and Brandon gave those boys a run for their money to earn the title of top team. Andrea, Julia W and Cori enjoyed a more relaxing time at the pool, while Sara, Danielle E and Eliza hit the treadmills to push themselves for an afternoon.
An evening in Hollywood didn't lead to any celebrity sightings, but it did lead to a few great shots of that famous sign they have over there. Our night wasn't complete with just that visit; we made our way to a new trip highlight location: Sky High Trampoline Park. Avery, David G and Jeremy really showed off their skills, but it might have been Dan that was the overall Trampoline-Dodge Ball Champion with his on target throws and quick dodges.
Following LA, we made our way just a bit further south for a stop in San Diego. Our last few days in California would prove to be as much fun and as exciting as the rest, and as this part of our journey comes to a close; we leave this wonderful place with a lot of fond memories. We started our San Diego adventure with a stop at the beach to learn how to surf. Our instructors were blown away by how quickly we took to the sport and they were very impressed by the fact that nearly all of us got up on the board before our lesson was complete. Adam, Emily, Daryn and Josh C were just a few of the riders who took a wave all the way in to the beach!
Any visit to San Diego would be incomplete without our next stop; a trip to the San Diego Zoo! The guided bus tour of the site gave us a great overview of all that was on display, and with a little more time to explore we had the chance to see some of our favorite animals up close and personal. We closed out our stay in San Diego with an evening of Laser Tag.
California has lived up to its reputation of being a place of adventure, excitement, relaxation and fun. Our friendships have grown and as we head out this morning on the start of our last week together to build many more great memories in Las Vegas!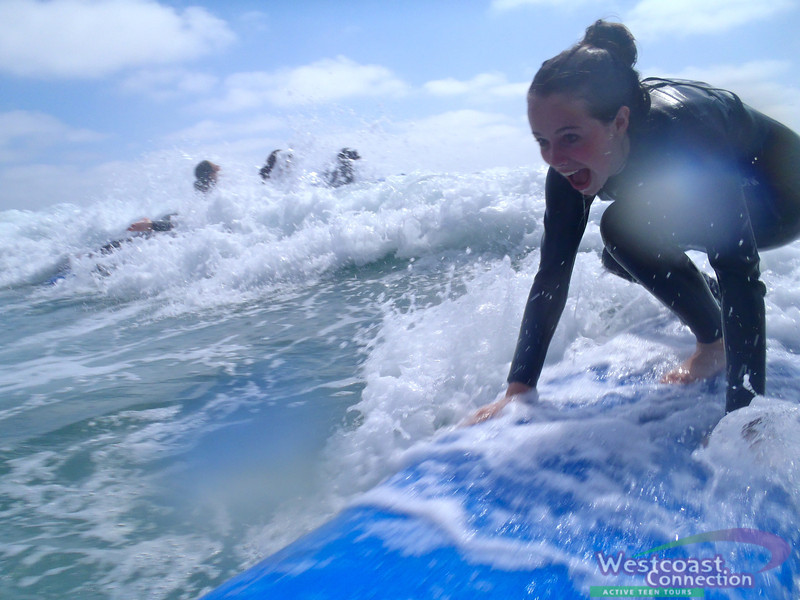 Until next time…
Gavin, Skylar, Jesse, Allison, Jamie