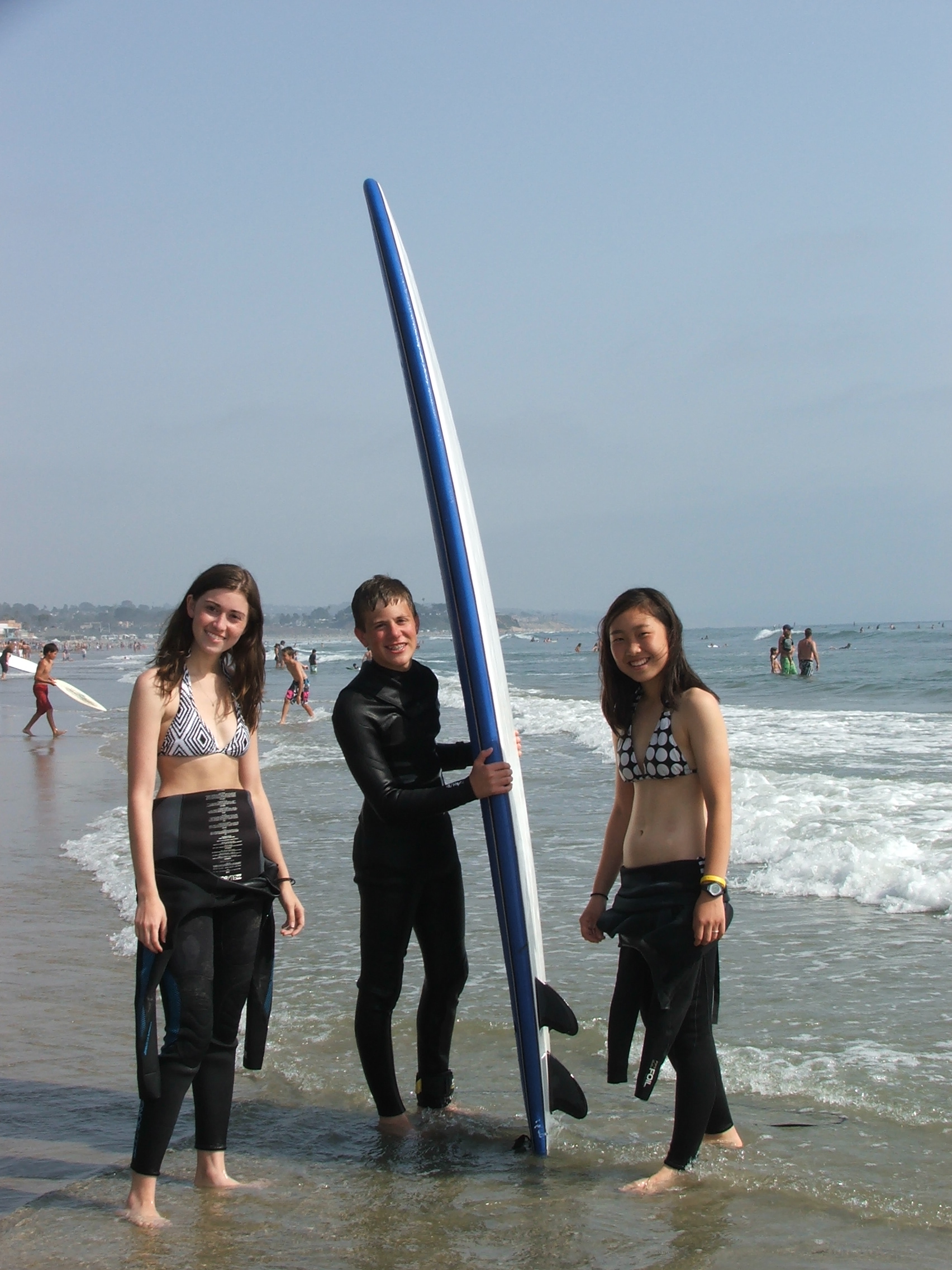 Hi California Service families!
After finishing our work with Habitat for Humanity, we've had time to kick
back and take a surf lesson. Everyone was first taught the basics on land
and then was taken to the water where multiple instructors supervised and
helped all of us catch some waves. Jon was nicknamed "hot shot" by some
coaches because he was able to get up on the board so quickly.
Before we knew it, July 4th arrived. We spent the morning on a scavenger
hunt at UCSD. The campus is known for their sculptures so we split up into
three teams, provided each group with a map, and had them search for the
sculptures and take pictures for proof. To add an extra challenge, we
added poses that the teams had to do by each sculpture. The Little
Rascals, which consisted of Eric, Jeremy, Katie, Emma, Francesca, and
Joanna, won for finding the most sculptures on the map.
Later that evening we all gathered at the San Diego Bay for an incredible
fireworks display. This beautiful area overlooks the bay and the downtown
skyline. The Navy Battleship #70 was also docked there for all to see.
Tons of tourists and locals watched the spectacle of three simultaneous
firework shows. This was by far Nina's favorite part of the day!
The next day was spent at the San Diego Zoo. We all began with a double
decker bus tour of the whole park. Then, we split into different groups
where everyone got to see their favorite animals. The giant pandas and
elephants were the most popular. Jackee and Lisa were two of the many trip
members that had their faces painted. From tigers and dolphins to unicorns
and zombies our crew had a colorful assortment of art on their faces.
This day was also our trip director, Melissa's, birthday. After singing to
her multiple times throughout the day we gave her the ultimate surprise
after dinner. Trip members called Melissa to Julian and Eric's room, and
when she opened the door, she was greeted with two cookie cakes held by
Sydney and Emma with the rest of the group singing to her. What a
surprise!
Eventually, we said "so-long" to San Diego and headed north to Los
Angeles. We settled into the amazing UCLA dorms and then headed straight
to Dodger Stadium for the Dodgers vs Mets game. Molly was so excited to
cheer on her NY home team to their win.  The next morning we volunteered
at the Orange County Rescue Mission. Our group was sent out to three local
grocery stores for a food drive. In less than two hours we raised over 360
lbs of food!! We are so proud of all of our trip members! Spencer,
Rebecca, and Katie were especially great with people and helped spread the
word of the organization. At night we relaxed with a game of glow in the
dark mini golf. Olivia, Sydney, and Lexy had a really fun time!
With only one week left in our trip we are so excited to see what else
California has in store for us.
The Westcoat Blogger