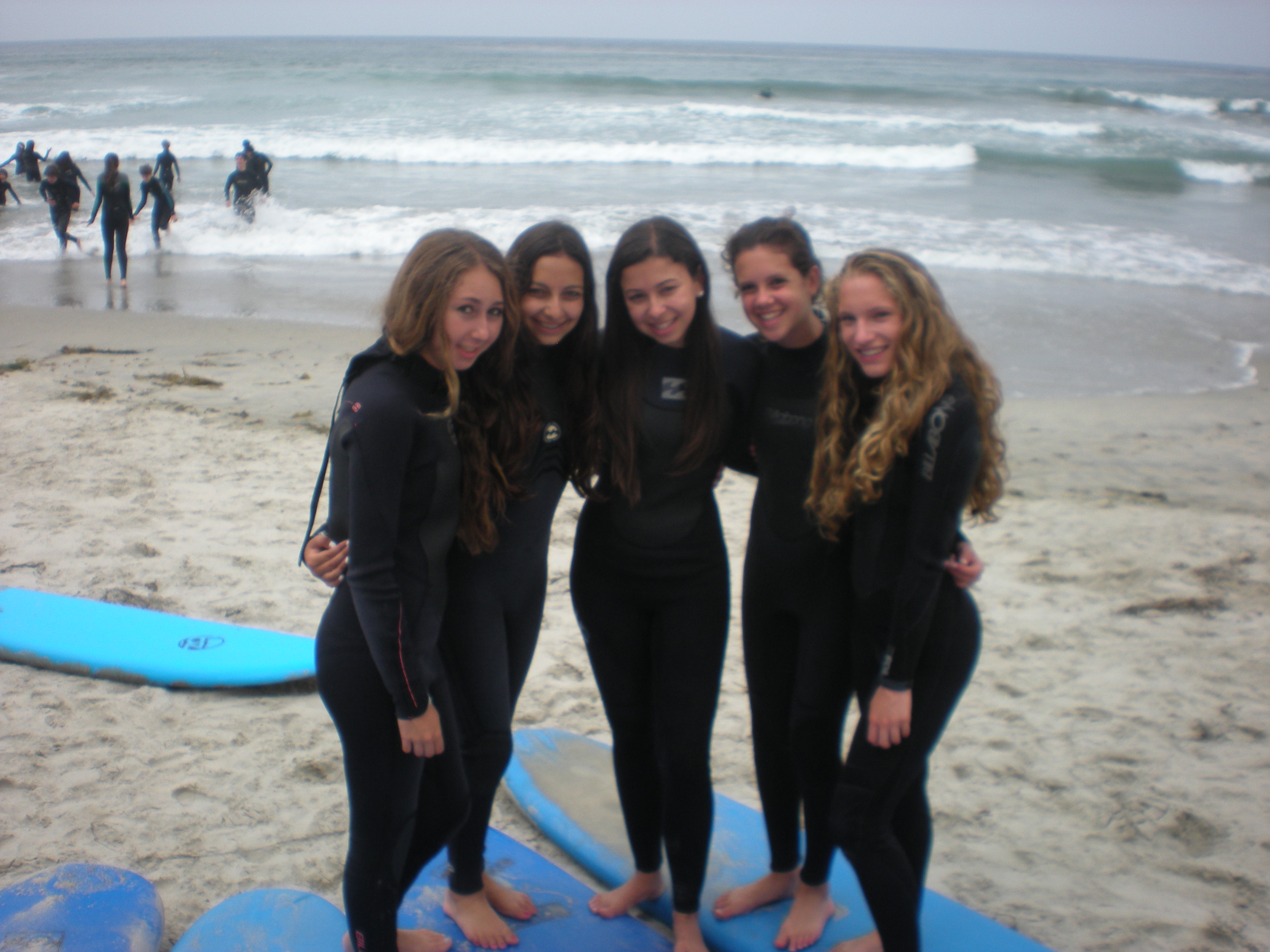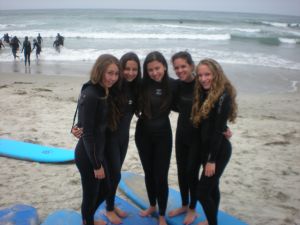 Today we completed our day of surfing in sunny San Diego, and let us tell you, it was absolutely 'rad' as the San Diego surfers like to say. Jason, Cole, Becca T, Josh S, and Ben O were very impressive on their surf boards and that's just to name a few. Tonight we are continuing our surfing theme and dressing up in neon/Hawaiian/Surfer gear for our dinner. Today Becca D and Sydney B won camper of the day. Now, going back to our first day in L.A.Our first day of L.A. consisted of going to Universal Studios. At Universal we started out on a tour of the sets from different movies which included Jaws, King Kong, War of the Worlds, How the Grinch Stole Christmas, Shooter, and some others. One of our tour guides was on the TV screen on our bus and it happened to be Jimmy Fallon. Gabrielle, Abby, Drew, and Ethan had a blast going on pretty much all the rides at Universal and especially liked the Simpsons virtual ride. At Universal Studios many of us experienced our first celebrity sighting in California as we saw Travis Barker (the Blink 182 drummer) walking around the park with his family.
At night we went to City Walk where we ate at the Hard Rock Cafe and enjoyed the sights that City Walk had to offer. In our second day in L.A. we had the opportunity to work at a food bank in the morning assisting with packing different fruits and vegetables into boxes. Julia, Sydney O, Jake B, Harrison and Lee developed the most efficient system of packaging the fruits and vegetables which they showed to others for them to emulate. Because they came up with such an efficient system which people started to use, we were able to package many more pounds of food than the average group does. The trip members and staff alike felt a great deal of satisfaction after giving back to L.A. community. In return for our volunteer work the food bank gave every trip member a spoon-shaped pen as a token of their appreciation. Later that day we went to Disneyland where Ryan K and Josh K were raving about Space Mountain, Splash Mountain, and Indiana Jones at the end of the day.
The following day, we went to the Museum of Tolerance where we learned about different ways for peaceful co-existance amongst different types of people whether it be race, sexuality, etc. It was a very informative and touching experience that definitely resonated with the trip members upon leaving the museum. We then moved on to Venice Beach where there is a famous competitive basketball league, and we had the pleasure of viewing a game. Jordan bought a Venice Basketball League hat as he was so impressed with the caliber of play, but more so the mystique behind this Venice Basketball League. Rodeo drive was a great experience for walking around and seeing the luxurious stores which many celebrities visit regularly.
That night we went to the comedy club called 'The Improv' where most of us shared our first experience at a live comedy show. It brought us many laughs that we will not forget. Kevin especially liked the comedy show and could not stop speaking about it later that night. On our last day in L.A., we went to the 'Walk of Fame' where all the stars with different actors' and actresses' names were written. Some of the popular stars which the trip members took photographs of include Sean Diddy Combs, Brittany Spears, Charlie Scheen, Kermit the Frog, Kevin Spacey, among others. Many of us also took pictures of the Hollywood sign from a lookout point located at the Hollywood and Highland complex.
At the Chinese Theatre, Corey and Samantha S had a great time comparing their hands to the hand prints of celebrites embedded in the pavement. Later that afternoon we hit the open road en route to San Diego. That night we went to T.G.I. Fridays for a delicious dinner.
The next day in San Diego we went to the San Diego zoo where we enjoyed a double-decker bus tour of the zoo prior to exploring the rest of the zoo. Brittany and Brooke especially enjoyed the tour and took many pictures of different animals including jaguars, polar bears, and hyenas. Jon B's group knew exactly what exhibits they wanted to visit as they headed straight for the tigers. That brings us to today which means you are all updated with the happenings of our fantastic trip. We cannot believe there are only 7 days left but we are all going to make the best of them and enjoy more moments that will be memories that last a lifetime. That's it for now, we're about to go to dinner and then partake in a  trip pool party at our hotel.
Speak to you soon!!!
The Westcoast Blogger