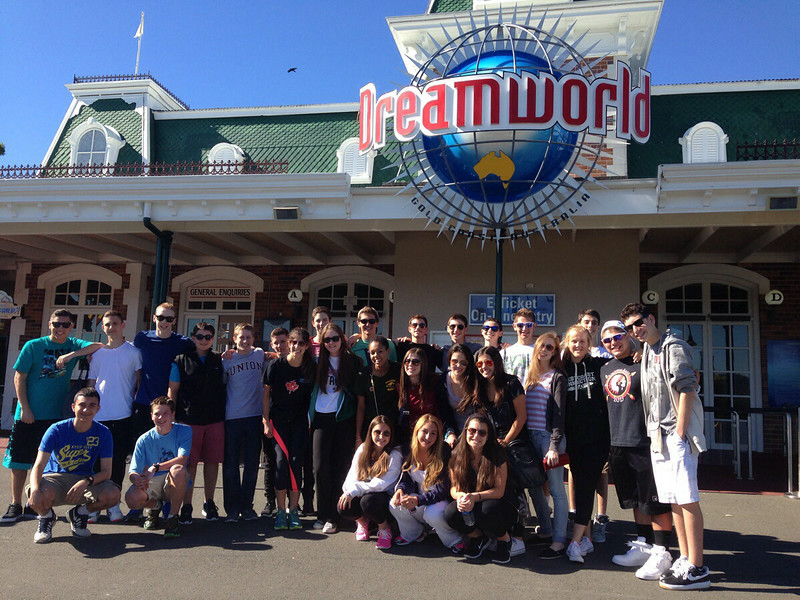 G'day mate!

We're coming onto our third official day here in the land down under and despite it being summer back home we love the warm Australian winter sunshine!  After landing in Brisbane on the morning of July 1st we headed straight to drop off our luggage at our hotel in Surfer's Paradise then made our way to Dreamworld theme park.  Eli set the bar high for the trip taking an epic selfie with a kangaroo.  Chris also showed off his musical talents as he demonstrated the didgeridoo.  Michael, Stone and Ben proved they had no fear as they went on the buzz saw rollercoaster. The group as a whole had a great time checking out the koalas, exotic birds and rides on their first afternoon in Australia.  That evening we had a delightful Italian dinner at Vapiano before heads starting nodding and we all headed for a well deserved rest.

We got right into it waking up on day two and headed to Coolangatta beach a popular surf spot to get our first taste of riding the waves, Aussie style. New surfers and seasoned pros alike had an amazing time perfecting the art.  I think most of us understand why surf culture is so huge here now, you're always trying to catch that perfect wave – it's addictive!  It seemed to be effortless for Ethan, Casey was catching on really quickly, Natalie and Nicole looked like they were ready to go pro.  After a busy morning we had the afternoon to explore around Surfer's Paradise including the cute market that stretched along the waterfront.  That evening we put on our bowling shoes and were blown away by the skill amongst us! Brandon absolutely dominated beating the other 4 groups by a long shot, Alex was determined to conquer and hit a few strikes with ease.  Jared and Bella also made it look too easy!

We had a second go at surfing the following day – Olivia absolutely smashed it, Zack was hanging loose and Ben glided across the water with ease!  Jeremy brought his ukulele down to the beach and serenaded the group while the boys and girls enjoyed the sunshine and tossed a football on the beautiful white sandy beach of the Gold Coast. We started our evening with a great dinner at a cute trendy restaurant by our hotel. After supper we headed to Infinity light show, a little difficult to describe but it was essentially a sensational maze filled with optical illusions – Shawn had quite a fright when he ran into Melanie in one of the darker sections. Adam was having a ballin' time in a room filled with mirrors and gigantic bouncy balls.  I think its safe to say none of us had experienced anything quite like that – what a blast!

Our four staff are feeling so fortunate to be with such an incredible group for our three weeks together in Australia.  We already feel like family and cannot wait for the adventures to come!

The Westcoast Blogger
Are you prepared for an amazing experience? Check out our Australia and New Zealand tour for high school students and get ready to have a thrilling adventure.