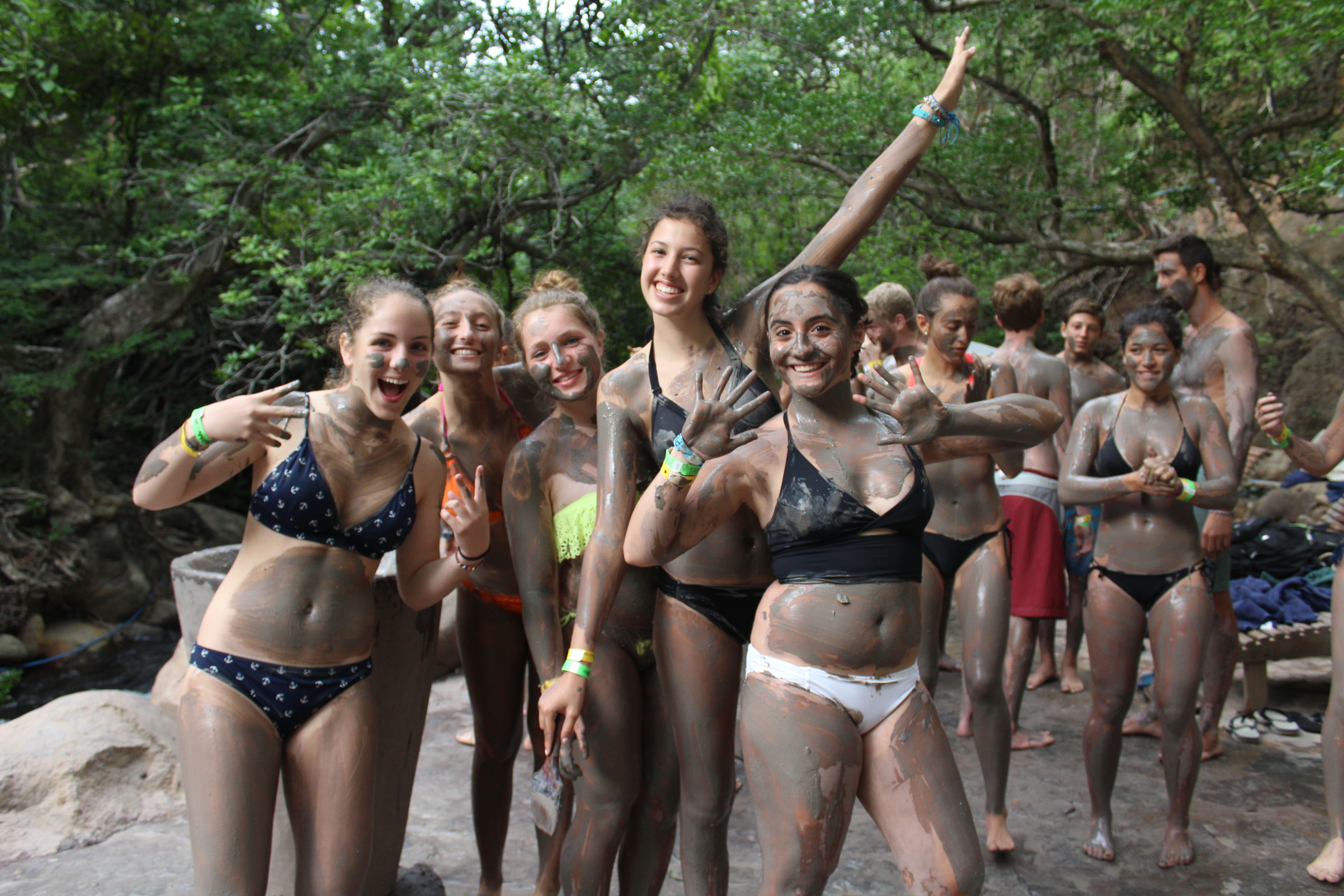 Saludos de Costa Rica! Los pasados dias han estado muy divertido. Viernes, fuimos a la Playa Tamarindo para hacer surf, tomar el sol, y jugar en la arena. Tuvimos instructores Ticos quien nos ensenaron como surf. Todas personas pudian levantar ensus tablas de surf al menos una vez. Las olas eran muy grandes y bonitas. Cade persona, incluyedo las personas quien estaba nerviosos estaban emocionados para ver que pueden hacerlo.
Greetings from Costa Rica! The last few days have been a blast. Friday was a big day full of surf, sand and sun.  The crew got an early start and headed to Tamarindo Beach, a legendary surf location that is known world-wide for its perfect waves and tranquil vibe. The Tico (Costa Rican) surf instructors first taught us the basics.  We practiced how to stand on our boards first in the sand, then we got into the water to perfect our practice. The first team into the water had huge waves, and we were all able to stand on our boards at least once!  The second team headed down the beach a few minutes to find safe waves, and surfed in a beautiful little cove. Even those who were nervous about the experience were enthralled to find out that they could do it.
Si, se Durante el resto del dia en Tamarindo, jugamos futbol por la playa, lanzamos el frisbee, y tomamos el sol. Caminamos por el pueblo a donde tomamos comidas buenas y batidos. Era un gran dia.
For the rest of the day in Tamarindo, we played soccer on the beach, threw the frisbee in the ocean, and sunbathed on the beach. We also got to go into town to eat, where many of us had sushi, pizza and excellent, fresh smoothies.  We also got in some much wanted shopping.  Overall, it was a wonderful day.
La noche de viernes, estaba lloviendo pero no nos lento. Comemos en un restaurante Italiana se llama Marco Polo.
Friday night, just after getting off the beach, the rain came but it didn't slow us down.  We had a fantastic Italian dinner at a local restaurant called Marco Polo.
Sabado viajabamos por Rincon de la Vieja. Es un area del norte de Costa Rica en las montanas de Guanacaste. El pueblo tiene una vista bella y tropical y es situado sobre un volcan antiguo. Nuestro hacienda era rustico que nos parece como un preservacion ecologico. Tiene cascadas, stables de caballos y un jardin de mariposas.
Saturday we loaded up the bus and travelled to Rincon de la Vieja.  Rincon de la Vieja is an area in the north of Costa Rica along the Guanacaste mountain chain.  It supports an absolutely gorgeous tropical dry forest that rings around an ancient and beautiful volcano (Vulcan Rincon de la Vieja).  Our hotel, a "hacienda," was a beautiful rustic hotel that was like an ecological preserve in itself, featuring waterfalls, a horse ranch, and a butterfly garden.
Despues de un tiempo para pasar con amigos, montamos en caballos. Eran caballos muy amables. Paramos en una cascada y unos estudiantes nadaron en el rio. Cuando regresamos, vimos muchas animales incluyendo bueyes, iguanas y muchas pajaros bonitas.
After some downtime, we went on a horseback ride. The horses were so friendly and enjoyed trotting down the trail. After we rode for about half an hour, we stopped at a gorgeous waterfall. Many trip members took a dip and floated beneath the waterfall for a while before we returned. On our way back to the hotel, we saw wild oxen, iguanas and other several wonderful bird species.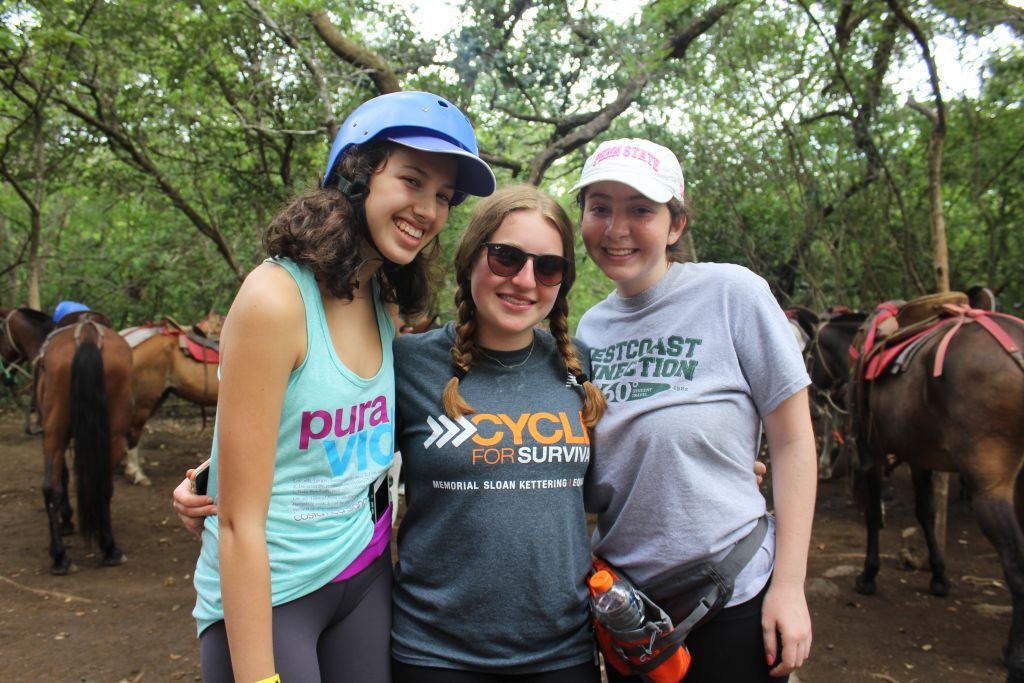 Esa tarde, viajabamos por los banos de barro. Alli, pintamos nuestros cuerpos con barro que esta calentado del vulcan naturalmente. Despues, nos sentamos en los hotsprings natuales. Era un retiro increible, y despues de unos dias en el sol, nos sentimos muy refrescados!
That evening, we traveled to the mud baths of Rincon de la Vieja. There, we painted our bodies with exfoliating mud that is naturally heated from the volcanic activity beneath the earth's surface. After coating ourselves in the healing mud, the group rinsed off and sat in the natural hotspring pools.  It was an incredible retreat, and after a few days in the sun, we felt very refreshed!
La noche de sabado, teniamos un evento despedida por la piscina. Damos superlativos y deciamos saludos a nuestro 14-dia miembros. Cerrabamos la sision con unos juegos divertidos.  Saturday night we had a farewell event by the pool of our hotel. We gave out superlatives and said some goodbyes to 14-day trip members that were headed home.  We closed out the session with a few group games.
Domingo era un dia para relajar. Estabamos triste para despedir los otros miembros, pero muy emocionados para encontrar nuevos aventuras en Rincon y Monteverde. Pasabamos domingo caminamos por las montanas para encontrar buenas vistas a donde pudiamos ver el vulcan y el Pacifico tambien. Luego, fuimos a una cascada y pasabamos unas horas nadando en el rio claro y explorando la naturaleza hermosa.
Sunday was a more relaxed day. We were sad to see our 14 day trip members leave, but very excited for the upcoming adventures of our final week in Rincon and in Monteverde, the legendary cloud forest town. We spent Sunday hiking to a beautiful lookout point, where one can see the volcano as well as the Pacific Ocean. Later, we hiked farther to a waterfall and spent a few hours swimming in the clear waterfall pool and exploring the beautiful surrounding nature.
The Westcoast Blogger
If a Westcoast Connection adventure sounds like something you'd like to be a part of, explore our 14-day Costa Rica student travel tour!