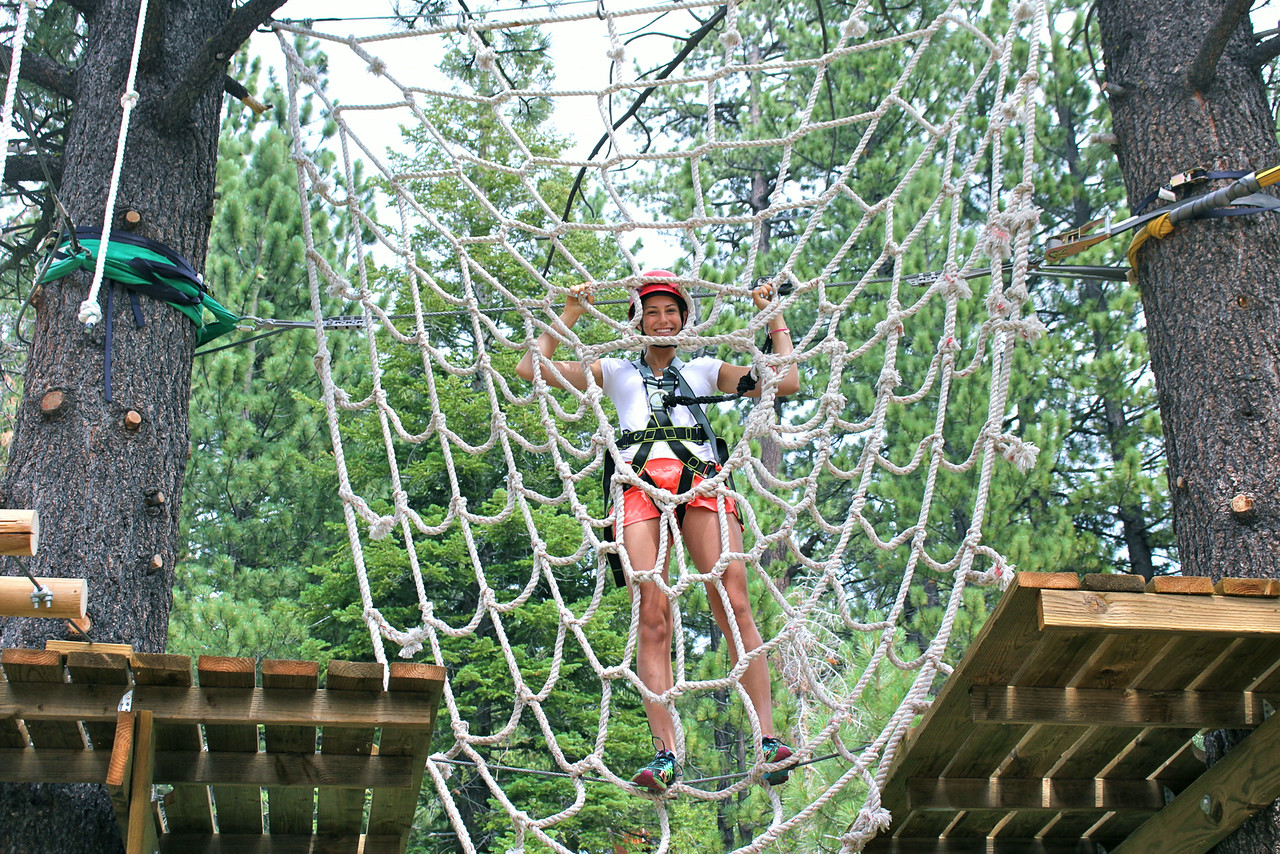 Hello again!
We just enjoyed a delicious breakfast at Starbucks and The Bagel Café and we are now Lake Tahoe bound. We've had an action-packed few days, so we recommend you sit down – you may get tired just reading this!
We arrived at the Mount Hood campground just in time for dinner. We were very excited to be greeted by our enthusiastic campsite manager Marshall. He had decorated the canopy with Christmas lights – it lit up beautifully under the setting sun. Dinner that evening was tortellini and penne with either meat sauce, alfredo (or a daring combination of both for Robert). The "Wheaties"(Hanna B., Samantha K., Taylor, Spencer, Max Sh., Eric and Jack M) also made garlic bread. With our bellies full, we were thrilled to sit by the campfire laughing and sharing stories (no scary ones, much to Samantha J.'s dismay). Josh M. was very excited to pick a few sticks to throw into the fire. Later that evening, we made s'mores. Eric found his life calling – he toasted marshmallows to the perfect golden brown color. Jessie so kindly shared the technique she invented of removing the top layer of marshmallows to reveal a wonderfully gooey interior; although it left us with sticky fingers, we've never had better s'mores.
The next morning, the skiers were up bright and early to head to Timberline. Trip members geared up with helmets, boots, skis and snowboards and headed up the beautiful mountain. Shayne looked super stylish flying down the mountain with a pink bandana, while Jack G. showed off his moves going off jumps. Elijah, Max Sh., Max Sa., and Matt enjoyed a few great runs and had lunch in the homey lodge. Amanda L., Dhalia and Samantha J. built up an appetite skiing and shared some fries and chicken tenders. While we were skiing, other trip members and went mountain biking. This was a challenging course and they took it on like champions! Einar "Eagle", Jared A. and Seth looked like professionals on the track. The others, including, Logan, Sam K. and Jamie enjoyed a relaxing day at the campsite; the campground had beautiful facilities including a pool, basketball court and lounge area. That afternoon, we all hung out at the campsite. We played a game of "Knock Your Socks Off", and then had some free time. Some of us used the exercise facilities, while others entered a very competitive volleyball game. Sammy showed off his serve, while Jared A shared some pointers on spiking and setting. That evening, we enjoyed a festive Mexican meal of fajitas. We decorated the campsite with streamers, with the help of Ali L, Logan, Spencer, Brooke and Taylor! Afterwards, we played "the dating game" and then had a "decorate-your-own-cookie" dessert (there were some very interesting creations, we think we belong on the Food Network!).
We packed up the next morning and headed for the airport! We were all super excited to be heading to sunny California. The flight was very smooth and we arrived at the spectacular Westin. We had some time to freshen up and then we headed out for dinner at the Metreon. Sam K. and Ali enjoyed some ice cream, while lots of us went for a favorite – Chipolte. Max Sh. showed us how it's done, creating the ideal burrito. Afterwards, we headed to the dance club where we met up with a few other trips. Taylor and Adam showed off their moves, while Danny had a few Shirley temples. The next day we were overjoyed to have a sleep-in, and then went to the famous Alcatraz. We absolutely loved the guided audio tour; Emory got some great pictures. A former Alcatraz prisoner was in the gift shop at the end of the tour signing autographs and sharing his life story. Adam, Jessie, Danny and Joe were intrigued by his stories of breaking out of prisons, stealing cars and having "no regrets". We spent our afternoon at Pier 39, Jake had some famous clam chowder, while Max Sa. enjoyed his birthday lunch at the Hard Rock Café. Afterwards, we walked over to Ghiradelli square, where Jack M. had a mint chocolate chip sundae. That evening, we went to a great baseball game (Oakland A's versus Baltimore Orioles), we kept warm with some authentic A's blankets and fed off the energy of the die-hard fans.
We started our final day in San Francisco at the wonderful Golden Gate Bridge. We got some amazing photographs, while Sam K., Ali K., Gabe, Lindsay and Jamie filmed their lib dub with the bridge in the background! Hannah R, Stephanie and Carly took some creative photos pretending to touch the bridge. We spent the afternoon in Sausalito, enjoyed the breeze. Sammy, Emory, Danny and Eagle bought some toys at the gag shop, while others enjoyed the fresh seafood and beautiful scenery. Afterwards, we went to the most crooked street in the world – Lombard Street! Jared Z. took some great selfies, while Amanda was a real trooper climbing up the hill. We walked over to the cable car, and rode it to Chinatown. We saw a flash photography mob on the way, something none of us had ever seen before! We had dinner at the Oriental Pearl, celebrating Seth's birthday with a delicious cake.
We've had a great few days – look for another update detailing our adventures in Tahoe and LA soon.
Talk to you soon!
The Westcoast Blogger