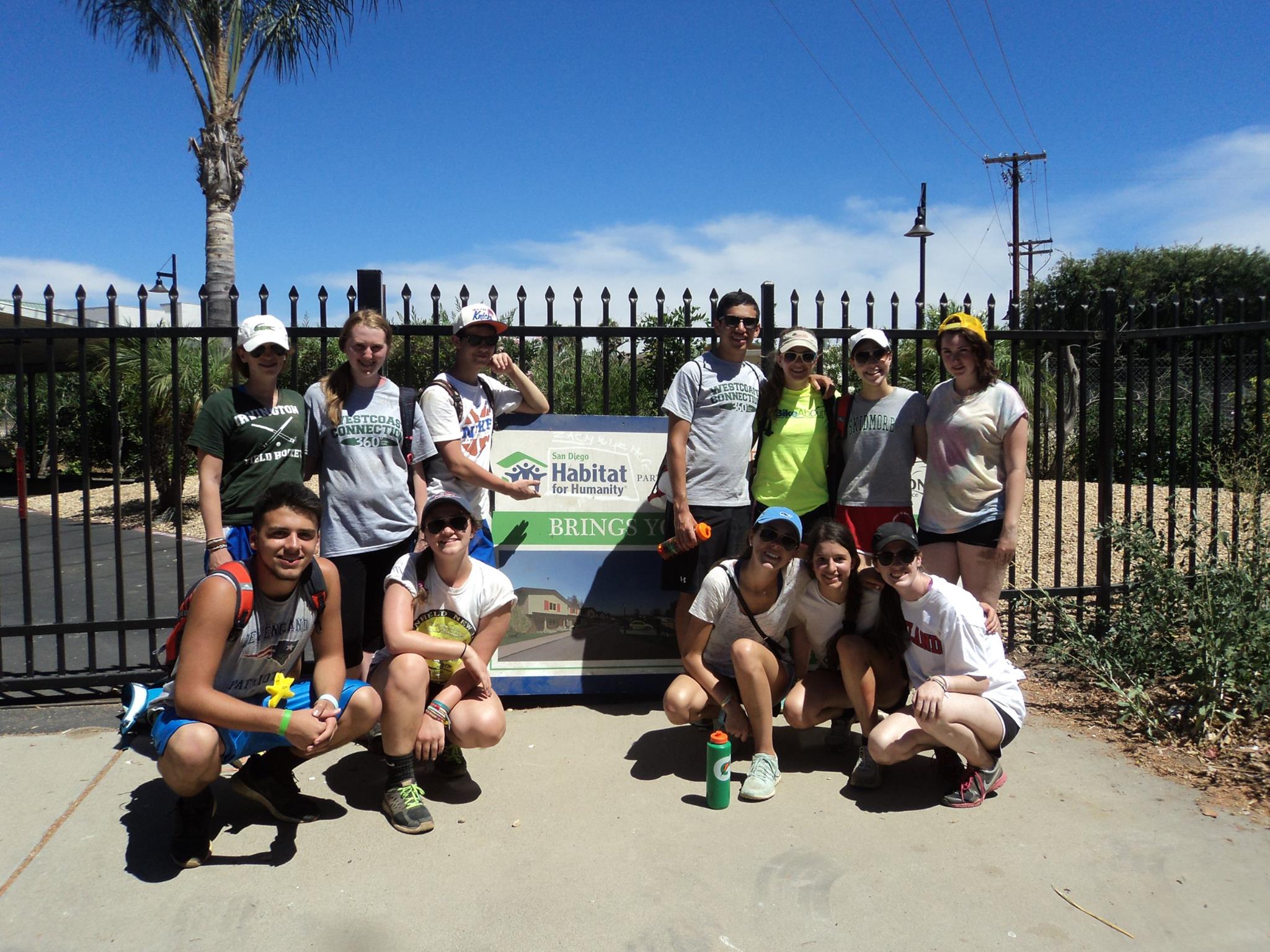 Over these past few days we have been completing our community service work in San Diego and balancing that with a lot of fun. Since the last time we blogged, we have returned to both Habitat for Humanity and the Boys and Girls Club, went skating, surfing, to the San Diego Zoo and played a friendly but fierce game of laser tag.
At Habitat for Humanity we were very fortunate to have one of the volunteers, Matt, there to help us again. Zach was especially thrilled to work with him as he found him so encouraging and patient. Blayne also joined their group and together they completed the final preparations so that the second level floor could finally be put down. Adam and Abigail worked to finish the outside walls as Louis, Alana and Savannah followed behind hammering the metal brackets for the next step. Amanda, Lizzie and Lily finished off cutting and moving the carpets for the finished homes, and Tsippy and Katie worked inside the unfinished kitchen hammering in 2x4s. It was another great day on the build site and we were sad to see our time there come to an end. Our site manager, Joe, was very grateful for our help and made sure everyone knew what they did that day contributed to the big picture of creating a home for families in need.
After coming back to UCSD for a much needed shower and rest, we headed out for a night of skating. Every trip member participated, spent time together and supported each other on the ice. Tsippy, Louis and Adam, although they did not know how to skate, went out on to the ice with a positive attitude and a try anything approach. The rest of the trip members made sure to help them learn how to skate and enjoy themselves well doing it. We ended the evening with a little figure skating competition, which was won by Zach, Amanda, Abigail and Tsippy. For this competition, honorable mention goes to Adam and his dance to Beyonce's "Single Ladies."
After all the trip members hard work at community service, the weekend brought us a well deserved break and more fun activities. We headed out early Saturday morning for a day surfing the California waters and enjoying the beaches of San Elijo State Park. The surf instructors from Eli Howard's surf school were very helpful, especially getting past the current and the break to make sure we got out and were able to ride the good waves. Lily and Blayne showed us how it was done as they both had previous surfing experience. Abigail on the other hand had no surfing experience and impressed everyone with her natural talent. After a nice lunch in the cool, laid back surf school (complete with ping pong tables, a surf movie lounge and their own in house dog (Gonzo)), we headed back down to enjoy a nice afternoon on the beach. The whole group joined in a game of touch football, thanks to our resident football pro Louis. Katie was awarded MVP as she received all the shout outs at closing ceremonies for her amazing touch football skills.
The next day was another fantastic day spent at the San Diego Zoo. We all hopped on the double decker tour bus for a very informative overview of the park and its animals from our bus driver Zoo Man. After gathering back at the end of the day Zach recalled how much he enjoyed watching the llamas and Mary (they are on a first name basis) the elephant get a manicure. Louis, Lily and Amanda enjoyed the 4D movie Ice Age 2, Adam really liked the orangutans, and Alana, Tsippy and Savannah enjoyed the double decker bus tour so much they went on twice. We finished our day with a nice dinner at Souplantation and an amazing team game of Laser Tag. After getting our warrior face paint and our suit of armor on we were ready to head in to the maze. Zach was so enthusiastic he painted his entire face blue. When the game ended and the signal for the exit began to flash, Lizzie was thoroughly disappointed…but not to worry there would be a rematch. Adam aka "Sansa" took the individual high score for the first round, but the yellow team composed of Lily, Alana, Amanda, and Louis were the first place team after round one. After another go in the maze the yellow team lost their title and the purple team composed of Zach, Blayne, Tsippy and Abigail overtook first place. After returning home the group gathered for our daily closing activity for the day and it was Savannah and Abigail who received all the shout outs for their amazing dancing on the car rides to and from laser tag. We had all had a tough night in the Ultrazone battleground and were ready for a good night sleep.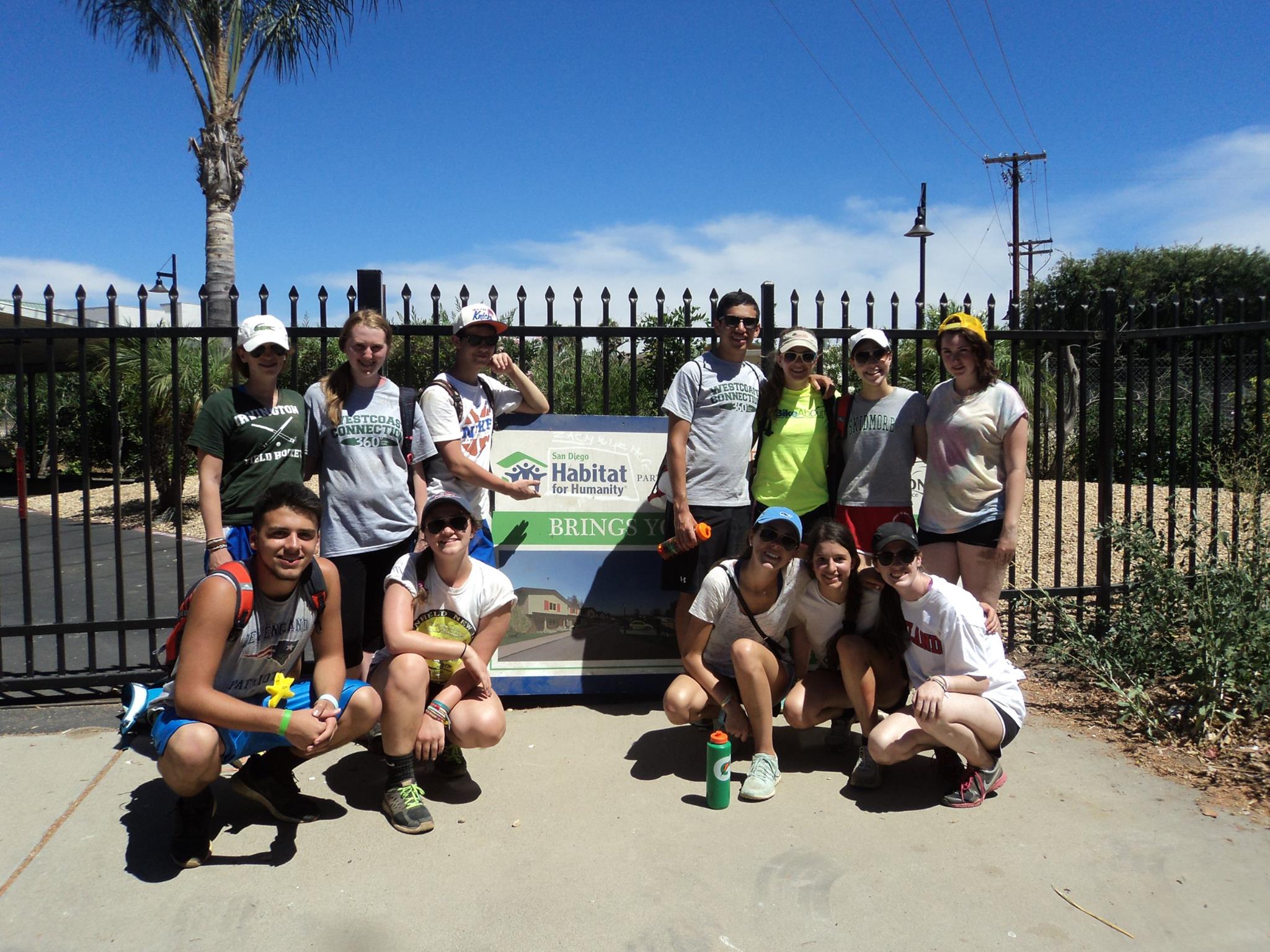 The next day was our final day of community service here in San Diego and we spent it at the Boys and Girls Club. All the kids were so happy to see everyone again, calling out the trip members' names and wanting them to join their groups. Tsippy (who they call Mississippi since the trip members get called by Miss and Mr and then their first name) got beautiful drawings from the kids on her arm…again! Louis, Zach, Adam and Blayne were always willing to help anywhere they could and when they were asked to do some lifting and reorganizing of the storage room so a new fitness center could be built for the kids, they did it happily without complaint. After saying our good-byes we piled in the vans to head back to cook dinner together in the dorms. It was Chopped Westcoast at the UCSD dorms. The teams opened their mystery baskets, and with only an hour on the clock they began to put together an amazing meal! Chef Cayenne's team took home the win with the delicious Mexican feast. We closed off the evening with our regular routine of highs, lows, shout outs and constructive criticism. Lizzie's high for the day was one of the kids at the Boys and Girls Club did not want her to leave. It is a good feeling knowing you have made an impression on the life of a child. Every trip member has left a lasting impression in his or her own way.
We will be in touch from Los Angeles!
The Westcoast Blogger
Have we piqued your interest? Explore our 10-day, 21-day or 28-day tours and community service projects for teens in California. Start planning your own adventure with Westcoast Connection. It will be the travel experience of a lifetime!