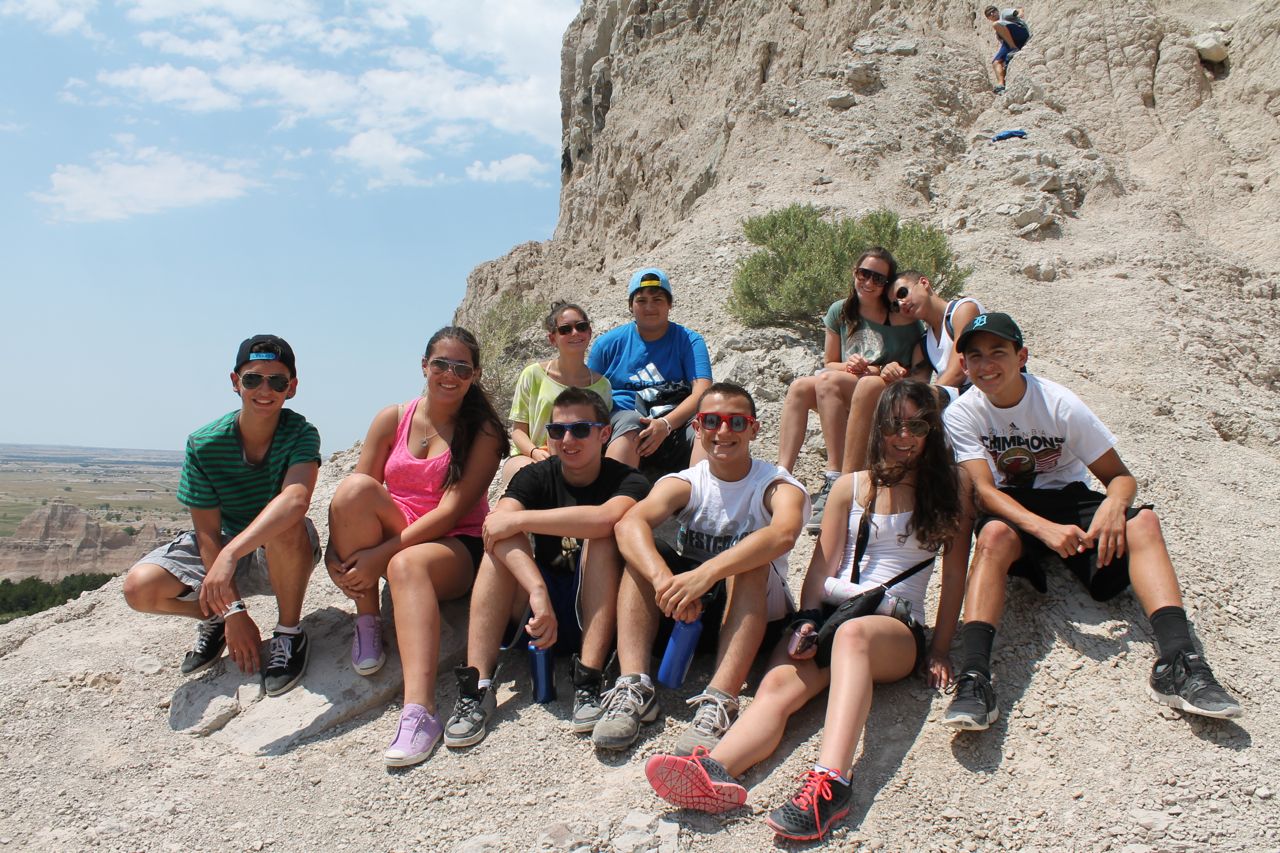 An update from the US Explorer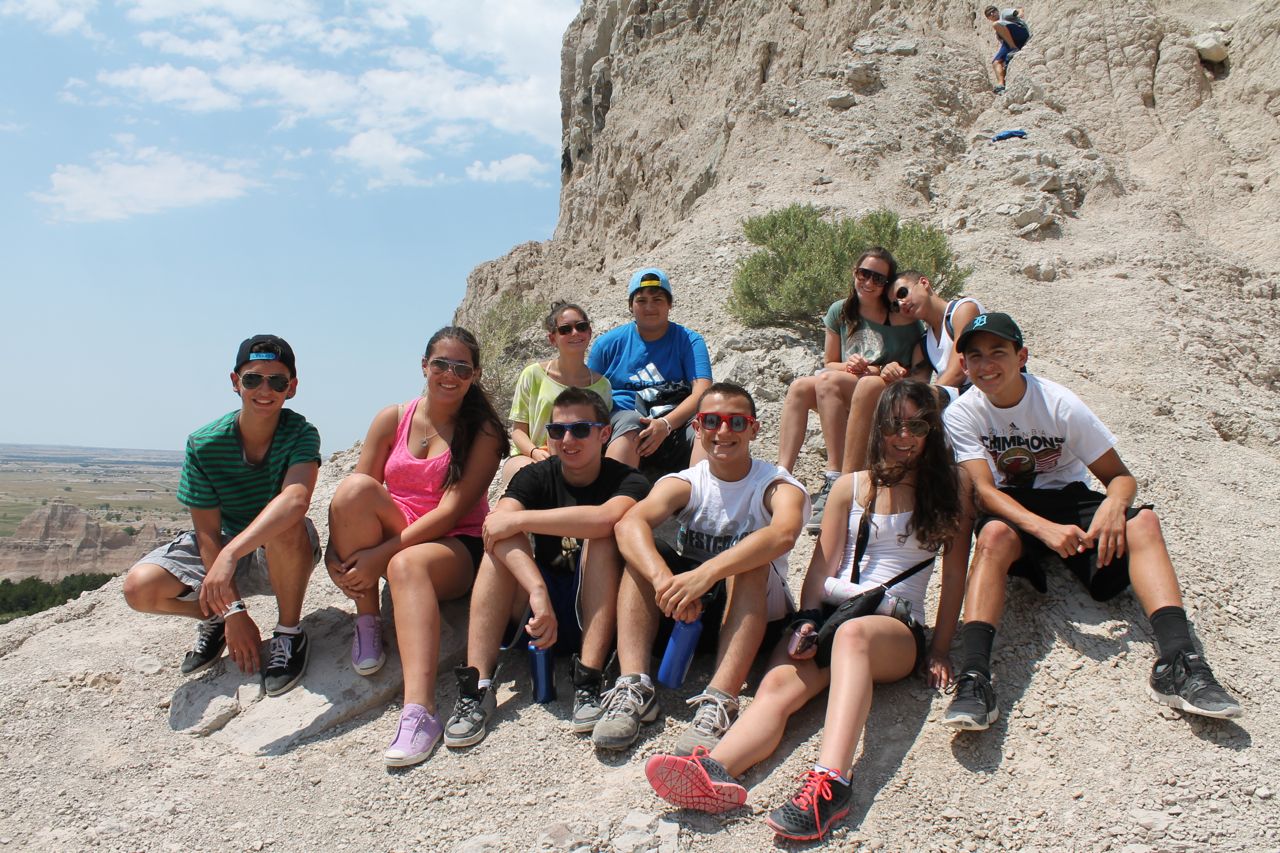 Hello US Explorer Parents!
It has been a few days since the last post, and we have experienced so much from each stop! After our three-day stay in Chicago we headed to Minneapolis to continue camping at the KOA sites. Upon arrival, we had a delicious fajita dinner and some fun interactive campsite activities, then we headed to bed to get ready for a busy day.
We woke up to yet another sunny day, and headed to the Water Park of America, which is known as the tallest indoor water park in the country! The park had awesome attractions such as the 'flow rider' that was a stationary wave pool people could surf on, and the 'family ride' where 5 people sit in a tube and fly down the slide! Josh and Jonah joined the staff group and had a blast.  As our time in Minneapolis came to end, every trip members had pictures and souvenirs to remember this special visit.
It was now time to continue our journey to Rapid City with a stop in Mitchell, South Dakota, home of our amazing bus driver Darryl! The famous NBA player and former rookie of the year Mike Miller, as well as the world famous Corn Palace put this town on the map. The Corn Palace, once used as the high school basketball arena, holds a massive gift shop and tour revolving around corn, and corn accessories. After some tasty popcorn treats, we headed to our hotel where the trip members had some  time for R & R,  play mini golf, or sweat it out at the gym. Our time in Mitchell was short, but so eventful!
We boarded the bus to Rapid City, and we stopped at the magnificent Badlands National Park. We were all excited for an incredible hike through the craters and fascinating geological formations. Matt L showed off his adventurous side by finding stunning lookout points just off the trails. He helped us take such beautiful pictures. When it came time to climb up and down the ladder by the gorge, Ray impressed us with her super speed. As the hike came to an end we were all excited to stop in Wall, South Dakota to visit the world famous Wall Drug Store, famous for their 5 cent coffee and free ice water. Perry and Max sat with a cowboy-designed mannequin and pretended to be one as strangers passed by. They were quite convincing. After our day of travel and activities, we arrived at our campsite surrounded by trees and mountains, making it look like a painting. Trip members impressed our new campsite manager Jesse by assembling the tents in record speed. We enjoyed a tasty stir-fry dinner courtesy of Melanie's Ice Cappes, with a special shout out to Phil, Melissa and Lindsay who volunteered their help!
On our second day in Rapid City we traveled to the Black Hills to explore the Jewel Caves. It was incredible seeing the beautiful caves with all the minerals and interesting rocks, including the 25-foot rock sediment that resembled a massive strip of bacon! Other cool formations resembled things such as popcorn, and a hollow straw. We left the caves and headed to the Reptile Gardens where the trip members had the opportunity to see live shows with snakes and alligators, and pet giant tortoises. Other exhibits also included the large Komodo Dragon, and Bald Eagles.
It was such a beautiful day outside, and before we returned to our campsite, we made a visit to Mount Rushmore to see the detailed rock carvings of the presidents, and get some nice group photos. We even filmed the 'move' in front of the mountain! Our time in Rapid City came to an end with a fun-filled night spent at the Black Hills maze, also home to the wacky game known as bankshot basketball.  The maze is one of the largest in the nation, and our trip members whose completion times were being recorded, saw fast speeds of 25-35 minutes! Brandon was extremely enthusiastic and proud of his accomplishment at the end. Bankshot basketball is a unique version of the game we all know and love as it involves different shaped backboards and circles to shoot from that give you more or less points. After the trip members finished playing the game, some of the boys started up their own basketball game using one of the octagon shaped backboards.
We have said goodbye to the Northern half of our trip as we start our journey South. We are all excited for Cody, Wyoming and the unknown adventures ahead!
FEELIN' FINE ON TRIP 9!
The Westcoast Blogger