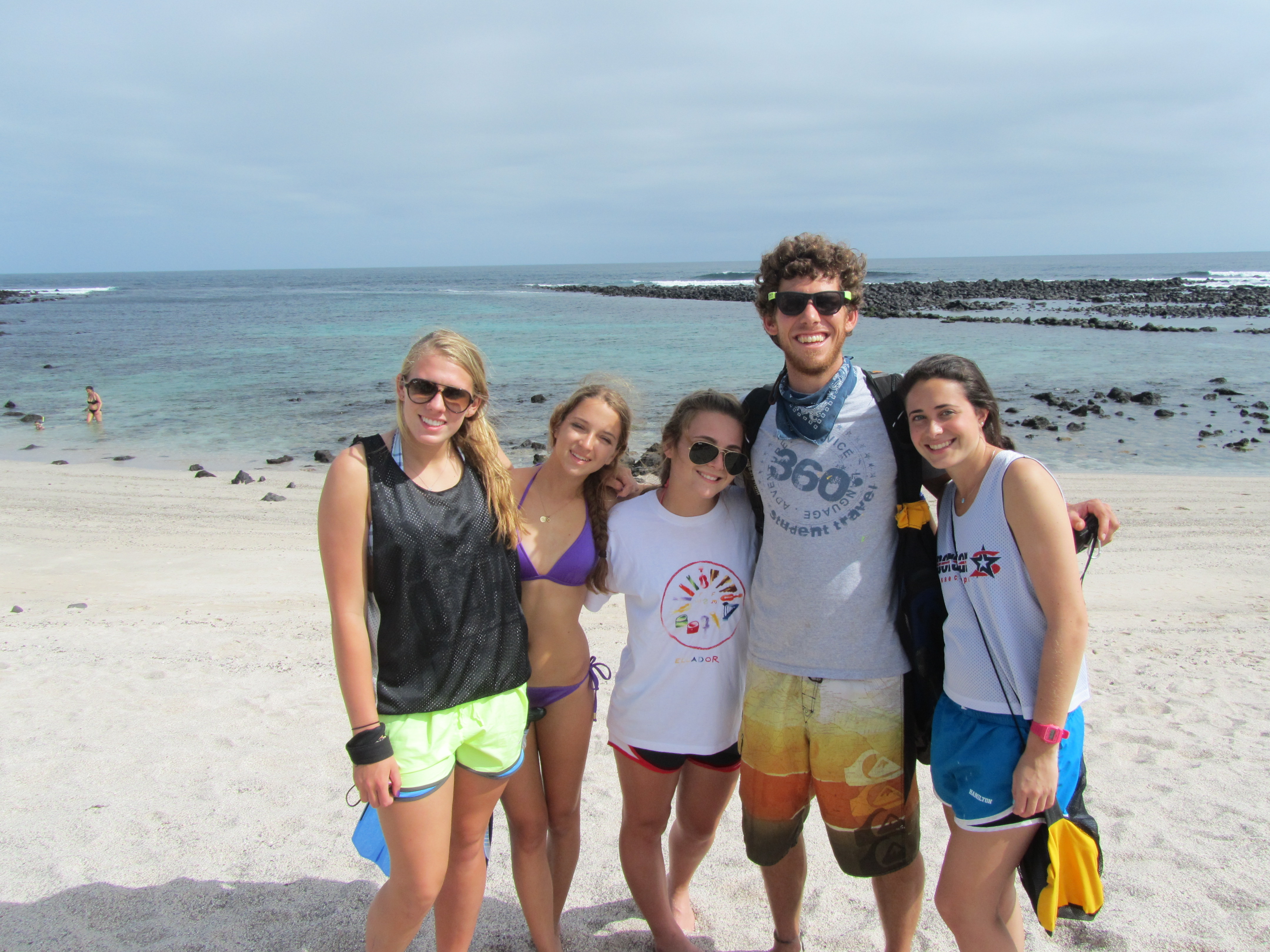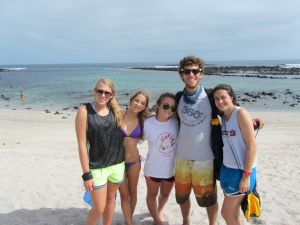 Hola families and friends!
We are in the majestic Galapagos Islands enjoying the last week of our trip.
On our final day in Banos, we were treated to a rare sleep-in morning before our Chiva Bus Waterfall tour.  We blasted our morning song, "Summer Paradise" by Simple Plan and sang along as the open air bus drove by a dozen of the waterfalls for which Banos is famous.  Sadie, Nora and Emily took pictures underneath the waterfalls, while Marc and Jason paid attention to our guide Carlos' explanations of the area's majestic natural mountains with much interest.  After lunch, we all enjoyed ice cream cones and strolled through downtown Banos.  Our group ate delicious crepes after dinner- a treat Melodie was especially excited about!
The following day we arrived to our home away from home- Quito.  We ran into another WCC/360 Ecuador group at our hotel and filled them in on the excitement that awaits them for the next two weeks. We all ate salads, burritos and enchiladas for dinner at our favorite sports bar, followed by a night of bowling.  Jeremy, Carly Do and Elana all bowled strikes and everyone enjoyed the high energy, fun night of the bowling alley.
We were all eager the following morning as we began our journey to the Galapagos Islands!  After settling in at the hotel, Riley, Jason, Sydney and Zach C. took a walk to the nearby port.  We were so surprised to see sea lions everywhere on the beach!  Most of the sea lions were sleeping on the sand, but a few had managed to make it across the street to sunbathe on the sidewalk.  In the afternoon, we took a tour of the Interpretive Centre and learned about the history, geography, economy and lifestyle of the islands.  Next, we walked to Cerro Tijeratas for our first snorkeling session.  Everyone was quick to hop in the inviting, clear blue water and swim around.  Sydney, Steph and Lili soon spotted sea turtles and sea lions and we swam around the bay following the animals. We spotted lots more sea lions at a nearby beach.  Nikki was determined to get a great picture with the animals.
On Day 18, we started our service projects at an elementary school. Zach J (aka Pedro) and Matt showed their strength as they demolished a cement wall with sledge hammers.  Elana and Matt were quick to volunteer to help clear away the demolition debris.  Jared and Nikki worked together all morning digging and transporting small rocks to make the foundation for a new floor. We then put on our bathing suits and grabbed our snorkels as we headed to La Loberia Sea Lion Reserve.  Snorkeling amidst all of the sea lions was a highlight of the trip for so many of us.  Sydney and Stephanie even made their dream a reality as they swam alongside an extremely playful sea lion who swam just a few feet away from the group!  Lili and Erica also snorkeled amongst dozens of sea turtles and colourful fish in the ocean. We ate tasty barbecued meat for dinner and then went to a nearby sports court.  Carly Do led us in a game of Spud and a few of the local children approached us wanting to play.  Alyssa practiced her Spanish as she explained the game's rules to the children.
The next day, we headed back to the same school to continue our community service projects. There was another volunteer group helping out and we challenged them to a game of soccer during our break.  We began to clear a large, bushed area that will soon become a parking lot for the school.  Tess and Alyssa were dedicated to weeding all morning. Our group was joined by Company Director, Stan Broman, at lunch on Friday.  Our next activity of the day was surfing!  We were all eager to jump on the boards and play in the waves at the picturesque beach.  Riley was a natural as she kept catching waves and standing on her board.  Erica and Sadie and also took to the sport as they kept practicing over and over again.  We had a great pizza dinner by the boardwalk in the evening.  Afterwards, each trip member and staff anonymously wrote a postcard to another group member.  Can't wait to read the messages when we get home!
Day 20 brought us to our last day of service at the school.  We continued with our previous projects and started some new ones.  Matt was a pro at clearing the brush while Nikki and Mandie very quickly learned the best techniques to complete the same task.  Zach J (aka Pedro) practiced his Spanish all morning as he worked alongside the school principal to assemble a bamboo structure.  Melodie learned the art of mixing cement– finding the right balance of powder and water.  We headed out into the ocean on two boats this afternoon.  We ate lunch aboard and hopped in the water to snorkel.  We had a blast exploring the shallow reefs and swimming with the sea lions.  At the second stop, our resident shark expert, Steph, was a little nervous to small alongside the creatures. With friends Carly Da and Lili at her sides, she jumped in.  We swam down a channel through two big rocks and saw countless stingrays, hammerhead and Galapagos sharks.
We head to our last stop tomorrow- Santa Cruz Island.  We'll travel by boat, with a few stops for snorkeling along the way.  With only a few days left, we plan to make the most of it.  See you soon families!
The Westcoast Blogger