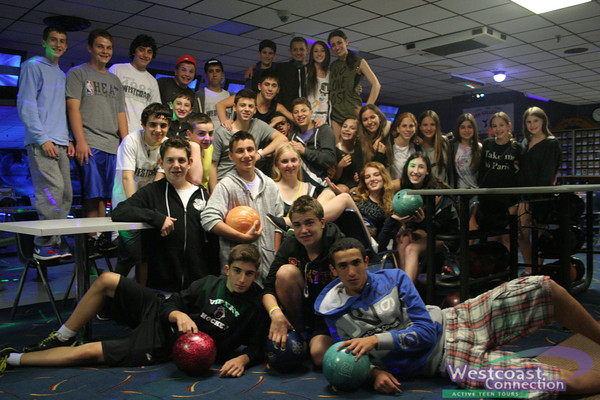 Greeting from gorgeous Ithaca, New York!
The US Explorer has had an incredible time so far here in Ithaca. After saying our farewells In New York, we all started to get to know one another on our way upstate. We stopped in Binghamton for a delicious lunch at Panera Bread and arrived here in Ithaca shortly after.
We spent the first night disco bowling where everyone got to show off their bowling skills. We all had a blast! Shout-out to David F. for bowling a trip-leading score of 117! Aiden and David T. were a huge help to the bowling staff by helping place all the bowling balls back after our great time.
The second day of the US Explorer began at the Hoffman Challenge Course. We all participated in exciting activities that incorporated teamwork and communication. While trying to move tennis balls from different platforms, Lily couldn't resist twirling all around! Jeremy showed off his juggling skills and Rebecca was the source of team motivation. After lunch, we all brought out our inner daredevils. Attached to a harness, Valerie walked across a log that was 40 feet in the air – Sydney L even did this blindfolded! Mike and Alec loved the zip-line and Matt A had a blast on the flying squirrel challenge.
We walked around the beautiful campus of Cornell University following the challenge course. After a hibachi dinner and two super exciting days in Ithaca, we are all excited for our next destination – Niagara Falls!
Until next time,
Lauren, Larissa, Phil, Jessica & Ryan