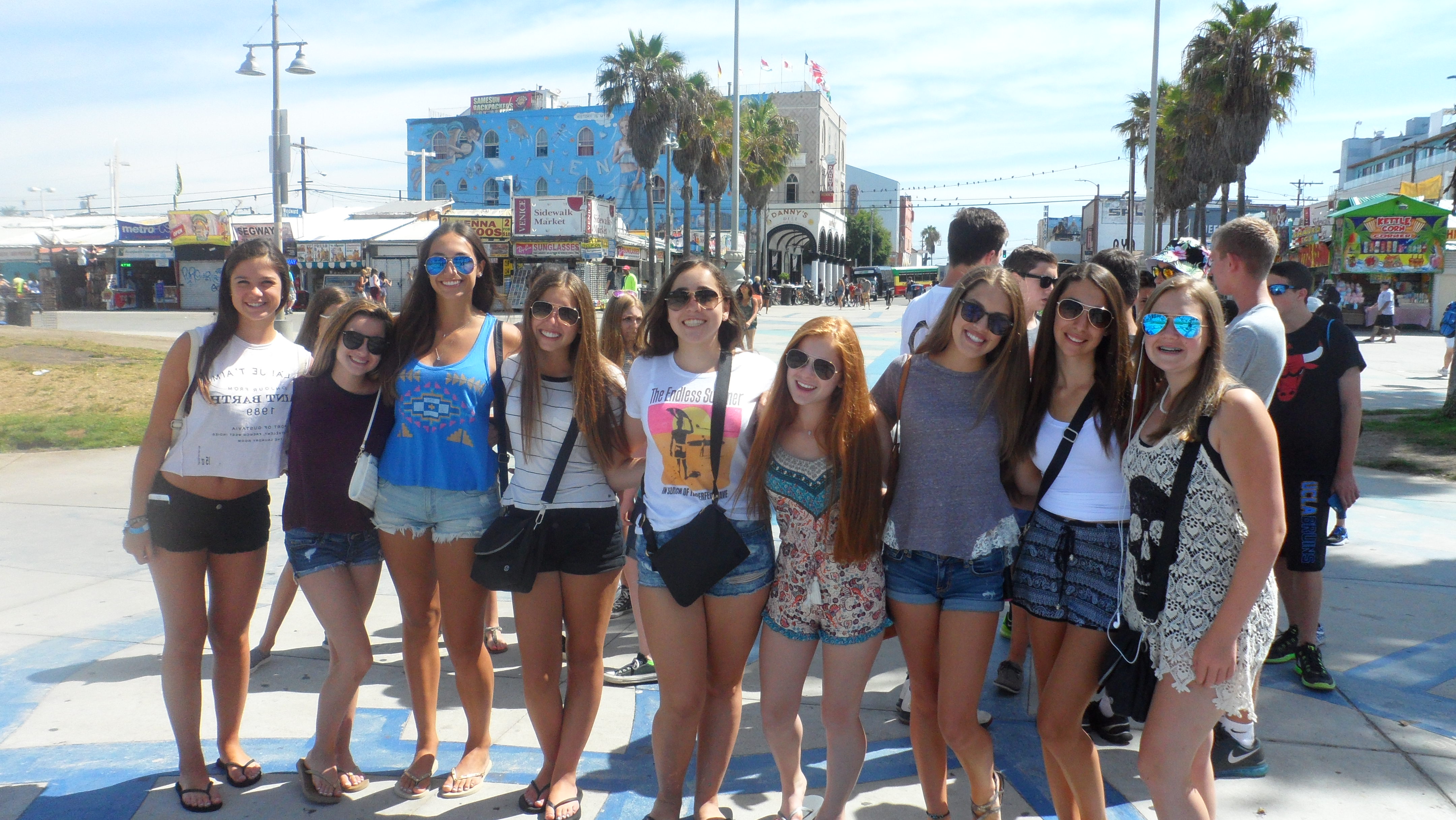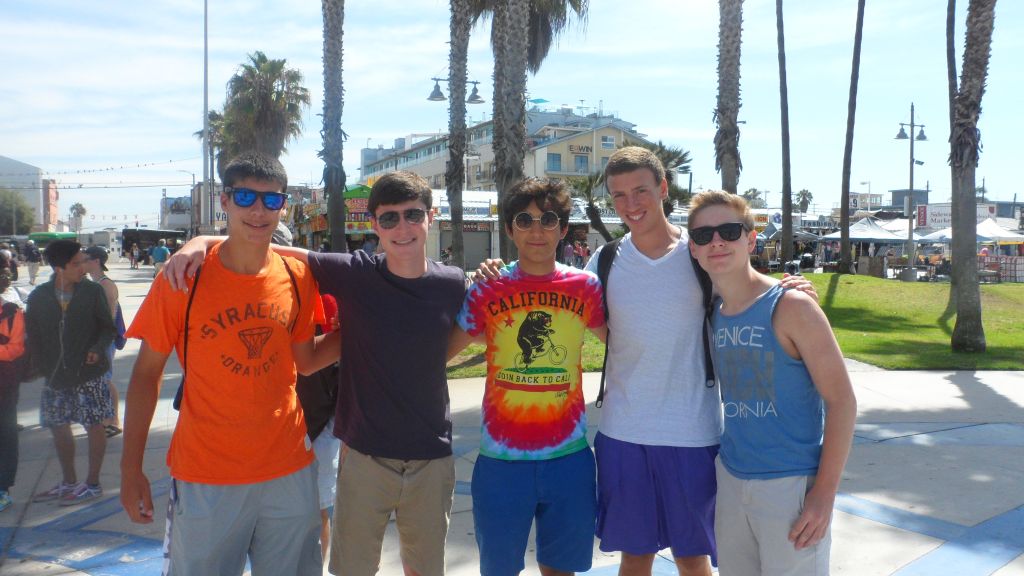 Los Angeles, the city of stars where all of our trip members were the stars of their Westcoast trip! The thrills began upon arrival when we headed right to Universal Studios where the entire group hopped onto the Studio Tour tram and saw the truth behind the many city scenes that have been filmed at Universal. Our tram took us through Jurassic Park, Fast and the Furious, Jaws, and Wisteria Lane of the tv show Desperate Housewives. After that it was back to the park where we spent the day running from ride to ride trying to soak it all in before heading to the City Walk for more exploring and a Rockin' dinner at the Hard Rock Café.
Our time spent in LA was diverse and gave us so many opportunities for thought, reflection, and fun. This was true of our visit to the Museum of Tolerance where we learned about injustices of the past, and those still happening today. Students learned so much from their guide and one group even got the chance to meet a Holocaust survivor and hear about her story.
A fulfilling morning was followed by a full afternoon as we headed to Rodeo where Trip Director JP met a former Liverpool soccer player and current LA Galaxy star, Stephen Girard and a group of Trip members met an actress from Entourage. All of this before getting a 20% discount at Roots California store because our very own Trip Leader Danny has been featured on the Roots Instagram page! (@rootscanada, the guy with the man bun in Maui).
We couldn't go to LA without seeing the stars, we walked across legends like Michael Jackson and made our way to Hollywood and Highland where California Pizza Kitchen was a big hit for the TMs dinner choice.
Venice beach was our morning destination after a jam packed night we were able to walk along the boardwalk and see the spectacles. Dancers, people on stilts, and lazy dogs in bikinis line the side of the Venice walkway providing some of the best entertainment LA has to offer. Almost as good as the show at the Improv which got our trip laughing so much, at times it was too hard to speak!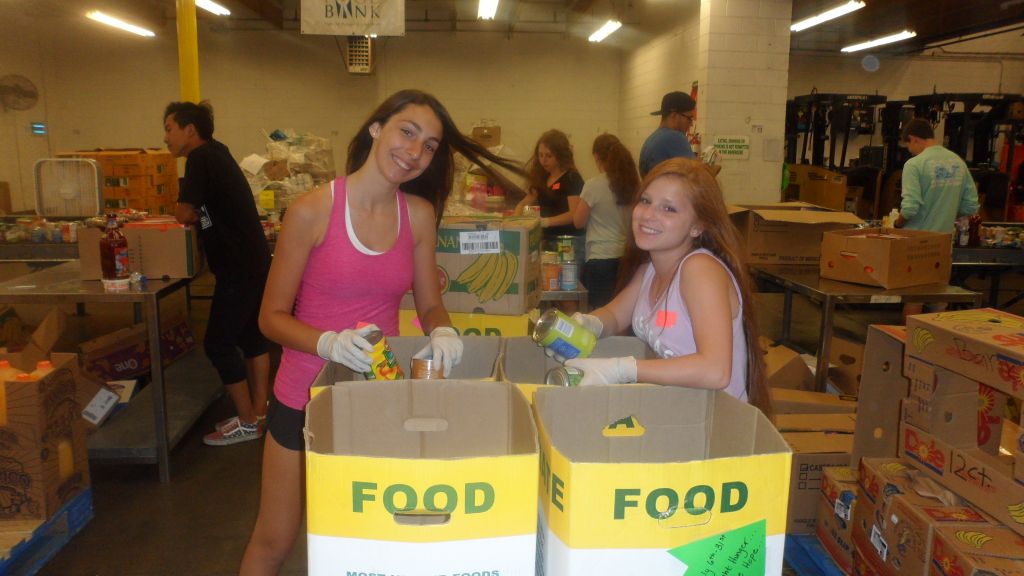 Our last day in LA was a favorite as we started out taking a moment to give back in the midst of all we were able to experience. Spending the morning at the LA Food Bank working hard for two hours, our group was able to help in providing 9,380 meals to people in LA county. Our Trip Members were dedicated and worked until the very last minute.
After the food bank our TM's were given the chance to enjoy the place where dreams come true – Disneyland. This was a highlight for our Birthday Man – Griffin G. who ranked Disney as one of the top attractions in LA. Between Space Mountain and Splash Mountain, you would think we went hiking, but instead we zipped and zoomed through the beautiful sets of Disney. We ended the day, and our time in LA with a happy birthday song for Griffin in which even strangers joined in on the fun to sing all while we watched a parade of our favorite characters dancing and riding through Main Street. To cap it all off, the parade was followed by the most spectacular fireworks you could ever imagine, which we like to believe came out for our trip and Griffin specifically!
 The Westcoast Blogger