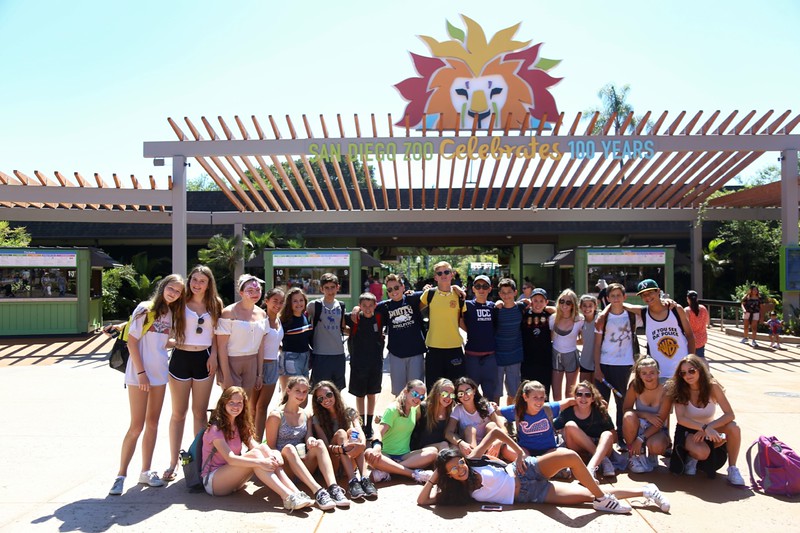 Dear parents of California Sprint,
Heading down the coast to Los Angeles , we had a thrilling time at the amazing Universal Studios Hollywood. We spent the day checking out all the rides and of course the new Harry Potter world which just recently opened. Everyone had an amazing day filled with lots of smiles, pictures and of course crazy amounts of delicious foods. It is never a dull moment in LA! We hit up Venice Beach and Santa Monica Pier where the boardwalk was filled with locals, cute cafes and any type of food you could imagine. We all had a great afternoon spent walking around and to end off a beautiful afternoon, we took a ride on the Ferris wheel at Santa Monica Pier. A famous hot spot of Los Angeles is Diddy Riese. What is that you may ask?! Well it is possibly one of the best businesses to exist! You pick out two cookies and your favorite ice cream flavor and make a gourmet ice cream sandwich. I think these were devoured in less than a minute because they were too good! What an amazing day had by all.
To end off a jam packed day, we spent the evening on Hollywood Blvd, where trip members posed in front of their favorite celebrities' names on the Hollywood walk of fame. Next, we were en route to greet Mickey and Minnie at Disneyland, the happiest place on earth! We spent the day riding all of the fun magical rides and even got to see the spectacular parade and fireworks. Wow! What a day! We were lucky to have had a good amount of time in LA and our final day was spent at the Farmer's Market and Rodeo Drive where all the celebrities hang out! Both are very popular spots in LA and the trip members had an amazing time spending the day strolling and enjoying the beautiful California sun. Our next and final spot on our amazing journey was San Diego. One of San Diego's most popular spots is the San Diego Zoo and lucky enough we were able to visit it! What an amazing zoo it was, no wonder that it is world famous!! Our trip members spent the afternoon checking out all the animals and their exhibits.
Our final day was one to remember that's for sure! Surfs up! We hit the waves on the beautiful San Elijo Beach where all trip members had a blast and showed off their surfing skills. What a day! As our trip comes to a close we are all sad to part ways but we have had the most amazing two weeks together! Our trip is a family and we will all keep in touch. Cheers to an amazing trip together!