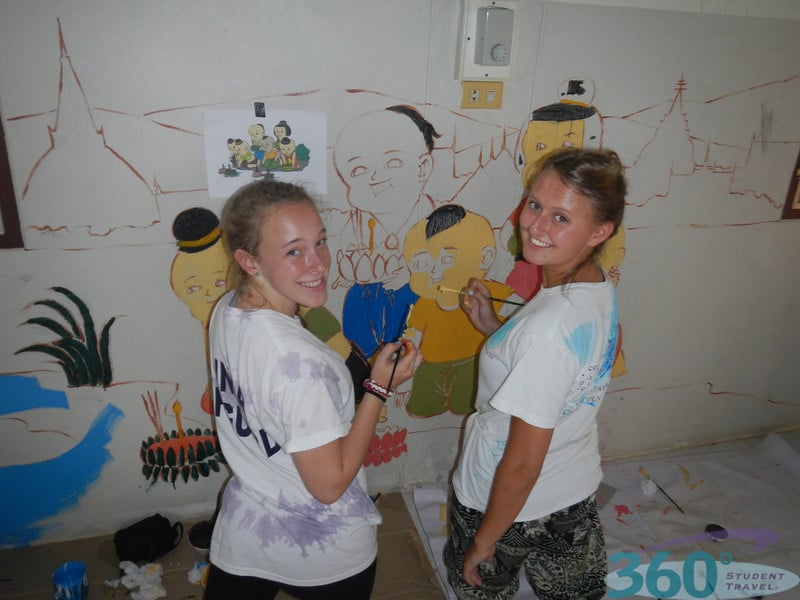 Since leaving Bangkok, we had our first community service experience at the Chiang Rai Special School. The school is 17 years old and services 447 students from the province of Chaing Rai. The students range in age from 7 to 33  and the school operates on government funding. Our first service project goal was to paint murals around the female quarters of the school, to brighten up the environment.
Upon our arrival at the school, we were given paint in the primary colors, black, and white.  Sammy O., Isaac and Annie were our mix masters and created a wide array of paint colors. We spent the day painting and watching the walls of the girls quarters completely transform into a bright and beautiful room.
At night we experienced Thai massages for the first time. Leah, Matt and Sydney W.'s laughter was contagious as our group experienced this form of massage, which is very different from your traditional Swedish massage. Thai massages involve a lot of stretching and many of our tour members couldn't help but giggle! Daniella, Micaela, Ruby and Melanie loved the experience, feeling rejuvenated and relaxed afterwards.
Our second day at the Special School involved putting the finishing touches on our murals and added our own personal flare. Sarah embellished the painted temples with intricate, fine details while Gabe and Isaac added American and Canadian flags.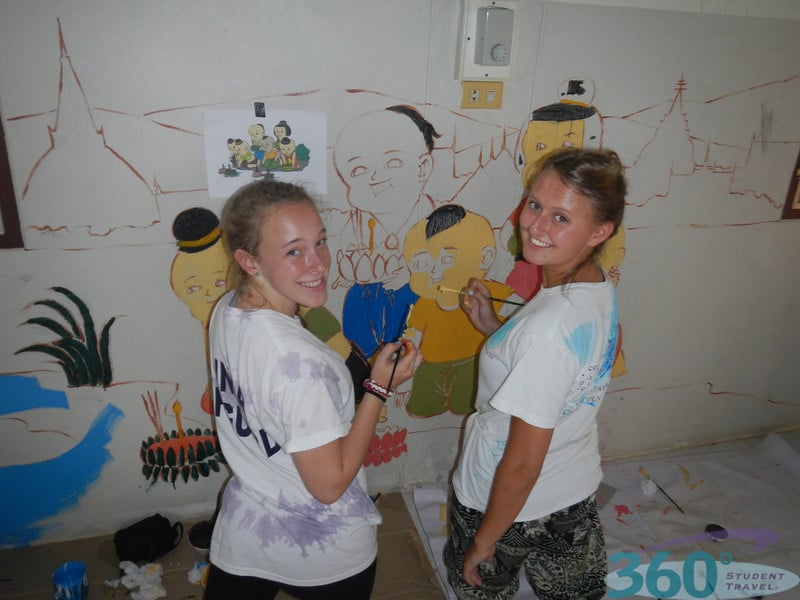 Once we completed our painting, we had an opportunity to really interact with the students at the Special School. Sammy B., Megan, and Morgan loved playing with their new friends! Michelle spent some time teaching her new friends some English words as they colored. Leah, Josh, and Dillon had a great time throwing and catching balloons with the kids.
After spending some time with the kids, we got to perform for them and show them a little bit of our culture. We learned and performed a Turkish dance called "Kiss Kiss" which the kids loved! Alicia loved seeing the kids' reactions when we danced for them, realizing how happy the performance made them. Emma played her ukulele with the help of many tour members who sang along. Sydney N. and Grace felt fulfilled from this experience and are excited about the exciting adventures to come!
Next update to come from the Golden Triangle, where we will spend some more time with our new favorite animals… elephants!
The Westcoast Blogger
Do you want to be part of this community service program? Check out our Thailand trips for students and get ready for the experience of a lifetime with Westcoast Connection.