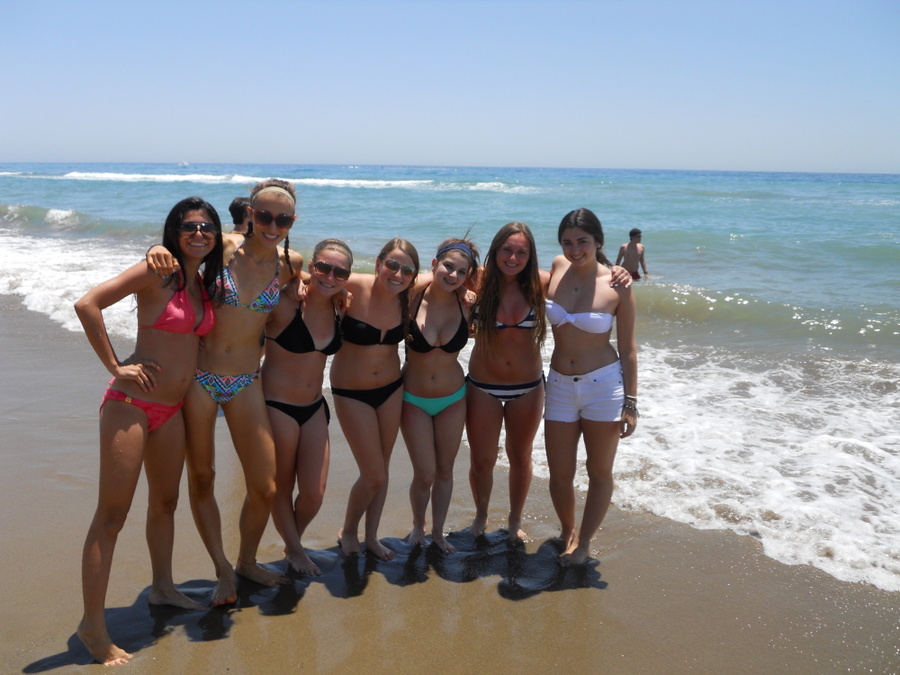 ¡En realidad, nos encanata la playa!Todos pasamos unos días increíbles al lado del mar en Marbella estos últimos días. Nos relajamos mucho en las playas bonitas de la Costa del Sol, y ya estamos muy bronceados (algunos quemados) para el resto de nuestro viaje. Y aunque fue una semana muy relajante, Sammy, Marissa y Sidney se despertaron tempranito el último día para correr al lado de la playa con Katie. Después de tanta comida riquísima, ¡fue una idea excelente!
Can we just say we LOVE the beach! We all had a lovely, sun-soaked time relaxing by the sea in the beautiful Marbella for the past few days. After enjoying the beautiful beaches of the Costa del Sol, everyone is nice and tanned (some of us a little crispy!) for the rest of the trip. While we had a wonderful week relaxing on the beaches, we also improved our language skills at the ever-wonderful school of Enforex! All of the students practiced their Spanish with their teachers and then used their newfound knowledge on the local restaurants and shops of Marbella. Sammy, Marissa and Sydney even woke up early on our last morning for a run along the beach with Katie, taking in all the beauty in their surroundings!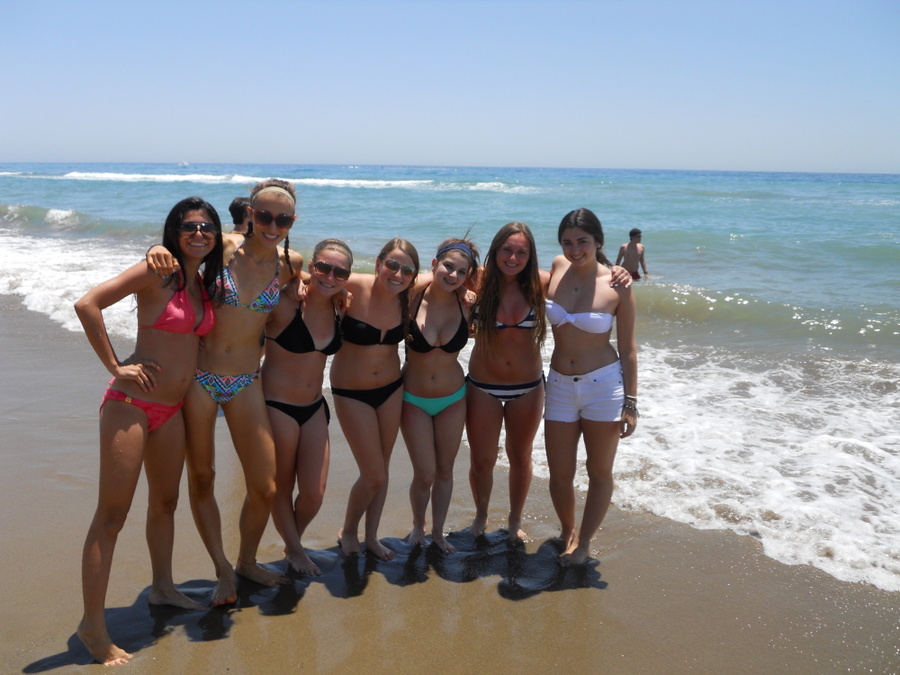 Todo el grupo pasó una noche elegante en Puerto Banus, una de las zonas más elegantes de toda Europa. Nos sentimos muy sofisticados cenando entre vistas del mar, de las montañas y de los yates enormes de la élite española. Y aunque a todos nos gustó la ciudad, a Zach P y a Bradley especialmente les gustó mucho ver los autos carísimos por todos lados (¡aunque a Brad le molestó mucho cuando alguien los tocó!).
One of our favorite nights was an elegant evening in Puerto Banus, one of the wealthiest areas in all of Europe. We felt very sophisticated dining among views of the sea, the mountains and the enormous yachts of the Spanish elite. And while everyone enjoyed the city, Zach P and Bradley loved seeing all of the exotic cars whizzing past them on the streets.
¡Y parece que tenemos unos chefs en este grupo! Todas las habitaciones en el Hotel Faro en Marbella tienen cocinas, y muchos miembros las aprovecharon. Taylor y Brooke S prepararon crepes deliciosos cada mañana, y Taylor ya es famosa en España por su pasta de tomate. Brooke Miller, Britt y Charlotte Dahl trajeron las tradiciones estadounidenses al país con sus sándwiches de queso a la plancha. Y
resulta que Evan, Sam Beck y Jake K son los cocineros más aventureros: prepararon no solamente huevos y panini, ¡sino también calamares! Madres, tomen nota: ¡sus hijos pueden ayudarles mucho en la cocina!
It seems that we have some chefs in our group as well! Every one had a great time cooking up a storm in their fantastic kitchens, and as profesional taste testers, all of their counselors were extremely open and willing to taste our students delicious concoctions. Taylor and Brooke S. whipped up delicious crepes every morning and amazing pasta with tomato sauce at night while Brooke M., Charlotte D., and Britt brought us a little bit of home with some fine tasting grilled cheese. We even had some adventerous cookers like Evan, Sam Beck, and Jake K. preparing not only eggs but calamari as well! Can we say YUM! Attention Moms: Your kids are now ready to cook you dinner!
Y por fin llegamos a Granada, hogar del Albaycin, de varias vistas maravillosas y de la famosa Alhambra. Ayer por la mañana, hicimos un tour excelente del antiguo palacio musulmán. Todos quedaron fascinados tanto por la historia y la arquitectura de la fortaleza y las viviendas como por las vistas increíbles de la ciudad y de las montañas. A Arielle y a Alex O especialmente les gustó el tour y la
oportunidad para explorar el espacio tranquilo.
We just wrapped up our weekend stay in Granada, home of the Albaycin, beautiful city views and the famous Alhambra. Yesterday morning, we had an excellent, informative tour of the ancient Muslim palace. Everyone was fascinated by the history and architecture, as well as by the incredible views of the city and surrounding mountains. Arielle and Alex O especially enjoyed the tour and the opportunity to explore the peaceful royal living spaces.
Finalmente, pasamos una noche en el Albaycin, con sus calles estrechas de piedra. Después de un espectáculo de flamenco impresionante, los bailadores invitaron a Andrew, a Marissa, a Hailey y a Savannah a bailar. ¡Todos estamos de acuerdo de que tienen mucho talento y  que podrían llegar a ser profesionales!
Finally, we spent the evening touring the narrow, winding streets of the Albaycin, the Moorish district, full of tiny tea shops and gypsy caves. Following an incredible flamenco show, the dancers invited Andrew, Marissa, Hailey and Savannah to dance with them (good thing we had a flamenco lesson in Sevilla!). The audience was clearly impressed by their poise and natural talent, and it's obvious that they all have bright futures as professional flamenco dancers!
¡Y ahora, estamos en la ciudad hermosa de Barcelona y estamos muy emocionados! No podemos esperar a compartir todas nuestras aventuras con nuestros muy pronto!
And now we are in the beautiful city of Barcelona and we are so excited to be here! We cannot wait to share all of our adventures with you sooner than later!
¡Un mil besos y abrazos por todos!
A thousand kisses and hugs to our amazing parents!
The Westcoast Blogger
For more experiences like this, join our 21-day or 28-day trips to Barcelona with our summer spanish language programs for high school students.