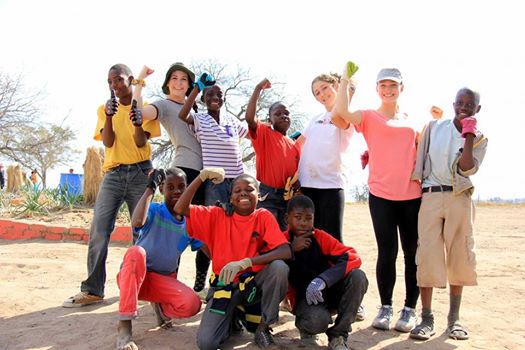 Jambo from the "Bush!"
We continued our South African adventure with a visit to the king of the Shangana. The king invited our group to dine with him as Shanganan children put on a performance that displayed their history. Sammi formed a quick friendship with several of the Shanganan children with whom she shared American gum and treats with. After a wonderful meal of stew, cabbage and maize, we headed home to the Cheetah Inn to rest for our first day of service the following day.After awaking early, we ate breakfast and began our South African Jersey Award, which is given to a trip member who goes above and beyond in their work and service to the community. Sammi, after exhibiting selflessness the previous night, was our first recipient. We, then, headed to the Matikinya School in Mpumalanga. The school was established in 1990 and is now home to the Children's Eco Training Program. This program allows students and teachers to learn the basics of science through a garden housed at the school. Eco Friendly, after establishing the garden and tool shed, has began to refurbish several classrooms at Matikinya and the community has welcomed the project with open arms. The 6th and 7th grade students are the grades responsible for maintaining the eco-garden and take their responsibilities very seriously. We quickly learned this was much more than a school project to them; the garden is a staple of life in their community.
We built six new "key holes" that house different vegetables as well as the clearing of a field and the construction of a new fence for the eco-garden. Auri, Nik, Emmy and Audree worked through parts of their lunch to ensure the tasks they began were completed. After lunch, Chloe taught a group of the Shanganan children how to play tick, tack, toe while Grishia, Rebecca, Meghan and Arielle all played a soccer game.
Before heading to the Matikinya School for our second day of service, Auri was awarded the South African Jersey Award for her dedicated work digging holes and carving out the sides of the keyholes. Once we arrived at the school, Caroline, Chloe and Marin worked on dragging logs to begin constructing the fence while Maria worked with several of the local children mixing cement. Marcy and Marin began to lay the bricks within the freshly dug keyholes. After lunch, Victoria, Masha, Audree and Emmy all started a game of duck duck goose that the local children laughed and loved. After leaving the school, Kelly suggested we pick up and donate some tools and lawn supplies for the garden and many of our trip members followed her lead.
Day three of our service began with our award going to Caroline. After arriving at the school, Victoria and Alex began to repaint the existing keyholes and freshen up the existing garden. Upon arriving home, Isobel brought her collection of England soccer jerseys and the group began to divide our donations to bring to the Matikinya School on our last day of service.
After awaking for our final day of service, Maria was awarded the South African Jersey for her hard work on lugging logs and was "knighted" by our Cheetah Inn key for her efforts. Once we arrived at the school, our trip members picked up exactly where they left off completing the fence. Our work in the Eco Garden was now a well-organized routine. Rebecca spearheaded a spontaneous dance party while she and other trip members put on the fences finishing touches. Just before lunchtime we said our final goodbyes to the many new friends we made at Matikinya School but not before getting in a final rap/dance battle.
The lessons learned during our time in the Eco Friendly Garden and Matikinya School are ones that will be forever in our hearts. It was amazing to see our group bond over the experiences we shared and to learn some valuable life lessons. As one of our friends has told us during our time in South Africa – Live life as an exclamation not an explanation.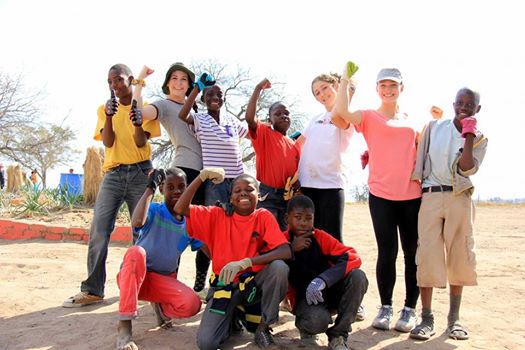 The Westcoast Blogger
Check out our 13-day and 25-day trips for a unique student travel to South Africa with wildlife, scenic landscapes, and cultural experience.