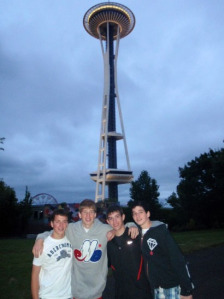 The American Voyageur drops us a line!
The Westcoast Blogger
Well its been a few days since our last email and boy have we been busy!
From Whistler we headed to the Marriott Springhill Suites in Seattle. After arriving we dropped off our bags and headed  to dinner followed by a laser show. The laser show was awesome. Done in coordination with Sublime music, some were able to sing along, while others just enjoyed listening and watching the show.
The next day was action-packed. Starting with a delicious breakfast buffet we headed to the famous Pike Place Market. Some like Mady, Sacha, Shelby, and Sammy found a Free People store, while others like Zach and Ian spent their time watching fish being thrown, checking out the first ever Starbucks, and indulging in Pike Place delicacies like fresh fruit, rich cheeses, and more. From there we headed to the Experience Music Project, an interactive museum where Alex E., Liz, Jon, Matt B., Jess, Sara, Mel and Sydney  formed their own band called "Elliot". After the EMP we headed to the Space Needle. While Teddy questioned the elevator attendant about why the elevators move as fast as they do, the rest of us were eager to get to the top and look out over the city of Seattle. We took pictures, walked around, and viewed the city from all angles. From there we were off to our night activity, Whirlyball. Whirlyball is a combination of basketball and lacrosse, and is played in bumper cars. While most got really into it and played as many games as they could, Sacha turned out to be the one that got bumped the most.
The next morning we were off to Mount Hood. After setting up tents and making dinner, we had a great time around the campfire. Our second day there was awesome. Some went skiing/snowboarding, while Ben, Ethan and others went single-track mountain biking. At skiing, Charlie, Jess, Alex C. and Zach B. had a great time.  That night we had dinner, packed our bags, played games around the campfire, and had fondue.
The next morning we took our tents down and headed to the airport super excited to get to California! After landing we headed to the famous "In 'n Out Burger" for lunch and then checked into the beautiful four star Westin Hotel! We next headed to China Town to walk around, explore, and then have dinner.
Our biggest day in San Fran was our second day. We started off with a visit to Alcatraz and had to take a boat to get there.  Once there we got to walk around while listening to an audio tour telling stories from some of the old survivors and guards' children who had grown up on the island. Then it was onto Pier 39 where Teddy loved her 'soup in a breadbowl' and we all got to have lunch and walk around and explore the area. From there we walked the busy streets past the street performers to the famous Ghirardelli Square where we all had chocolate and ice cream. After having our treats, it was off to the hotel to get ready for the night club!  It was great to see everyone dancing and having a great time together!
On our last day in San Fran we started our day off with a great hot breakfast at "Lori's Diner."  Then it was off to Lombard street, the crookedest street in the world, where Jon made his way down in an interesting way and Charlie  was "employed" by the other tour members to take pictures (as he is so tall)! After Lombard, it was off to The Golden Gate Bridge where Ben, Ethan, Scott, and Ian snapped some great photos of the bridge.
That evening we were off to the see the Oakland A's play the L.A. Angels.  Some like Dana, Courtney, Julie, Jake, Richard and Alex C. loved the food, while others like Mady, Sacha, Shelby, Jordana, Jayme, Sammy, Jon, Griffin, Zach B., Jaime, Matt F., Matt B., Max and Ryan loved the game! They even got one of the players, Gary Matthews of the L.A. Angels, to wave at them personally!
After the game we headed to "The Metreon" for a delicious dinner and a movie. Most went to see Harry Potter, while 3 went to see "500 Days of Summer", and a small group of girls went to see "The Proposal".  Steph loved the proposal as did Sam, Shelby, Mel and Jess.  Those who went to see harry potter were super excited and thought it was great.
Yesterday morning we checked out of The Westin and headed to ropes course in Squaw Valley where everyone participated in the high ropes course.
We are now in Lake Tahoe will write  in a few days with more juicy updates!