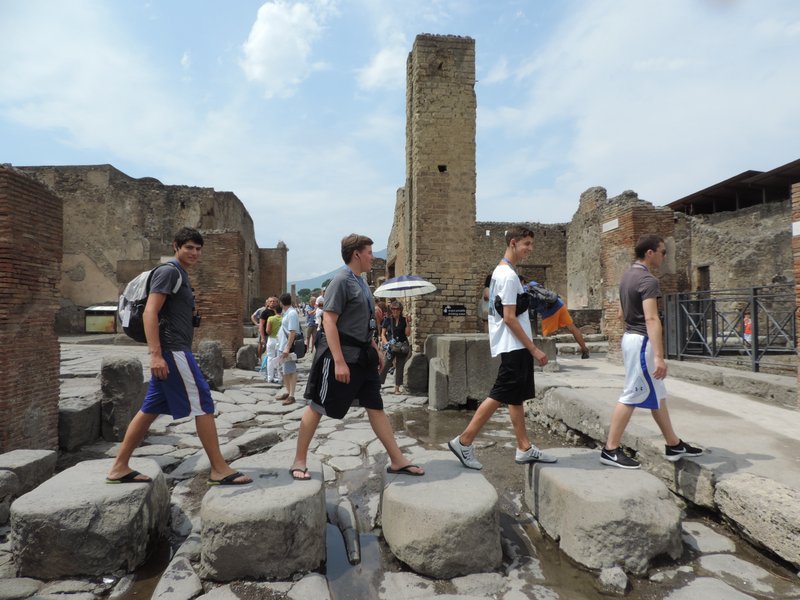 Welcome to Sorrento!
It's hard to believe we only have a week left before we travel back to America! Where has the month of July gone??! As we drove from Rome to Sorrento we made a stop in Pompeii where we had a guided tour and got a magnificent view of the still active Mt.Vesuvius. We traveled a little bit longer and made our way to Sorrento where we were welcomed with unlikely weather. It was hailing when we got into Sorrento! Some hail was as big as a golf ball! Thankfully everyone was getting ready for dinner and the disco during the storm and by the time we left it was sunny and beautiful outside! We enjoyed another delicious meal in the gorgeous town of Sorrento and then danced the night away at Disco Fauno Notte.
The following morning we headed out to Capri which is about a 30 minute ferry ride from Sorrento, where we met up with our guide to take us on a tour of the beautiful city of Capri. The trip members then got some free time to walk around the town and grab lunch in a delicious cafe or some trip members were even able to find a 5 star restaurant to enjoy some lunch at! Almost every single trip member came back eating "the famous canoli". This canoli was one of the best desserts we've had on our trip! I think Slater topped off our group with 3 canollis! We tried to get Ross to eat it but wouldn't eat a dessert that had cream in it, maybe next time! Once we filled our stomachs with some sweets, the weather cleared up and we were able to take our boat tour of the AmalfiCoast and the beautiful grattos. Due to weather, unfortunately we were unable to swim but the views alone were incredible. That night we enjoyed another great meal in Sorrento and some gelato to follow- of course! Nicole always scouts out the gelato stores to see if they have her ultimate favorite- mango and she says she will only get gelato if they have her flavor!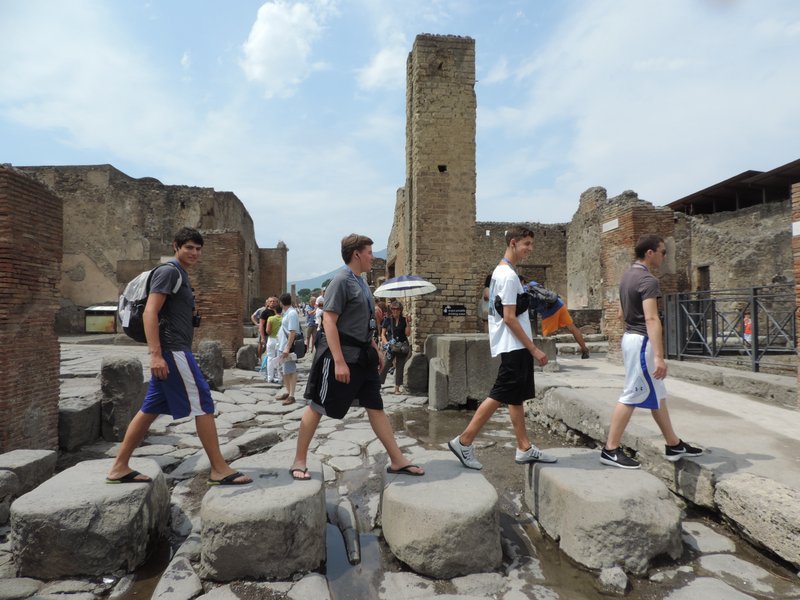 On our last day in Sorrento, the weather was perfect! Not a cloud in the sky as we took the ferry over to Positano to enjoy some much needed beach and relaxation time. Some trip members took time to shop around the town, others like Charlie learned how to do a backflip from Jeff and Brian, and others swam in the sea. Ross was such a great friend, he gave Zach a break from his crutches and carried him into the water to cool down. Zach's brother Josh was right there helping him out as well! By this time, everyone was exhausted as we took the ferry ride back to Sorrento. I don't think more than 5 trip members were awake on the hour long ferry ride back. (The sun sure does get to you!) For our last night in Sorrento we went to a delicious restaurant O'Parrucchiano and ended with some karaoke afterwards. Sydney was not shy at all, being the first trip member to karaoke! Jack had a great time singing and dancing around throughout the night! We got a chance to sing happy birthday to Callie at midnight and then headed to bed…Off to Florence tomorrow!
The Westcoast Blogger