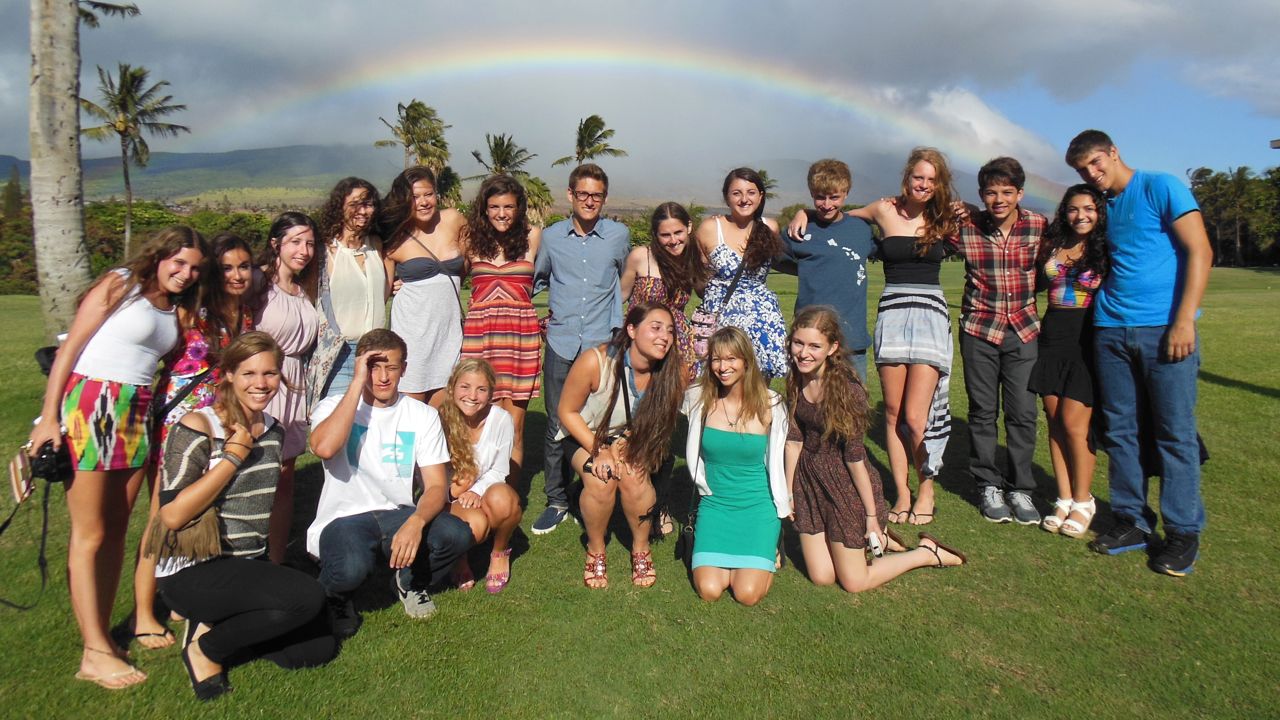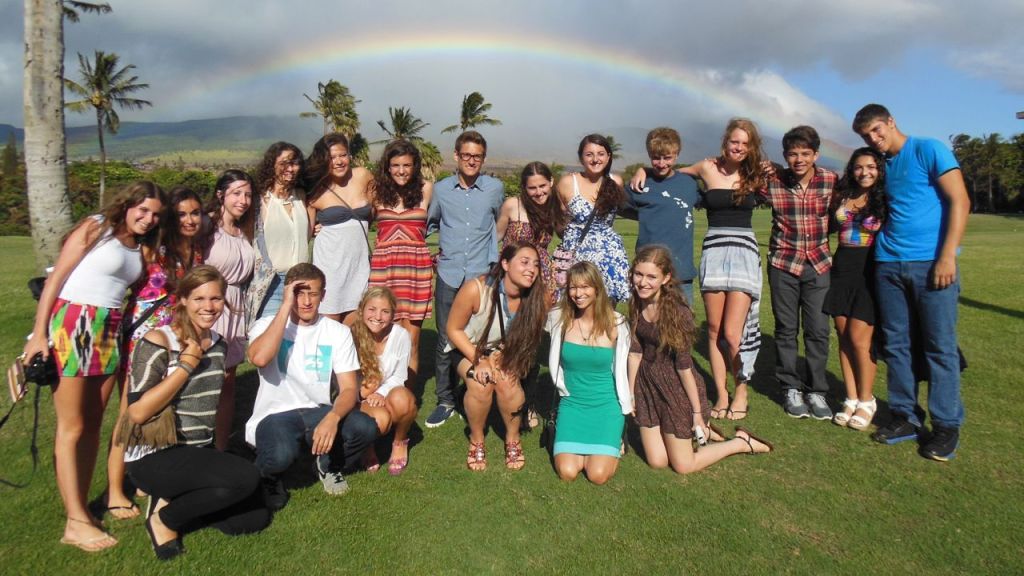 The final update from Hawaii Community Service:
Aloha for the last time!
I can hardly believe that our trip is nearly over and that I am writing you for the last time. From the first day of the trip, we knew that our group was very special and that our new Ohana (Hawaiian for family) would bond so much through all our experiences not only touring Hawaii, but also getting to know it through all our new local friends. The past four days have easily been amongst the greatest of the whole trip.
After brunch on Sunday, we spent most of our day at one of the beautiful beaches in Wailea. Throughout our trip to Hawaii, we have been lucky to see beautiful rainbows on a regular basis, but just as we parked in front of the Hyatt Regency for our luau dinner and performance, we found ourselves facing the most incredible rainbow of the trip. After taking a few photos in front of it, we made our way to the luau. We not only ate one of the most delicious dinners, but we also learned a lot about Hawaiian history and culture through song and dance.
The following morning, we started our final community service project with ECO Maui. This project was led by Nature Jay, a naturalist educator who knows Maui inside out. After bringing us to Ho'okipa beach park for some amazing beach views, and a quick chat about the island of Maui, Nature Jay brought us to Twin Falls where we helped take out some invasive plant species. As a reward for our hard work, we got to cool off in a small natural pool under a breathtaking waterfall (many trip members rated this as their favorite activity of the whole trip). That night, we went back to Lahaina, but made a stop along the way to catch one of the best sunset views in Maui. We spent time at a beach, listened to music, and enjoyed each other's company until the sun went down.
The following morning, we visited the Montessori School of Maui, where Nature Jay teaches throughout the year. The school prides itself on promoting principles of sustainability, and providing students with a personalized education. It emphasized topics such as gardening, and learning the process of where our food comes from.  We got to taste fresh tomatoes off vines, made freshly squeezed orange juice, and enjoyed mint water; all from the school's garden. We helped with the maintenance of the school playground, and moved equipment and materials from one class to another to help the school be ready in time for the upcoming school year. The faculty and maintenance crew were so grateful to us for our help, reminding us that every hour of our work, saved them twenty-one hours since there are that many of us. After helping out at the school, we went to cool off at a popular local beach, and managed to see something pretty spectacular. As we were swimming, we noticed an enormous sea turtle out of the ocean, on the beach, so that it could lay eggs.
Today, we had another wonderful day. After ziplining through the valleys of Maui (which was exhilarating and amazing!), we drove up to the summit of Haleakala volcano (over 10,000 feet up!). The area is often compared to the surface of Mars. Being high up above the clouds, looking down at this magnificent wonder was yet another tremendous highlight from our trip.
Finally, we celebrated our amazing trip at our banquet dinner tonight, which was followed by awards, closing games, and some time for the group to spend together.
It has been such a pleasure to work with such an amazing group over the past few weeks. Each and every one of the trip members has brought something unique and valuable to the trip, the group dynamic, and to the Hawaiian communities we had the fortune of spending time with. When we were saying bye to Nature Jay yesterday, he thanked us not only for visiting and touring Hawaii, but for going beneath the surface, meeting the real Hawaii, and learning through exchange with the communities we came to work with.
It's clear that the bonds that have been formed throughout the trip will not fade away when everyone boards their planes. The friends we've made, and experiences we've had will remain with us for many years to come. Thinking about the summer of 2012 and our group, will surely bring a smile to each of our faces for years to come thanks to all the memories we've made, which will last a lifetime.
Mahalo for an unforgettable summer!
The Westcoast Blogger