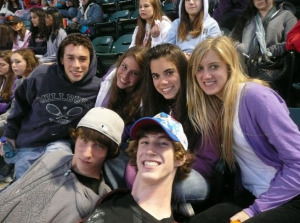 The Extravaganza is singing "It's A Small World!"
The Westcoast Blogger
Hello Californian Extravaganza Parents!
We are currently in Disneyland! This is very exciting for all of us since we did trivia on the bus to get pumped up.  Melissa's team really stole the show and racked up the points!
The past fwe days have been so full and action-packed, so get ready because we've got a lot to tell you!  The last time I emailed we were in San Francisco at Pier 39.  A lot of the girls like Sydney, Ilyssa, Emma, Alex, and Jenna B. bought a few very cute souvenirs from the pier.
As we were walking to Ghiradelli Square, the infamous Bush Man jumped out and scared myself and our Tour Director, Sam as we were leading the group! It was very unexpected and nearly gave us a heart attack! Needless to say, the kids got a laugh out of it. One thing I love about the Ghiradelli factory are the FREE SAMPLES! Courtney and I went on a hunt for hazelnut chocolate to see if we could find one that tasted like Nutella (Courtney's favorite….is Nutella even considered a food?) while Lexi, Ashley, and Erica, Russell, Evan, and Matt enjoyed the relaxing atmosphere of the elaborate coffee shop and had hot chocolate amongst friends.
Our evening baseball game was quite eventful as Max and Andrew tried to get on the big screen by wearing extremely small shirts that read "somebody who loves me went to San Francisco and bought me this t-shirt" – very entertaining boys! Next up we went to Sausalito where the kids enjoyed some time on the other side of the Golden Gate Bridge.
The day was full of excitement (and exercise) as we hiked up Lombard Street and danced the night away. The next day we headed to Ventura where we had a relaxing 2 days. Mel and Melissa really shone as the star chefs in Josh's group as they took on grilling pancakes and grilled cheese!
Our first night in Ventura was Jake's birthday!! Jake was very adamant about not making his birthday a big deal, however, we knew he didn't REALLY mean that so we got him a HUGE chocolate cake anyway and he loved it!!! This made me very happy as it was our first birthday on the trip!
Our last night in Ventura we saw a movie, most of the boys saw Transformers 2 while many of the girls saw My Sister's Keeper. Needless to say I saw the latter with the girls and we had a very good cry. Natalie and I had a moment of laughter through our tears once the movie ended as we were trying to dry off our faces! The next day we headed to Universal Studios where we celebrated Kyle's birthday!! Although he "forgot" the very elaborate hat Allison made for him on the bus, he nonetheless became the center of attention at the Hard Rock Cafe when the waitresses had him walk around the entire restaurant while we sang Happy Birthday 🙂
Yesterday we spent the day in LA at Venice Beach, the Museum of Tolerance, Rodeo, and the Improv. My Venice Beach laugh was when I got a phone call from Ashley, Jordana, Joelle, and James saying "We think we're at the meeting spot, you know, in front of the big chopsticks." I had no idea what they were talking about until I met up with  them 2 minutes later and they pointed out the big "V" on the water which they claimed did not look like the letter V, but chopsticks. I was highly entertained by their imagination! 
Tomorrow we are seeing the last of the City of Angels and moving onto surfing in San Diego! I will be sure to catch up with you all soon!
The Californian Extravaganza Staff