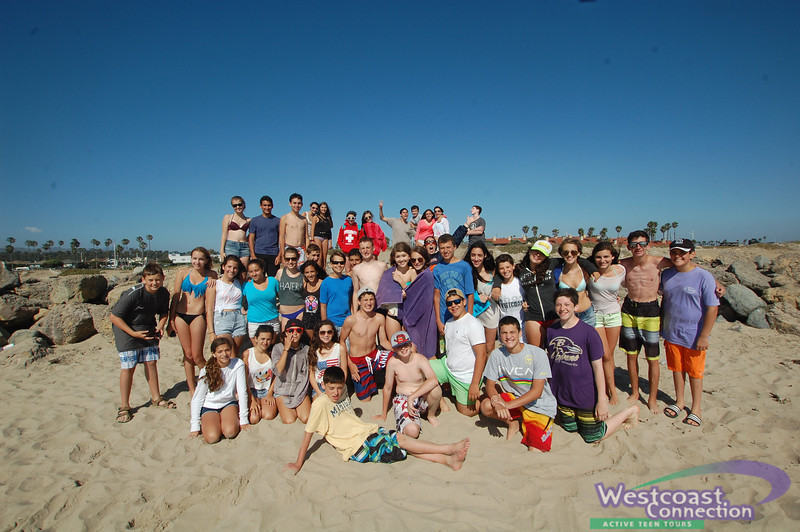 Welcome back Family and Friends of California and the Canyons!
We have had some adventurous past few days traveling to Southern California! Starting off with rafting on the Truckee River on the way to Lake Tahoe we cruised down to Reno, Nevada. It was a busy day on the river with lots of people celebrating the 4th of July. Before arriving to our campsite we got glimpses of Lake Tahoe: big, blue and beautiful.
Camping truly brought our group together. New friendships were formed and being out in the open air, and a little dirtier than usual, made almost everyone more relaxed and comfortable. In the morning we went for a leisurely cruise around Lake Tahoe. Relaxation, blue water and clear sunny skies—Shayna, Emma, Daniella and Yael perched at the bow like mermaids on the front of a tall ship. The adventure continued with water skiing, tubing and wakeboarding in the afternoon. Taylor, Tarek, and Kyle showed their professional skills skiing circles on the water.
Inspired by our feature bus film, The Incredibles, we put on our Super Suits, riding to Ventura. Traveling through the desert we played Family Feud, Music Trivia and various other games keeping a keen out on the horizon for the Pacific Ocean.
In Ventura, we did laundry and celebrated Noah's birthday! Although the laundry was something that needed to be done, there was plenty of fun to be had playing cards and socializing. While some watched the dryers spin round-and-round others helped adorn the bus with Knicks inspired decorations. Later we went to the beach to swim in the ocean for the first time and, to Noah's request, some ice cream cake. Having all meals at the campground inspired Camryn to try out her chef skills. In anticipation for Universal Studios the next day the group all saw Despicable Me 2. Cameron and Max laughed the whole way through.
Camping was a new experience for most but we made it through with smiles at the end, Valentina said she loved it. We eagerly packed up our camp and loaded the bus to our next destination: The City of Angels. Universal Studios had many joys in store. Hailey and Sophie loved the Jurassic Park ride, on a hot day it kept them cool and satisfied. Matt conquered his fear of rides and went on The Transformers 3D simulator. Maya proved her skill and luck by winning a couple carnival games. In our evening stroll around City Walk, Zach, Jake B., Jack, and Jason transformed into Michelangelo, Raphael, Leonardo and Donatello with their new Teenage Mutant Ninja Turtles high socks.
Our second day in L.A. can be summed up as FAMOUS! Starting off with the UCLA Bookstore, Josh searched for basketball apparel while Daniel bought a Philosophy book. While walking on Rodeo Drive everyone had their ears and eyes open for celebrities. It wasn't until we got the Farmers Market for lunch that Daniella saw Perez Hilton and Mario Lopez. Carly, Eve, Jackie and Maya were in the background for an Extra TV filming. At dinner at the Hollywood and Highlands center the premiere for Pacific Rim was happening. Caity, Jared, Matt, Noah, and Jacob got photos on the side of the red carpet with stars. Charlie Day, Kaitlin Olsen and Rob McElhenney from its Always Sunny in Philadelphia strutted down the carpet and into their photos as well as Masi Oka from Heroes. Seeing the Hollywood sign from the mall capped off our famous day.
Heading into our final days in California, we are reminiscing on some of the great times that we have all had thus far! At the same time, we are looking forward to what the rest of this trip holds for this group and experience.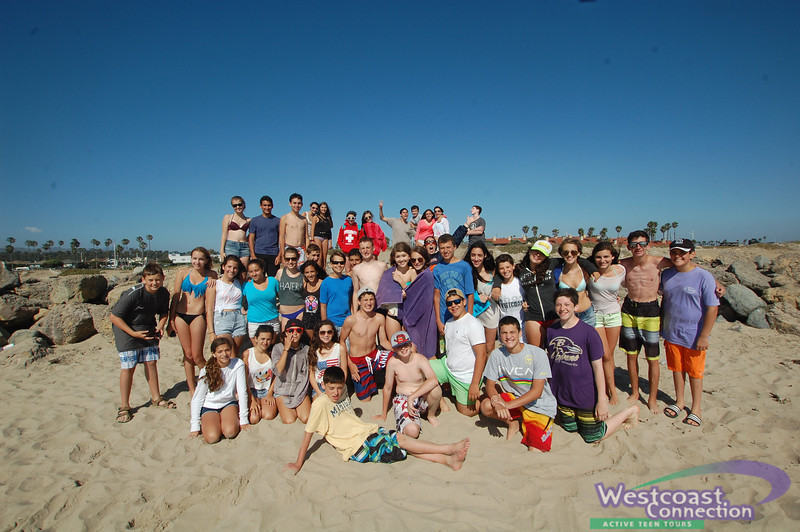 Until next time…
Sara, Jamie, Ilysa, Nikki, Andy, and Justin