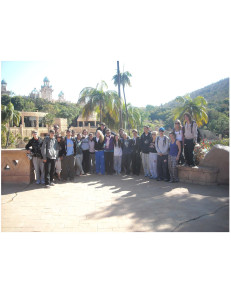 A final farewell from Community Service Africa.
The Westcoast Blogger
Hello from the Oxwagon Lodge!
We are back in South Africa and nearing the end of our African adventure, but the fun is not over yet.
We stayed for two nights at the Mayane Campground in a National Park, and were visited by several impala, monkeys and warthogs while cooking pasta for our Italian Night.
Yesterday we spent the day at the Valley of Waves in Pilansberg, an amazing resort with a waterpark, entertainment facilities and beautiful grounds with nature walks through lush jungle, behind waterfalls and over rope bridges. The sun was out but it was still a little cool, so most of us took the opportunity to lie on the beach and relax, while a few braved the water to try out the exhilarating waterslides. In the afternoon we all went to a movie and then out for a delicious dinner at Squires Steak House.
Today we had an early breakfast and then we set off for an exciting morning of Zip Lining through a gorge in the Magaliesburg Mountains. Everyone had a great time soaring high from one cliff wall to the next. Ten lines in all with the longest just over 400' long. After lunch we drove to the DeWilt Cheetah Breeding Center. We went on an educational tour and saw African Wild Dogs, Impala, Gnala and of course lots of Cheetahs. After the tour, each trip member got the chance to get close to an ambassador cheetah, take some pictures and pet it, (making sure not to tickle it!)
Our hotel tonight is the Oxwagon Lodge, situated at the top of a mountain and overlooking the city of Hartbeesport, the view is breathtaking and the rooms are quite different. The boys are all sleeping in a double decker London bus, and the girls are sleeping in authentic Oxwagons. For dinner, a traditional cookout with each trip member seasoning and cooking their own meal over open fires to perfection.
With only two day left and so much left to do, everyone is in a great mood with lots of energy and camaraderie.
CSAF