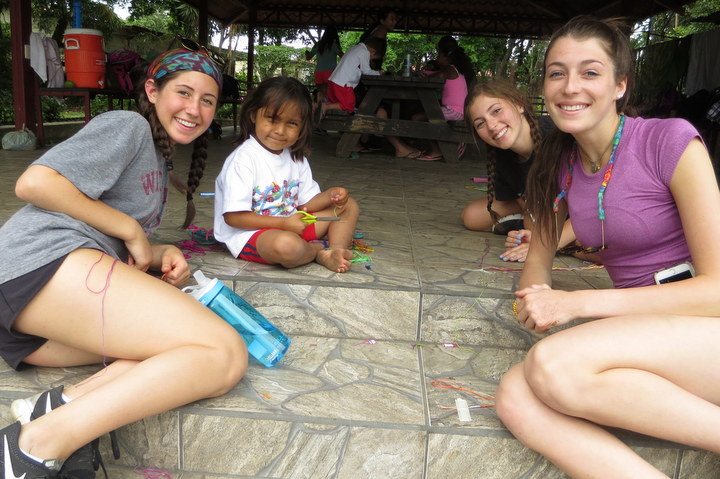 Hola from Costa Rica!
On Tuesday, we began our last day of community service with the Costa Rican Humanitarian Foundation by running a sports camp for some of the children from  the La Carpio community.  As there are no fields or pools in La Carpio, the little kids from the community were bussed to another area where we met up with them for a day of fun. In the morning, the trip members split up into two groups. One group swam in the pool with the littlest kids, and the other group went to play basketball and football with the older kids.  After a little while at each activity, the groups swapped. Before lunch, in addition to pool time and sports games, a large group of trip members and kids participated in an intense game of "Pato Pato Gonso" or "Duck Duck Goose."  After a morning packed full of activities, we all ate a delicious lunch prepared by the mothers of the children from La Carpio.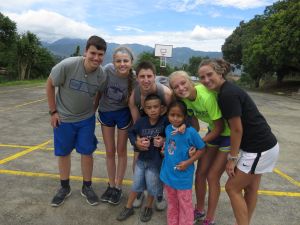 Post lunch, the trip members helped some of the children make friendship bracelets, draw pictures and color with a variety of art supplies. But, the best moment of the day came at the very end when we surprised all of the children with a piñata. Everyone had a blast watching the children scream with joy and take turns blindfolded to hit the piñata in anticipation of the candy inside. We then said some very sad goodbyes after our most rewarding day thus far. We headed back to the hotel where we got ready for the evening and headed out to dinner and karaoke. It was a fun-filled night with lots of laughs, flashing lights and some memorable performance by the trip members and staff.
The next morning we were up bright and early to head out for a white-water rafting adventure. The rapids were fast moving and the trip members reported that it was exhilarating.  On our way back to San Jose, we made a stop for some local Costa Rican ice cream at Pops. It was a refreshing treat after a great day of paddling.
After getting some rays by the pool, we were off to dinner.  It was a great meal with lots of laughter and conversation amongst trip members. From dinner we headed to mini golf. We had the course to ourselves and enjoyed some Spanish pop music while playing.  Thursday, we said our goodbyes to San Jose and headed for the beach in Tamarindo. We broke off into groups, all enjoying different lunches. Some groups shopped at some local stores while others soaked up the rays and swam in the warm, blue ocean water. In the afternoon we hung out with the surfers as we had surf lessons. Trip members had a blast surfing for two hours in awesome waves. We then headed to our hotel in Flamingo. We dropped off our laundry and went straight out to dinner followed by some delicious homemade gelato. Tomorrow we begin our next service project. Until then….Pura Vida!
The Westcoast Blogger
Have we piqued your interest? Explore our Costa Rica family vacations. It will be the travel experience of a lifetime your whole family will love. Start planning your next adventure with Westcoast Connection today!