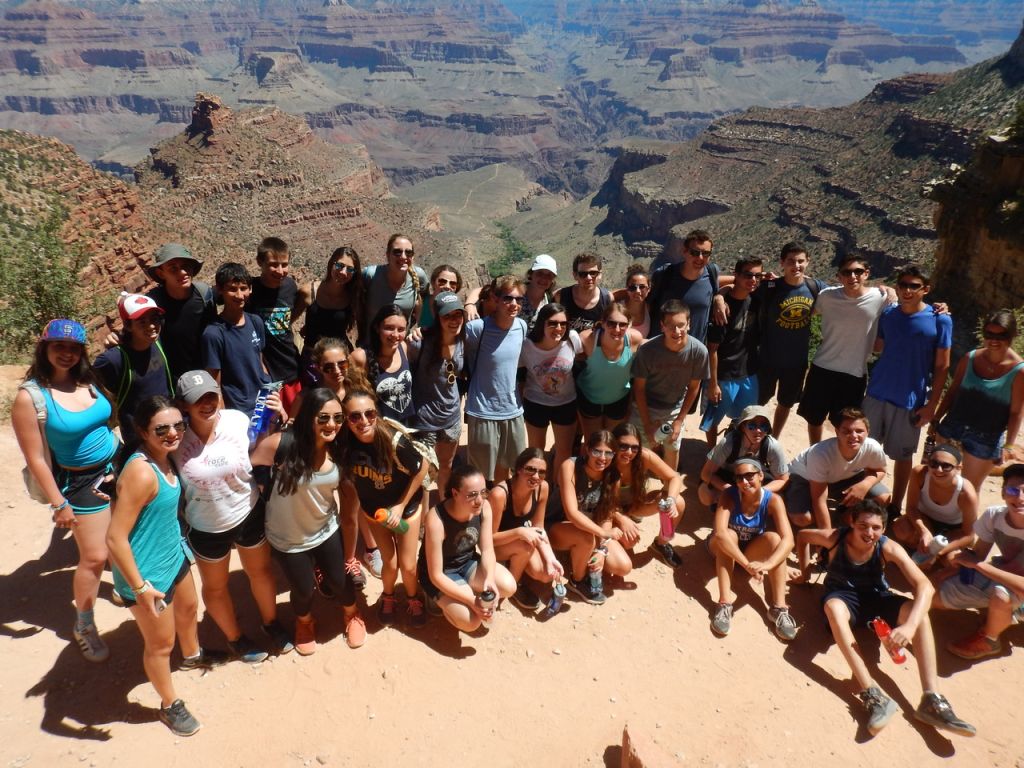 There is so much to say about the incredible things that happened in the canyons. In Zion, we were inside the valley of the canyons, captivated by the towering red rock above us. As we traveled to Bryce, we ended up on top looking down at the hoodoo rock formations. We even got to see big horn sheep climbing the uneven terrain. Everyone enjoyed the hike and the photo opportunities, especially in their competition to capture the most epic photos of their teams. "Teams," you say? Yes… IT'S COLOR WAR! Our strong captains led their teams to victory: Jordan and Michelle for the red team and Adam and Devon for the blue. Although the group was physically divided by color for those two days, I have never seen a more unified group of people, despite the competition.
The group would probably tell you that the most laughs and smiles came from the apache relay. But after being separated by teams for the race, the whole trip convened again to play sports and talk on the benches before the winner was revealed.
…B.L.U.E all the way to victory! Congratulations blue team! Red team cheered for the blue and the blue cheered for each of their capable individuals. The blue team cheered "We have Nolyn!," and lifted him in the air for being such a good-spirited team player, and for adding so much positive attitude to the group dynamic.  Our whole team has proved that they know how to be inclusive, supportive,  and positively energetic. We sat around our final campfire and reminisced. We asked trip members for 'Trip Five Takes Five,' "Who is someone on this trip that you have gotten to know that you didn't know previously?" This question was a tear jerker for most, having never known on that first day what kind of a big family we would turn out to be. To conclude the night, Hallie S sang us "Bubbly." The group was touched and impressed by her beautiful voice. She was proud of herself, as were her other supporters, for opening up and sharing her talent with the whole group. Intense feelings about the end of our journey have become more evident. These last days in Arizona are sure to take a special place in each trip members' hearts.
Besides signing happy birthday 6 times during the trip to 6 different trio members (Jonathan S., Albert, Britney A., Max G., Noyln S., and Hallie K.), our trip members wrote a song during color war that every member of trip has been continuously singing. It inspired us, for our last report of the trip five experience, to write a song/poem, and to share it with them as a special last memory. Arranged to the tune of Road Tripping by Red Hot Chilli Peppers, sums up very well the love we shared during our twenty-eight days as a family:
"Road trippin' with 44 of our allies
Fully loaded we got snacks, we got Clive
Can't believe we're here
It's time to say so long
Let's remember trip five with this morning song…
Or maybe not,
Or maybe not…
REMIX!!!!
Nolyn, Albert and Adam, thanks for teaching us how to rap. We're gonna try, right now, to be as good as that.
Shout out to trip five for being the most AMAZING crew, this rap ain't no battle, it's made with love, to you.
Lets start with the duffle crew, Matt A Matt G Jordan Griffin Jake, you hold our home together like glue, and we learn our strength and determination from you.
Hannah K, what can I say, you put a smile on everybody's face.
Emily, we're so happy you're long journey brought you to us, trip five; you found your home with life long friends here in the blink of an eye.
Dylyn, you love the nickname Lettuce, we leave you with the funny memory of a fellow trip member's bad hearing, but what we will remember is your silliness that leaves our eyes all tearing.
Rachel Se. and Devon, you came here attached at the hip, yet I notice you beam when you talk about all the new, best friends you've made on this trip.
Kevin, the rap god, I hope you think I'm doing a good job.  I heard you want to write a book, will you feature trip five as the superhero defenders against all crooks?
You've given us an answer, Rachel T: that yes, it is possible for someone to be so outgoing, welcoming, and also so friendly.
To the BFFs, I have a question, my dears: Sophia, at the Tony Awards will you give a shout-out to Lindsay for all her smiles and cheers?
Eden and Kyle, the perfectly loving siblings, the partners we all strive to be, it's been a pleasure to watch you both blossom and grow as tall as a California red wood tree.
The voice of an angel, get up here and sing! Hallie S, we'll never forget that one enchanted night around the campfire where you conquered your performance stress.
The ever so stylish Hallie K, can you send us a catalog of your outfits day by day?
I don't know if anyone can rock a snapback or emoji pants like you; you too, Sarah S, are on the fashion-week-runway-express.
Casey, remember when you stood up your first time on one water-ski?  How proud you must be, a strong model for others to believe.
Meredith and Nikki, the dynamic duo! I'm curious, Nikki, with the help of your good friend, will you now start reading Hunger Games number two… or…?
Brittney, the one with the light and happy voice, I've never seen anyone have the ability to bring order to a big group, silenced suddenly by such willing choice.
Speaking of voices, Max, you are so properly polite. "Pardon?"–– your favorite––please, and thank you makes your vocabulary so bright.
Jonah, with that wicked flow, you've got the personality that everyone has loved to get to know.
You killed it as red team captain, Michelle; you motivated your team for miles! I will touch on the great qualities that are you, your laughs, your strengths, and your smiles.
Julia, on the last days of the trip you were never shy to want to meet new people, we commend you for that and hope trip five was only the prequel.
Matt L, we love your loud and outgoing self, and we also heard you're a DJ. We'll leave you with blasting speakers, your favorite beats, and hope you remember this shout out each and every day.
The most ultimate Frisbee enthusiast around, Cody, we hope you take down your game competitors every round.
A sparkling personality and a great friend, Sarah F, I think that trip five can vouch that you one of da best!
Celia, we all know the deal-ia, don't take my lame rhyme to heart, trip five loves to have you as our glowing counterpart.
Hannah N and Alex, you embody the phrase: "A brunette and a [once upon a time] blonde with an inseparable bond."
I think I lost my own rhyming skills right there so I'll bring it back, Avery you've helped teach everyone to appreciate the sites around them, and that's a fact.
Daniel, I'm sorry that banana boat didn't work out that one time camping, but what a wonderful sense of humor that can leave a whole room chanting.
What a confident and grateful young woman, Rachel St., we know that after trip five, you will continue to be eager to learn.
Danielle and Brooke, in competition for the greatest laugh, you both have the ability to crack up the staff.
Robbie and Jonathan, two greathearted, intelligent young men, we miss you on this last day, we're glad we got to spend time with you the past twenty-eight.
Remember your fear of Ferris wheels? Well you squashed that, Fiona. Long after trip five, you'll be conquering even greater heights I know it.
A lesson to all moving forward: we'll leave all fear behind, here in Arizona…
Road trippin' with 44 of our allies
Fully loaded we got snacks, we got Clive
Can't believe we're here
It's time to say so long
Let's remember trip five with this rap song…"
– The Westcoast Blogger