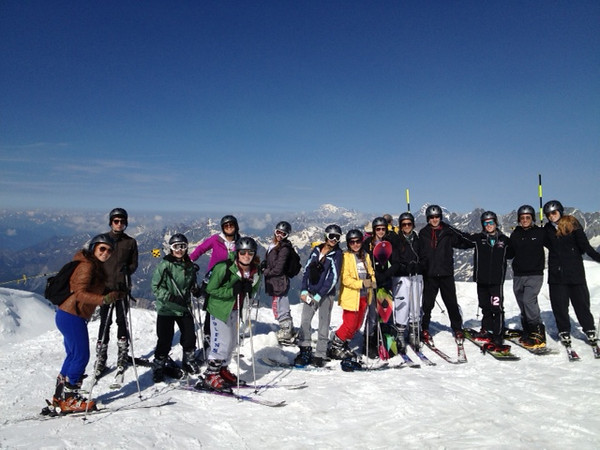 Hello again!
The mountains on our drive through Switzerland were absolutely breathtaking! The fields and gardens wound up the hills, and the forests grew and led up to the snow peaks of the Swiss Alps. On our way up the mountains Sara B, Jenni, Sophie, Dani, Eduardo and Trip Leader Nicole led us in a little seated dance party, followed by a spirited Disney sing-along. It got us energized and ready for our first night in Zermatt. Once we were settled in the hotel everyone had time to explore this quaint but bustling town nestled in the Swiss Alps. There were tons of places to visit and shop, and many of us made sure we picked up some Swiss chocolate to bring home.
Our first dinner brought us to Snowboat, an amazing restaurant where we had a fantastic dinner and finished it off with a wicked good strawberry sorbet. Most of the boys even asked for second and third helpings! After dinner we headed for our evening activity, a place called the Cable Car. We all got to play billiards, try our hand at darts, and just chill with friends at this relaxed local hangout. Danielle and Lily got the better of Eric and Justin at the pool table and Sydnie even hit her first bulls eye. We were still very close to the hotel, so we decided to walk back and take in the night  mountain air. Lorin and Carly gave Eliana and Robert piggy back rides on the way back, so they were pretty tuckered out and ready for bed for the night.
The next day was an early one for our snowboarders and skiers Robert, Eric, Beau, Carly, Samantha S, Sophie, Danielle, Dani, Lily, Baylee, Rudi, Emily G, Jared and Sara T with Trip leaders Ryan L and Ryan H and Trip Director Matt who headed out by 7am to hit the slopes above Zermatt. The rest of us had a little more time to sleep in, but we also made it up the mountains on Switzerland's impressive gondolas, and everyone made it to the top where we stopped at the Matterhorn Glacier Palace to take in the view. The mountains were incredible, and most of us had never experienced such a spectacular view at 3883m above sea level. We got some awesome pictures before heading back down to grab lunch and enjoy some more time in the beautiful town.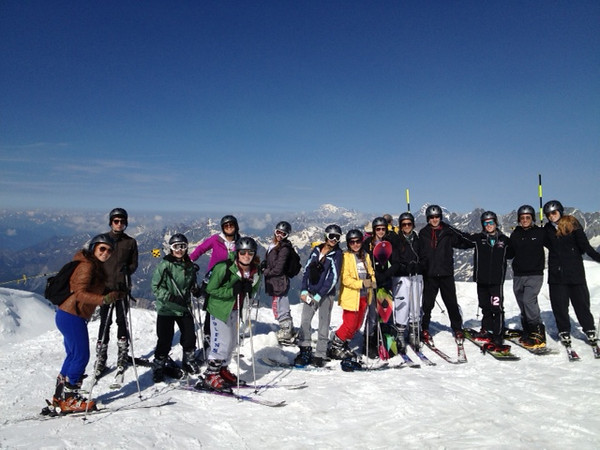 We headed out for dinner in small groups, but somehow we all ended up at the same Italian restaurant! I guess we just can't wait for all that amazing food we'll be having on the second half of our trip. There was lots of pasta and pizza to go around, and we needed our energy because that night we were going dancing at a local hot spot, the T-Bar Disco.
We have some amazing dancers on group, and everyone was burning up the dance floor. Brandon B was the centre of attention as he let loose and found himself in the middle of a dance circle, and Dani and Sophie showed us all a thing or two about how to get down! It was such an awesome way to end our short visit to Zermatt, and we all made sure to get a good night's sleep for our trip to Venice tomorrow.
The Westcoast Blogger