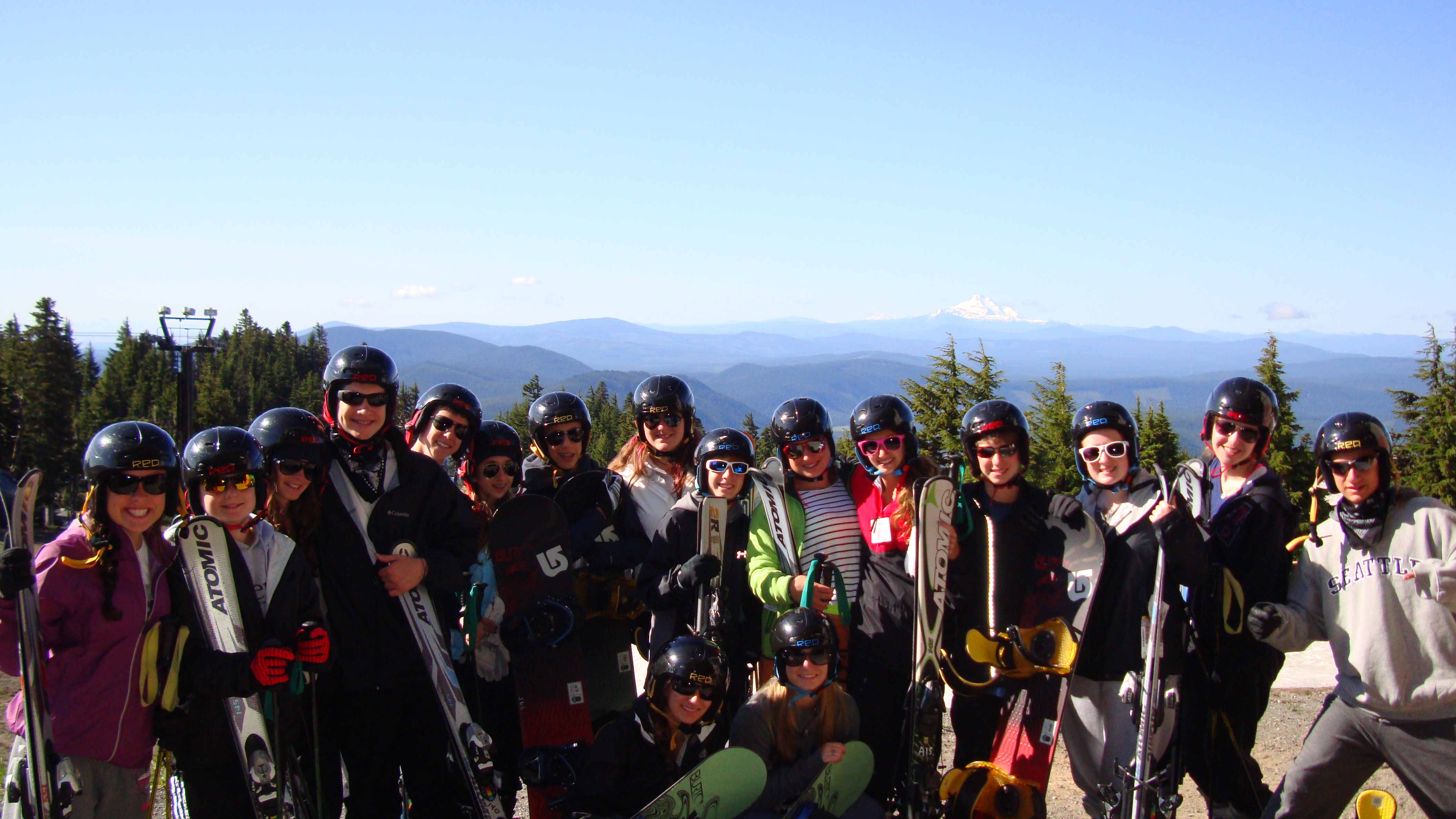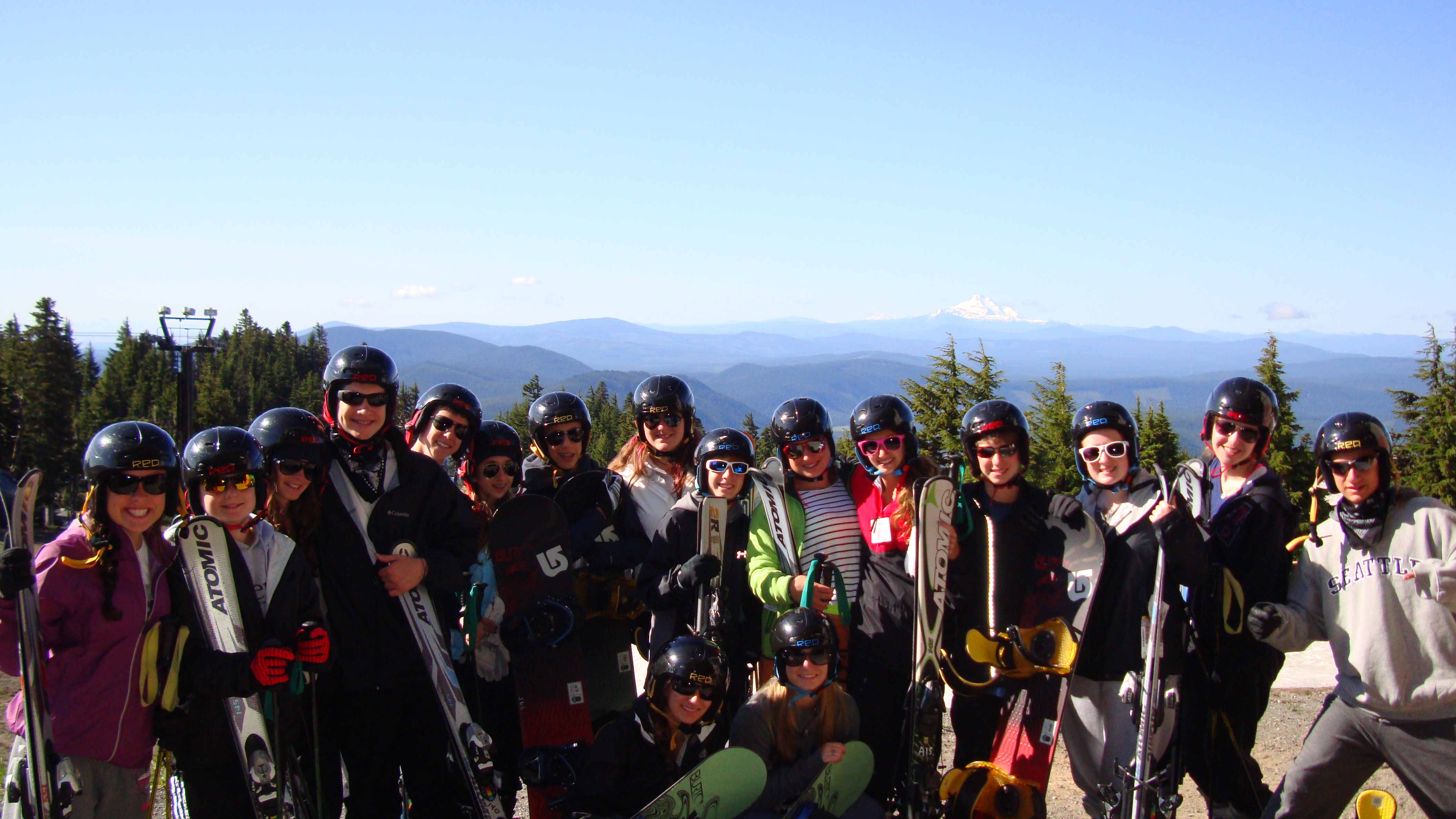 Greetings AmVoy #2 Parents,
Another day has come and gone, always more exciting than the last. On our way from Seattle to Oregon we traveled through the state capital of Washington, Olympia. This quaint little town had quite a farmer's market! Sam H. and Jamie found delicious snow peas and were quite satisfied. Jeremy enjoyed his fish n' chips and was not shy to recommend it to anyone willing to take his advice. Sam R., Jeremy, and Jason also bought this ultra spicy pepper mix to sprinkle on their food.
After we made it to the campground in Mt.Hood, an Asian themed dinner was served. The stir fry and dumplings were some of the
best any of us had ever tried. Steven, Emily K., Jamie, and Eden were the key chefs while Grant, David, and Matt M. prepared the skit to introduce dinner. Steven wore a traditional Asian garb made out of tinfoil. As some of us cooked, Emily B. wowed us with her artistic ability and made bracelets for many different people! After dinner, we played Singled Out. In this game, a contestant
sits blindfolded and members of the opposite sex are asked to answer questions. If contestant's answers match the blindfolded person's, they move onto the next round. The number of people eventually dwindles down to one. Some of the questions the contestants were asked include where they would choose to go on a first date, what type of cologne they prefer, and how they would celebrate Valentine's Day. Joli finally ended up with Matt M., Andrew chose Lexi and Noah chose Ronni! We all had a lot of laughs and the game was enjoyed by all. The day came to a close with s'mores around the campfire in the evening. Freshly
roasted marshmallows is always a special treat.
Our day in Mt. Hood, Oregon was a blast! We again divided into two groups, skiers and bikers. Andrew was so excited to hit the slopes and kept saying how awesome the snow was. Erika, Jeff, and Matt M. put their endurance to the test and skied until the lift closed. Danielle, Aja, and Allie conquered the terrain park, showing off their stuff long after everyone else had gone to the chalet to enjoy some amazing hot chocolate on the famous Roosevelt balcony in the Timberline lodge. Courtney, Ethan, Sam D. and Sarah also admired the Oregon landscape while sipping hot cocoa.
Those who went biking navigated a trail through the mountains and into the forest. It ended with a beautiful picture on the top of the mountain. After skiing and mountain biking, we had some down time at the campground where Grant, Noah, Jordan and
Jeremy went swimming and took time to recharge in the hot tub and Rachael was able to get a great workout while kicking around the soccer ball. There was also an intense game of go-fish. Aja was the only one to come close to beating Raquel. The airband teams also used the afternoon to practice for their performances. As we were dancing and singing at various locations around the
campground, we got quite a few looks from the other people at the sites around us. Jason and Jeff engaged in some espionage to try and figure out what Jared and the Voyageurs were up to, but was caught each time! Dinner was delicious, complete with chicken, steak, salmon, chili, and mashed potatoes. AmVoy #2's house of meat was officially open for business – Sarah was the star of the meal presentation, making animal noises as she had to pretend to be a chicken! Matt L. had the honor of officially presenting the meal.
After dinner was the moment we had been waiting for: the air-band finals. Jacob took home the Grammy for best individual performance. He got so into the dance, he practically fell to his knees while clutching his chest as he was pretending to profess his love during the song. Matt M. all the while was in the back on the air piano doing his best Stevie Wonder impression! A bright future in cinema, maybe! Jeremy, Jordan, Grant, Noah, Andrew, and David's performance blew us all out of the water as
well. They were dressed all in black, lip singing to the song "How Six Songs Collide" while narrating funny moments that have happened on the trip thus far. On top of that, they wore signs of different people on the trip during their skit, pretending to be those people.
Jared & the Voyageurs tried to steal the show (this is an unbiased review of course!) but it was decided that they should stick to Whirlyball from here on out. The other groups were phenomenal as well of course, Danielle, Eden and Matt L. Demonstrated their friendly, enthusiastic personalities by rocking out to "If You're Happy and You Know It" and "Ring Around the Rosy" while arm in arm. Lexi, Sam H., Jamie and Gabi sang and danced to "Teenage Dream" by Katy Perry in unison. We were wondering if they were trying to break glass with those high notes! The dance and song skills that were on display were unbelievable. Before bedtime, we enjoyed another bonfire and enjoyed spending time together. Emily K. and Matt L. were a huge help in making a Westcoast Connection first: Rice Krispy Treats! This will hopefully become a staple at Westcoast Connection campsites!
More to come from California soon!
Jared & the AmVoy #2 Team
The Westcoast Blogger