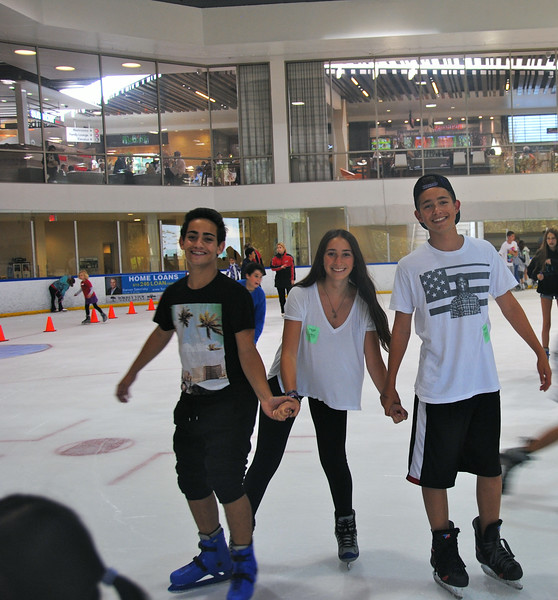 Dear Adventurer Parents,
We've been living the L.A. life for a few days and we've got to say that we've loved every single second of it. We kicked off our tour of Los Angeles at the farmer's market, and believe us when we say that there was no shortage of celebrity spottings since we've stepped into the city. Harlan, Jeremy, Chad, John, and Justin met Mac Miller at Niketown. They asked him for a picture and while he was hesitant at first, they managed to convince him for a quick photo op! Matt also found some very awesome shoes to add to his collection back at home.
Shortly after, we visited the UCLA bookstore where Rebecca wants to go to school in the future to study medicine and become a doctor. She was beaming the entire time and loved every single second of being on that campus. We stopped for a quick ice cream break at Diddy Riese before heading to our hotel, and Mitch decided to grab the best hot dog in the world aka a hot dog with the works and a fried egg on top.
We headed over to Hollywood and Highland for dinner after checking in and ended up seeing none other than Mariah Carey in a gas station parking lot getting ready for a big premiere. Staff Jamie and Val yelled "HI MARIAH" and before being protected by her entourage, she managed to yell back a quick hello! Needless to say, we blasted Mariah and sang at the top of our lungs for the rest of the ride! During free time at Hollywood and Highland, Emmy, Talia, Sabrina, and Jess spotted Dwayne "The Rock" Johnson at his premiere of the new movie, Hercules! We felt like we were walking the red carpet that night and left with stars in our eyes.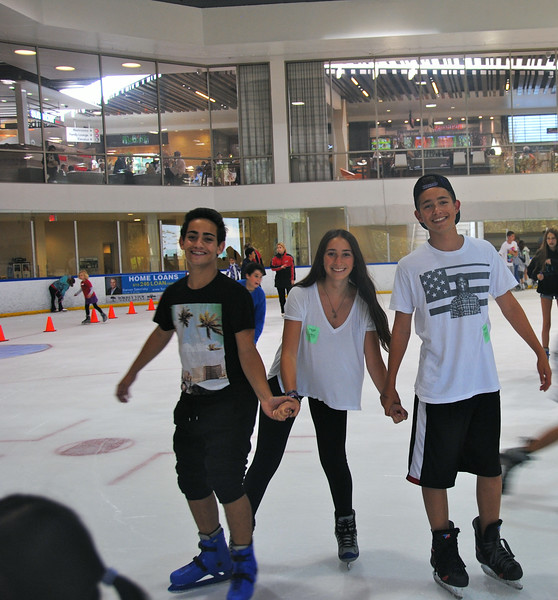 The next day we spent a bit of time doing some community service at the L.A. Food Bank. There, we helped sort out food and products into boxes that could then be shipped out to those in need. Zaki took charge of the group who had to package products, and Gavin mentioned that he had a great time, going on to say that "it's the least we can do in life to help others."
After the Food Bank, we went to Disneyland –the happiest place on earth! We gave the Trip Members a scavenger hunt that the staff created and Talia, Julie, and Lauren's group came back with an amazing music video to the song "Top of the World" by Imagine Dragons. While there, Toni and Mia became very good friends and went around the park taking pictures with the turkey leg that they adopted together. That night, we finished off with a beautiful fireworks show.
On Day 3 of LA, we kicked off the day with a visit to the Museum of Tolerance where we got to have a guided tour and watch a movie that has not yet been released to the public called "Facing Fear". It's been nominated for an Academy Award and the two men in the video actually work at the museum, so we got to speak to one of the men and his nephew that day. During the tour, Zach B. and Zak S. asked some very interesting and thought provoking questions.
After the Museum of Tolerance, we headed over to Universal Studios where Benji experienced his first ever roller coaster! The staff managed to find out the passwords for some rides like Jurassic Park, The Mummy, and Transformers and shared it with the rest of the Trip Members. Those passwords allowed people like Eden to go on The Mummy SEVEN times!!! Wow! We went to Hardrock Café for dinner in City Walk and Harry was mistaken three times for Justin Bieber.
Venice Beach the next day was a blast! Ashley and Gen got some gorgeous henna tattoos and Sydney, Albert, Jessie, Jamie, and Olivia played with some adorable puppies in the grass. We spent the afternoon in the posh area of Beverly Hills, walking around and discovering Rodeo Drive. Hallie, Lauren, and Rebecca met the Augustus Waters actor from the Fault In Our Starsat an ice cream shop (and were in swoon heaven!), while Julia met John Rzeznik from the GooGoo Dolls. Jared also stumbled upon some really cool comics with Louis-Alexandre, and they haven't been able to put those comics down since.
We finished off our night with some dinner and comedy at the world famous Improv stage. During the show, Ollie was called out by a comedian for a joke and Richard went up on stage to tell the closing joke of the night. Jen also recognized one of our servers as being an actor in the movie The Intership and took a picture with him. Rumour has it, as we were leaving the show that night Jay Leno was going to be performing but he hadn't showed up by the late hour that we left (ok it was 10 but that's pretty late on Westcoast).
We've left L.A. starstruck and thirsty for fame. We can't wait to see what San Diego has in store for us!
Surf's up, dude!
The Westcoast Blogger