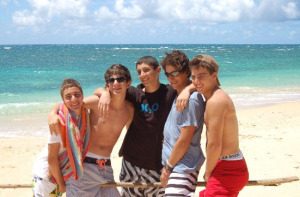 The ocean in Hawaii is the prettiest blue in the world!
The Westcoast Blogger
Aloha from Maui!
Hanging out at the beach is exactly what our group needed to feel the Hawaiian vibe.  H6 was finally able to check out just how sunny Maui can be.  During our beach excursions we visited three different local beaches and spent the day laying out, playing land sports, and just chatting in the Hawaiian sun. 
Later that evening, we were able to go to a local Hawaiian restaurant.  Nick was pleasantly delighted with his tasty Hawaiian chicken and gravy dish. To conclude the evening, the group went to the Fun Factory, an entertainment complex to play the latest video games and amusements.  Brandon and Teddy were going head to head in a basketball competition that won them both major prizes.  Lena and Rachel won enough tickets to get matching blow up hammers.  Allison and Brielle won lots of treats while dancing to the beat of the games.  Oliver is still diligently working on enough tickets to buy the group a lava lamp. 
Moving on, day 17 was filled with fun as the group visited another beach in the morning and enjoyed Hula Dancing lessons in the afternoon.  Our instructor taught us several moves that we were able to practice and then later perform.  Anthony was really shaking his hips and loved the "flower move."
Dinner was at a local restaurant where Hawaiian music was sung and the group played many games of pool.  The night concluded with Gabby, Danielle, Lena, Rachel, and Jenna working on our trip magazine (the zine- can't wait for you to see it!). 
An early morning awaits us as we are anxious to visit another Boys and Girls Club and continue our service to put some bright smiles on the faces of children in Maui.  Stay tuned for more exciting news about H6's journey through Hawaii!
Mahalo,
Jennifer and the Community Service Hawaii Crew