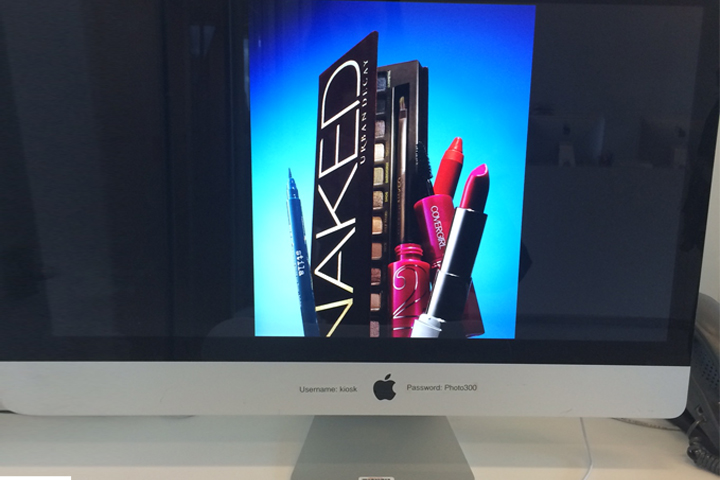 Being the Creative and Marketing Manager for WCC/360° has a lot of great perks, like selecting all the amazing photos for brochures, coming up with fun contests for you guys and developing partnerships with cool companies like Roots clothing. However, the ultimate perk came last week when I got to meet with our partners at Seventeen and tour their amazing office in the Hearst Tower! Here's a little sneak peek of what's in-store for all you lucky participants this summer.
8:00am – Flight to NYC
I'm typically not a morning person, but the excitement of being in NYC got me right out of bed and into a cab headed for the airport at 6am. Coffee and Seventeen mag in tow, nothing could stop me from missing this opportunity.
9:30am – Breakfast at Donna Bell's Bake Shop
Before the meeting, we stopped in at this little bakeshop walking distance to the Seventeen headquarters. The smell of fresh warm scones and muffins wafted out the doors and I couldn't help but pop in to grab a raspberry scone before making my way over to the meeting.
10:00am – Hearst Tower Tour & Meeting
Walking in through the front doors of the Hearst Tower, I was immediately struck by the resemblance to the movie clip from Confessions of a Shopaholic when Rebecca Bloomwood is on the escalator for her interview at Alette magazine. The building was actually a set location for various scenes throughout the film! In fact, the Hearst Tower has made cameo appearances in many recent Hollywood films including The Amazing Spider Man (a pretty neat start to the day). Executive Managing Editor, John Dioso, greets us at the opulent double door glass entry way to Seventeen. The office is exactly like what you see in the movies. Gorgeous white walls, sweeping views of New York City, and cool people working away on different parts of the upcoming issue.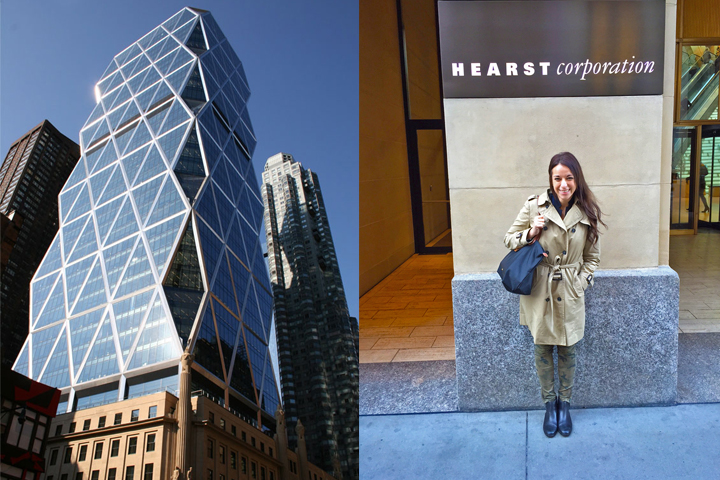 11:25am – Fashion Closet
John brings us into the clothing closet where we find Aya Kanai, Executive Fashion Director, and Project Runway Junior judge. She's reviewing looks on a rack of clothing for an upcoming shoot and greets us with a big smile. Aya gives us an overview of how they style and keep track of the insane amounts of clothing that make their way in and out of the office at lightning speed on a regular basis
11:45 – Photo Studio
We make our way down to the photo studio floor (yes, there's an entire floor of a skyscraper dedicated to photography) and get to witness a product shoot in-progress for Harper's Bazaar. The photographer even stops to welcome us and explain how accessory shoots work and what he's shooting at the moment. Participants will get the chance to be creative and try their hand in the studio during one of our workshops too!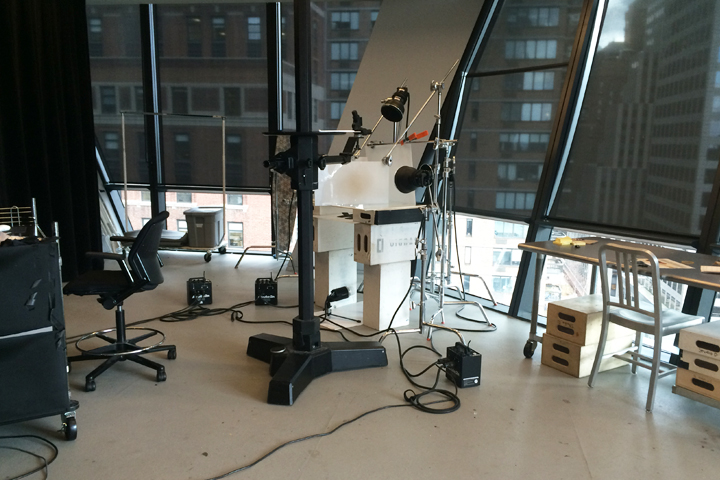 12:15 – Art Department
There are silver streamers hanging from the door leading into the Art Department, remnants from the Prom Issue wrap party that happened a couple days ago, explains John spiritedly. The Art Department is where graphic designers lay out the magazine and the issue is looked at as a whole to ensure continuity.
n12:30 – Meet and greet with Michelle Tan
The office of Editor-in-Chief, Michelle Tan, is our next stop and she's so excited to meet all of you this summer! She's an NYC tastemaker and connoisseur of all things trendy. Come with your questions ready, because she's one smart woman that's full of incredible advice.
1:00 – Beauty Department
We pass by the beauty closet and three staff road-testing some new products that just came in on our way to meet Leah Wyar, Executive Beauty Editor. Leah is full of hands-on activities for everyone to help out with this summer and can't wait to work on a couple projects she has in mind (but we can't give details of those away just yet).
1:30 – Entertainment & Music Department
Our last stop is with Dana Stern Schwartz, Executive Entertainment Director. Before we enter, she ensures that the giant print out of the upcoming cover and celebrity feature is hidden (these things are top secret in the competitive magazine industry). Among the many different roles that the Entertainment Department plays, the most important one is securing celebrities for the cover of each issue. Music is also a big part of what they do and getting to work with them is kind of going to feel like playing DJ for Seventeen readers around the world. They receive new albums and hear about up and coming artists before anyone else! You don't want to miss the opportunity to meet these guys!
Before I could blink, our meetings were over and I couldn't wait to get down all the amazing ideas that were exchanged for our summer program. The team at Seventeen is so excited to host you and this is truly going to be a once-in-a-lifetime experience for everyone who joins.
Stay tuned for upcoming blogs with our other partners on the program and for more information on the program check out FWI Fashion Experience – New York City.
Jordanna Ber,
Creative & Marketing Manager