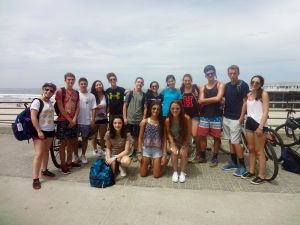 Captain's Log: June 30th, 2015
Greetings from sunny California!
What a great first start we've had in San Diego! With trip members coming in from near and far, including 3 international trip members, we spent lots of time making sure everyone had a chance to get to know each other and feel comfortable. In fact, one of our trip members, Shelby, had her 17th birthday, and, as families do, we celebrated by decorating her room and organizing surprise cupcakes and blue birthday tiara!
Since we are spending so much of our time near water, we've chosen to run with a nautical theme this year, but please help us keep it a secret for now because we haven't yet fully revealed it to our trip members! We've been slowly unveiling, with little things like putting aquatic themed named tags on doors and having anchor art on our Human Bingo game and we have lots of fun ideas for amping it up as we go along!
We've also had some time to get out and start to explore the city. Day one saw the group testing out their bowling skills, in a black light cosmic bowling room which we had all to ourselves. Our high score winner of the night was Connor with an impressive grand point total of 153. Equally impressive was how well our two trip members from China, Ann and Maria, managed to bowl despite it being their very first time! On Day 2, the group had a chance to get out and explore some of the beautiful Pacific Coast scenery with a bike ride on Mission beach, some beach time at Coronado and some spectacular drives on route.  Congrats to Halle on being brave enough to try learning how to bike, and to Morgan and Monica who felt nervous about being on the bikes at first, but after some practice managed to keep right up with the group! Night time was spent exploring Seaport Village, a quaint commercial area on the boardwalk with shops, souvenirs and food treats, with ice cream shop Ben and Jerry's being a favorite stall.
Having settled in, we start to turn our attention to the community service aspect of the trip. Last night, trip director Aryn took the time to speak about what community service meant to her, and led the group through some activities to help us think about what we are about to start. Our first stop is today, working with Habitat for Humanity and the group is ready and keen to 'pick up the hammers' and get involved.
Looking forward to a great first community service day,
The Westcoast Blogger
Have we piqued your interest? Explore our 10-day, 21-day or 28-day tours and community service projects for teens in California. Start planning your own adventure with Westcoast Connection. It will be the travel experience of a lifetime!