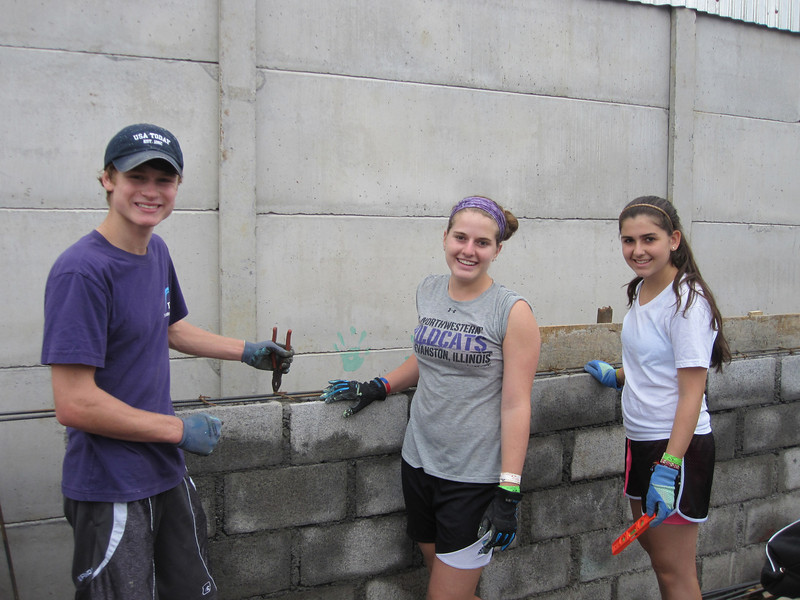 Buenas dias everyone!
After taking advantage of the amazing mud baths at Rincon de la Vieja on Day 12, we headed back to the hotel to enjoy the beautiful facilities. It was our final night in Rincon and we were treated to an amazing final dinner there. The spread of food was incredible! All we had to say was WOW! That night we also hosted the first ever Costa Rica Trip Olympics! The group was divided into two teams and was given a list of 10 different challenges that would earn their team points if won. It was made even more challenging because every Trip Member could only participate once. The kids really got into it and strategically picked their teams! Some of the notable moments from this historic event were the 'Handstand Competition' and the 'Card Memorization Game'. The Handstand Competition was exactly what it sounds like – a competition to see who could hold a handstand the longest. The two challengers were Emma and Ali who are both gymnasts! After a grueling battle, Ali came out victorious in a 2 to 1 win! As for the Card Memorization Game, the prominent moment was when Jake managed to select an impressive 11 pairs out of a possible 14. We managed to speak with Jake despite all of the paparazzi and he told us that his strategy was to memorize the entire top row of cards. Talk about a great effort!
We began our journey back to Hotel La Condesa near San Jose on Day 13. For those of you who remember, this was where we started our trip! On the way, we stopped at a place called El Jardin, which was a restaurant attached to a HUGE souvenir shop. It was really cool to see all of the locally made and painted things that they had to offer! At the hotel, pizza was delivered. Ben was so impressed with the deliciousness of the pizza that he devoured nearly an entire one to himself! That night, we hosted Battle of the Sexes. Essentially, the game entailed dividing the group into guys and girls and then having them battle it out through trivia! It was really funny to see that the guys actually could answer an impressive amount of questions about make-up! Similarly, the girls were able to answer a scary amount of sports history questions! It even blew everyone's minds when Nikki knew that Wilt Chamberlain had scored the most points in a given NBA game! The guys definitely didn't see that one coming!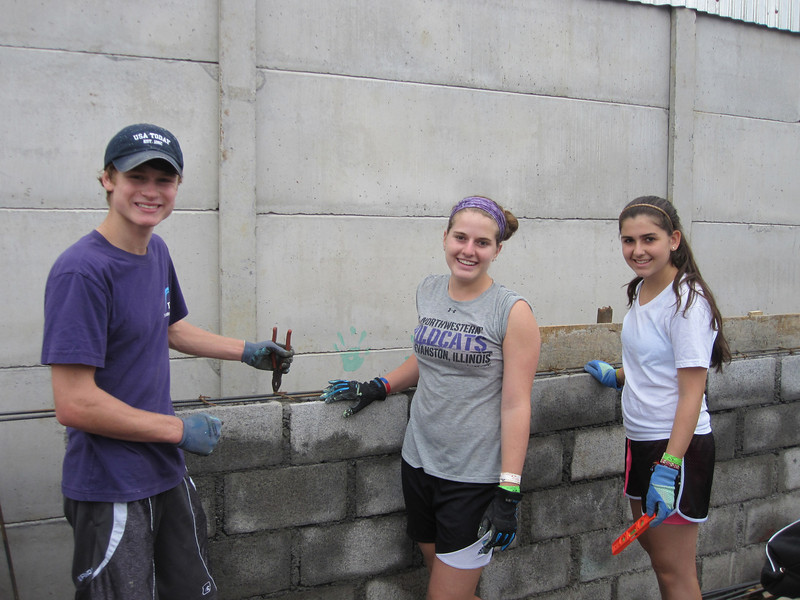 On Day 14, we  were back to La Carpio to do some more community service. It was great to see so many familiar faces! Since La Carpio was the first volunteer site, the group continued working on the house that we started to build during our first week here. Since then, a lot of work has been done! Another group had already come by and put up the cinder blocks to form the walls. It was our job to make sure that they were sturdy by cementing the sides. One incredibly hard worker was Will, who really is a natural construction worker! However, it wasn't only cementing that the group was doing. Some of the other Trip Members painted houses in the local community to help brighten it up. The community members were so excited and thankful for their newly painted bright houses! The last chunk of our group played some more with the local children since they love working with them so much!
The group eagerly went back to their community service projects on Day 15. We had the privilege of helping to build a library for the local community and helping to clean a school for the children. When we got there, the group divided into three groups who had different jobs. One was to clean the hallways of the school, one was to tidy up the classrooms, and the last one was to help pack down dirt so that they could lay down the foundation for the library. The hallway and classroom were spotless after their work and the library was ready to be tiled! Two people who really stood out were Alexa and Hailey as they took all of school binders that were there and removed the tags and labels so that they were ready to be handed out to and used by the school children! After we got back from community service, we had some time to relax before heading out to dinner during which time, we hosted a game of Family Feud! A lot of the Trip Members had some really creative answers to the questions! Super fun way to end a great day of service!
For our community service on Day 16, we headed to a local family's home. There was much work awaiting us and the trip members were eager to help out the family. Some of the daily tasks included: painting a newly built home for this family, helping to lay down some dirt to cover their pipelines, and beautifying the area around the home. While working, the trip members were commenting on the picturesque sights around them. What a gorgeous view! We were really lucky to have Will with us because of his powerful digging – he nearly filled the entire pipeline hole by himself! When we got back to the hotel, we saw a gorgeous reception prepared for a bride and groom. One romantic in particular was Brandon who stayed back to film the kiss! When he came back to greet us, he told us that he even had a tear in his eye. What a gem! That evening, we all enjoyed a game of  'Sardines' which is essentially the opposite of Hide and Seek. Aaron took the first hide while everybody looked. Literally only one person found him during the entire half an hour! What a great hiding spot he found, getting high fives from all of the trip members because they looked for him for so long!
That's about it for now! As they say here in Costa Rica, hasta luego!
 The Westcoast Blogger