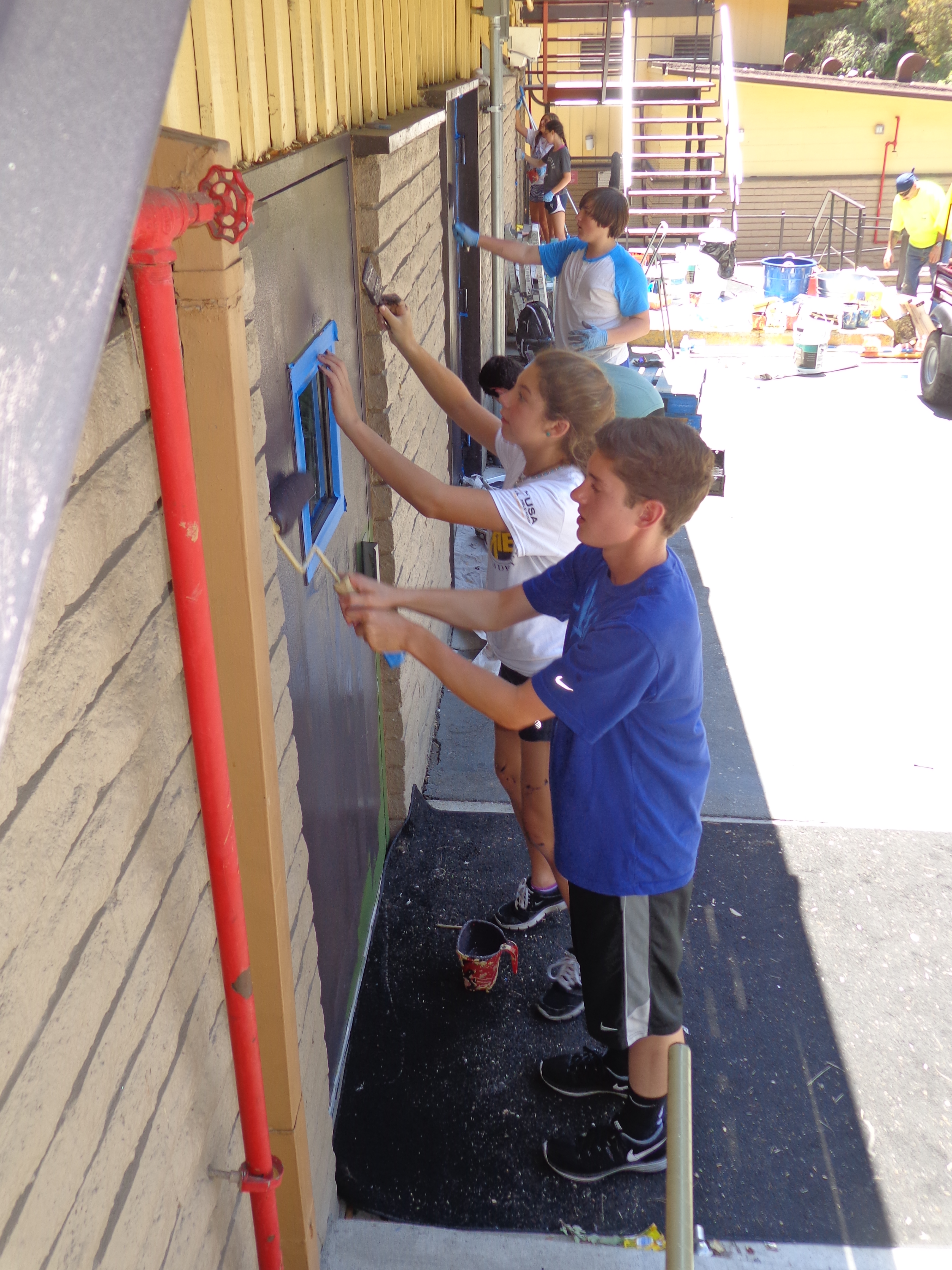 Greetings from sunny California!
Los Angeles has welcomed us with palm trees, fresh air, and clear skies. After gathering all of the trip members at the airport, we drove over to UCLA. Trip members were excited to get onto camps, especially after seeing the Bel-Air sign that came up right before we entered the campus. No sign of the Fresh Prince yet!
There was a sense of awe as we stepped onto the UCLA campus for the first time. The tall buildings, gardens, and general cleanliness made the campus feel like home. Everyone was paired up with a roommate and settled into their dorm rooms. We have our own common area where we can do activities, chat about the trip as a whole group, and enjoy some chill time. After
freshening up, we dined at the cafeteria which has a huge selection of foods to try out
Then it was off to tour the campus where we saw the training pools, track, and volleyball courts. We're definitely going to check out the bookstore and a few other cool spots throughout the week. This has been a great taste of college life so far. Go Bruins!
In the evening, we went bowling at Pinz Bowling Center. It was a close match, but in the end, Team Diamond was victorious with a score of 463 points!  Then, it was back to the dorms to catch a good night's sleep.
On Day 2, we spent a beautiful day at Hermosa Beach. We rented bicycles in the morning and enjoyed stunning views of the ocean, mountains, and beach houses. We stopped along the pier for a quick photo op of the ocean stretching alongside the mountains. In the afternoon, we enjoyed the beautiful blue beach with fun activities including volleyball, football, and even diving into a good book.  Some trip members experienced swimming in the Pacific Ocean for the first time! The waves crashing along the shore and the clear blue water evoked a sense of what California is all about.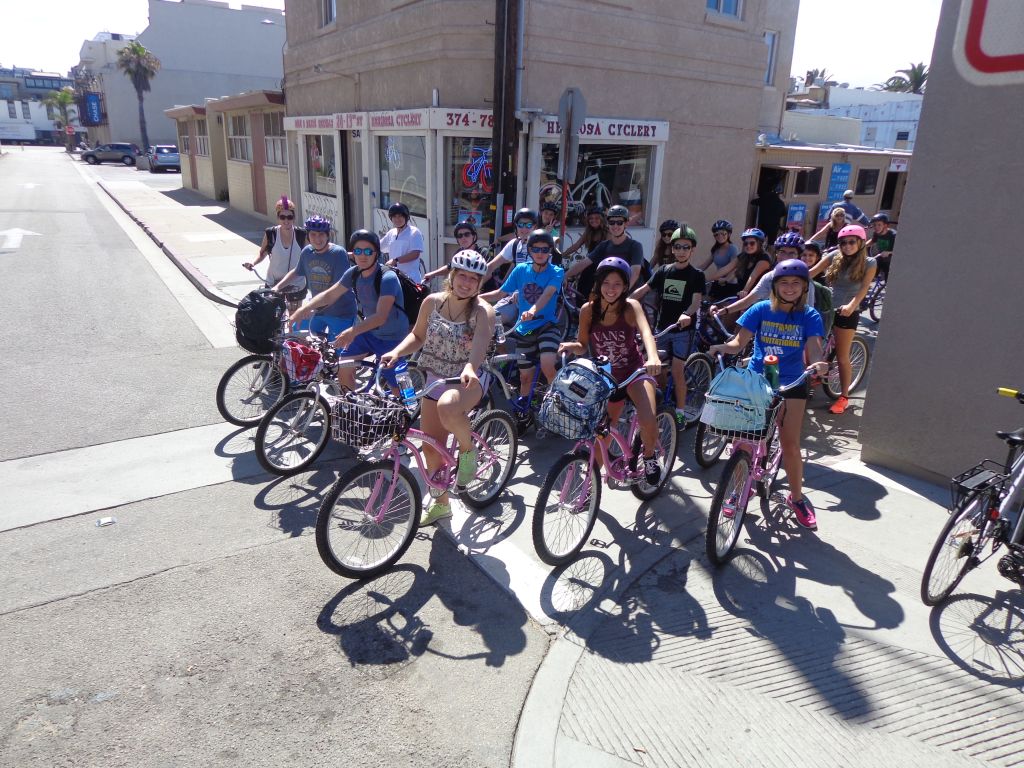 In the evening, we visited the famous Mel's Drive-In for dinner and checked out HOLLYWOOD! The sights and sounds were incredible! Everywhere we looked there were street performers, artists, and of course the Hollywood Walk of Fame. Trip members had the opportunity to climb up a staircase to snap a photo of the famous Hollywood sign and explore Mann's Chinese Theater where celebrities left their signatures as well as hand and foot prints in the pavement. We couldn't believe our eyes when we saw Brad Pitt and Johnny Depp standing on the sidewalk- then we realized that they were impersonators… Oh well. At least we saw the real Batman and Spongebob Squarepants.
On Day 3, we began our community service at Hope Gardens which is a center on a 77 acre property that provides women and their children with safety, counseling, training, encouragement, and help as they move forward and escape homelessness.  Being near the Angeles National Forest, the crisp air and well-kept grounds make Hope Gardens a truly serene environment. Some of the service tasks included food preparation, clean-up, and painting the trim along the residences. Trip members kept up amazing attitudes and have been willing to help out wherever needed. The staff members seemed genuinely grateful that we were able to lend a helping hand. The coordinator Monique shared that we are "setting an example of how people can help people" and that "we have the ability to take care of one another and that's a blessing".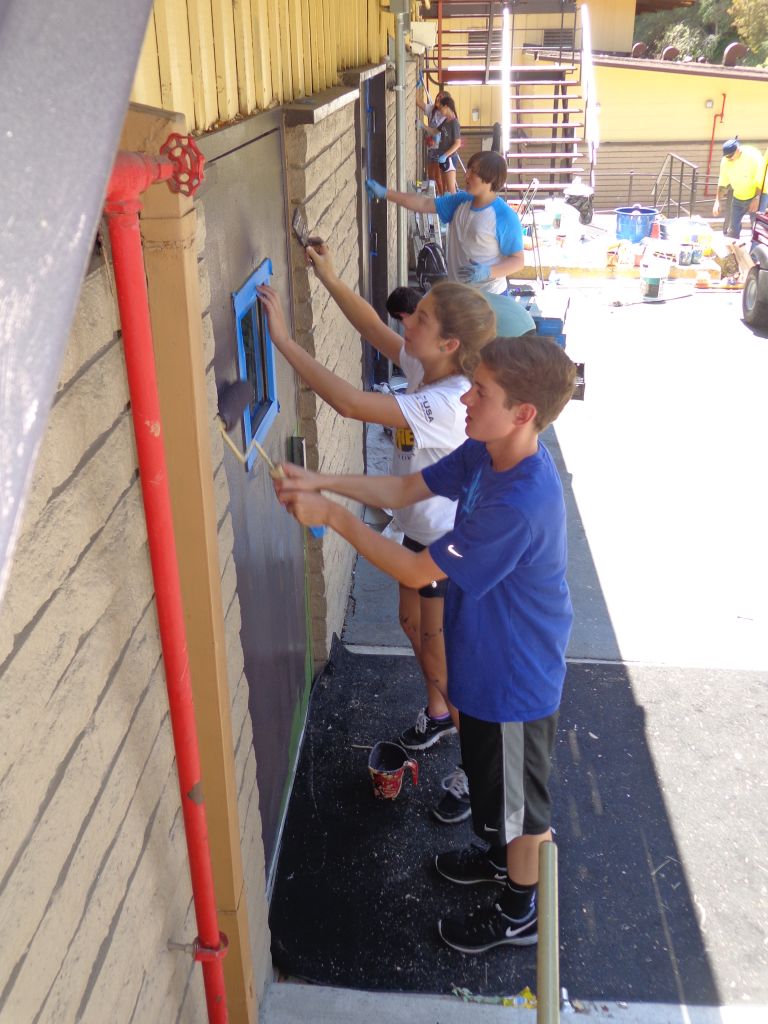 We are really looking forward to growing more together during our community service projects.
Now off to Santa Monica!
The Westcoast Blogger
Have we piqued your interest? Explore our 10-day, 21-day or 28-day tours and community service projects for teens in California. It will be the travel experience of a lifetime. Start planning your own adventure with Westcoast Connection today!