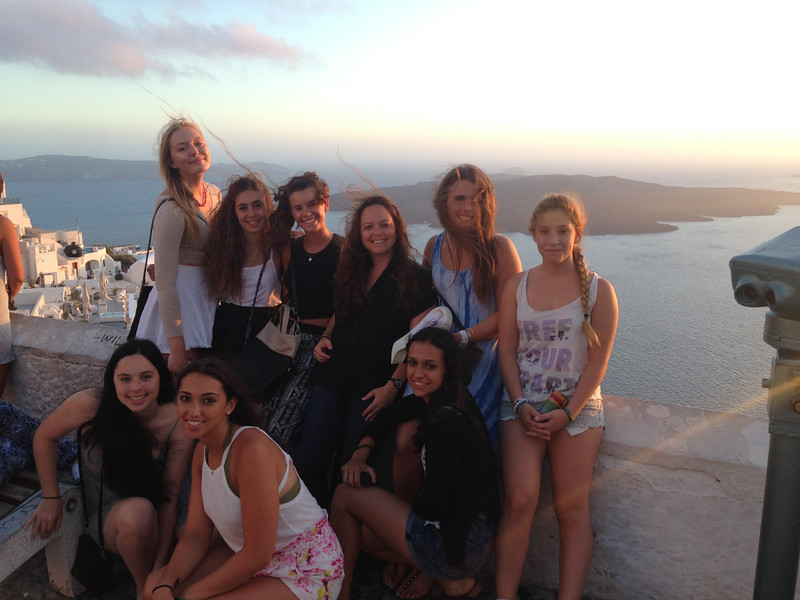 Since our last blog post, we have made our way into the ancient city of Athens.  We walked around the center of the city and, out of nowhere, it began to rain cats and dogs! Aaron was completely soaked, and Izzy went out to buy umbrellas for everyone which they then payed her back for. Zack T got us back to the hotel which his incredible navigation skills. Later, after the rain began to clear, we climbed to the top of the Acropolis together, to see the Parthenon and look out over the Greek capital.
Even though we had a ton of fun in Athens, the next day we moved on to our first Greek Island, Naxos.  Our hotel was incredible, and just a few feet away from the beach. We had a pool party at the hotel for a while, and Lauren shared her fantastic music, which includes our unofficial trip song, Stolen Dance. Meanwhile, Lily, Lizzy S and Sam H had a dance party on the second floor overlooking the pool.  The beach was waiting for us so we headed to the sands of Naxos and staked out a spot.
Over the course of the next two mornings, we split into two groups to go SCUBA diving and mountain biking.  Though a few of us were nervous at the beginning of our SCUBA lessons, our resident experts Chloe, Greer, and Chase eased our minds.  Thank goodness they did, because it was an absolutely incredible experience.   As we swam around under water, the guides took out some bread and began to feed a swarm of fish while Paul tried to catch them. Amy and Elizabeth looked up from the bottom of the ocean in complete awe.  Not only did we get to scuba dive but we also went mountain biking! Sammi L really enjoyed the views and the physical exercise.
Though the scuba diving and mountain biking were amazing, perhaps the best part of our stay in Naxos was the cooking class we took at Platia.  We were greeted by two older chefs, mother and daughter and two younger assistants who guided us through peeling zucchini, mixing meat and spices into a stuffing, and preparing a lemon egg sauce to top the dish.  The meal may have been the best we have had in the Greek Islands, but what made the class so special was that Maria and Katerina, the chefs' assistants, turned up the music and Lily Ann decided to get everyone dancing. This turned into an after lunch dance party!  Dafne showed off some fancy dance moves, and Juliette even danced a traditional Greek dance on a table!
It seemed like it would be impossible to top Naxos, but then we hopped on a ferry where Daniel got his taste of American fast food as there was a ¨Goodies¨on the boat! The ferry took us from Naxos to Santorini and we were greeted by another outstanding hotel and absolutely breathtaking views.  After driving into town, we waited at the Fira lookout and got to see a sunset that has been called the most beautiful sunset in the world.  Afterward, we explored the city and had dinner overlooking white and blue buildings, sheer cliffs, and of course, the Mediterranean Sea.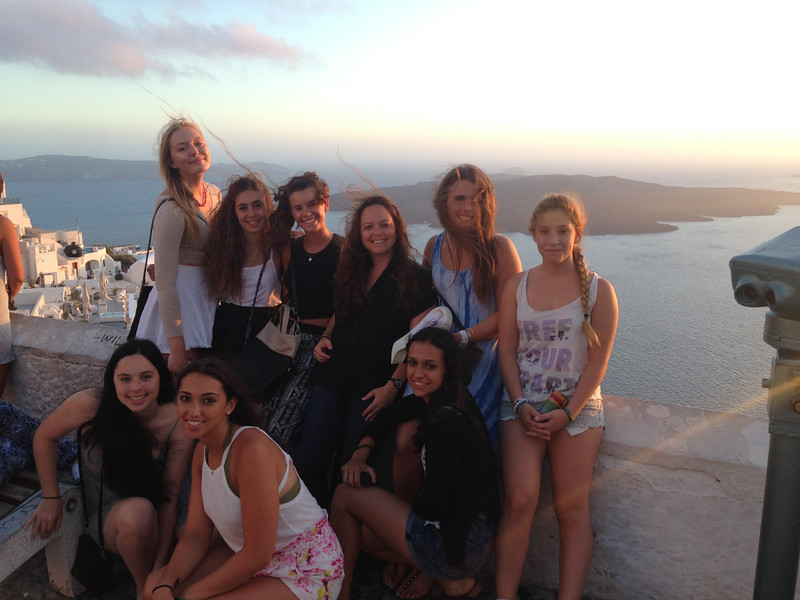 The next morning, we had to wake up early to catch another boat, this time to a volcanic island, hot springs, and a black volcanic rock beach. Chase and Lily walked ahead to see the great views at the volcano. Nadia, Aaron and Elizabeth tried out the therapeutic properties of the clay in the hot springs, and Sammi S  showed off her diving abilities once our boat stopped at our swimming spot. We also tried out Zach's restaurant recommendation and were wowed when he ordered the massive gyro plate for two!
Earlier today we went to the ancient archaeological site of Akrotiri. When went through the ancient volcano and ruins with an interesting guide. Chase was engaged in the tour. Afterwards we went sea kayaking where Chole took out her own kayak! We enjoyed some fresh melon on the beach and some famous Santorini nuts.  Tonight was our second to last dinner, and we cant believe how fast the trip has gone by. Soon, with teary eyes, and great memories we will say goodbye, but always remember trip 66 and the fun we have had.
The Westcoast Blogger
Do you want to join us on this adventure? Check out our Greece trips for students that includes visiting the Acropolis, Santorini & more.