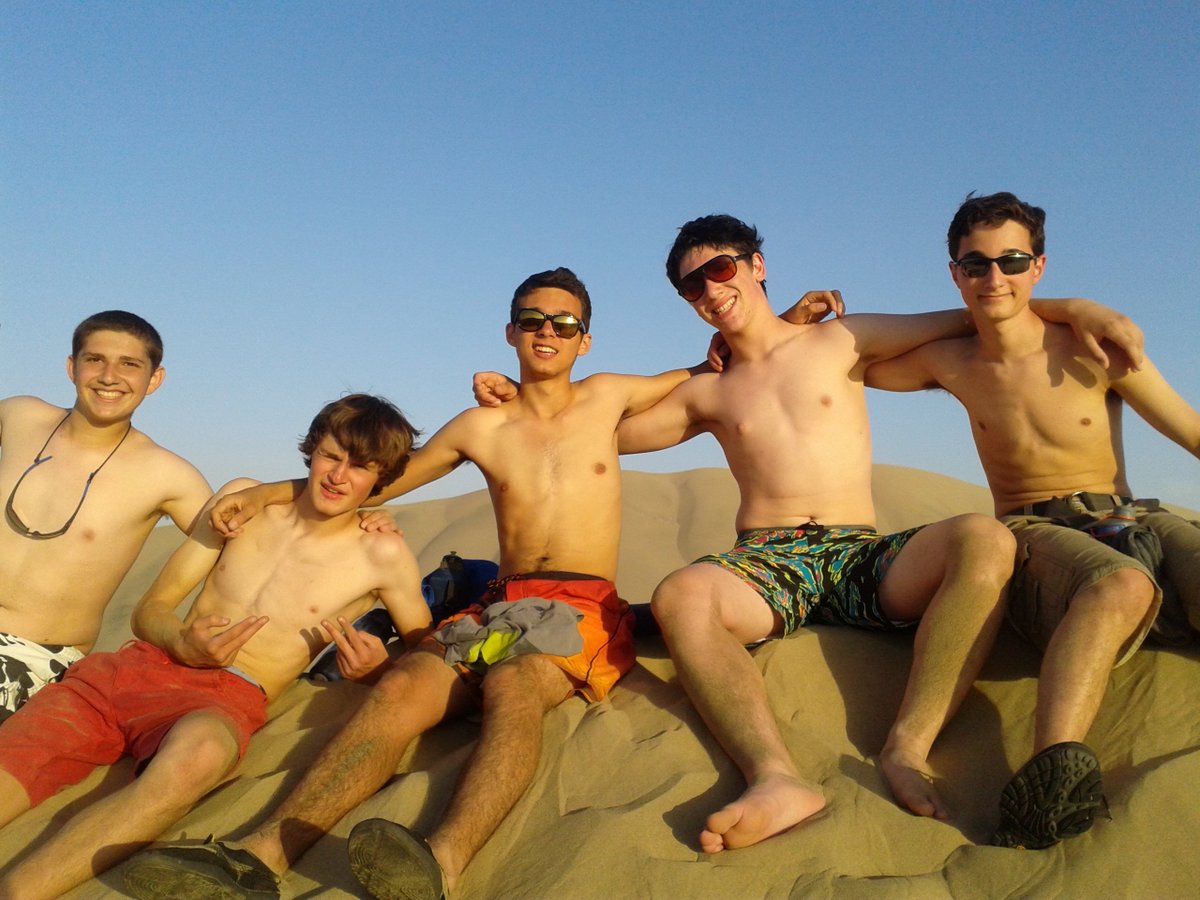 Hola de Perú por la última vez!  Hemos tenido unos días relajantes, explorando las dunas de arena, y pintando murals en la escuela en el pueblo increíble del desierto Huacachina.  Mientras todos disfrutaron sandboarding y montando los carritos de las dunas, la parte mas memorable de nuestro tiempo aquí fue la caminata a las 5:30 por la mañana a la cima de las dunas iniciado por Jack.  Trece de nuestro dieciocho miembros subieron a la cima para disfrutar un amanecer maravilloso encima la arena y nublina.  La memoria fue sin precio.  Para resumar nuestro viaje, vamos a dejar nuestros miembros fantásticos decirles que pensaron sobre nuestras aventuras – en su mejor español, por supuesto!
Hola from Peru for the last time! We've had a wonderful few days of relaxing, exploring the sand dunes, and painting murals at a school in the incredible desert town of Huacachina. While everyone enjoyed sandboarding and riding in the dune buggies, a highlight of our time here was a 5:30 am hike up the dunes initiated by Jack. Thirteen of our eighteen trip members summited the peak to enjoy an amazing sunrise above the foggy sand, and the memory was priceless. To sum up our trip, we'll let our fantastic trip members tell you what they thought of our adventures- in their best Spanish, of course!
El país de Perú es muy lindo. Las actividades fueron muy interesantes y los lideres son muy cariñosos y les amo. Yo he hecho muchos amigos, y la práctica de lengua fue muy ayudable. –Claire
The country of Peru is beautiful. The activities were very interesting and the leaders are caring; I love them. I have made many friends, and the language practice was very helpful. –Claire
Nunca voy a olvidar las memorias de este viaje. Subiendo la montaña de arena fue la experiencia con  las más beneficios de mi vida, y surfiendo y montando en los buggies fue la cosa mas divertida de mi vida. Aprendí mucho español durante el viaje y tenía muchas oportunidades de practicar. –Wade
I will never forget the memories of this trip. Climbing the sand dunes was the most beneficial experience of my life, and sandboarding and riding the dune buggies was the most fun thing in my life. I learned lots of Spanish during this trip and I had lots of opportunities to practice. –Wade
Yo he tenido el tiempo de mi vida. Las aventuras fueron muy divertidas, y el servicio fue muy difícil pero valió la pena. –Manny
I have had the time of my life. The adventures were very fun, and the service was difficult but worth it. –Manny
Me encantan los chicos en el programa. El servicio fue importante y es importante saber hablar español. –David
I love the kids on this program. The service was important and it's important to know how to speak Spanish. –David
Perú es un lugar hermoso. Este viaje me cambió la vida. Yo quiero seguir haciendo servicio en los Estados Unidos. –Alexandra
Peru is a beautiful place. This trip changed my life. I want to keep doing service in the United States. –Alexandra
Fue el mejor viaje de mi vida. Aprendí mucho sobre yo misma. Voy a apreciar más que antes del viaje. Me encantó el servicio. –Moriah
This was the best trip of my life. I learned a lot about myself. I'm going to appreciate more than I did before the trip. I loved the service. –Moriah
Creo que fue una experiencia muy buena porque yo hice muchos amigos que son simpáticos. El servicio y el componente de lenguaje fueron muy buenos y mi español se mejoró. –Christophe
I believe that this was a great experience because I made many friends that are very nice. The service and the language component were good and my Spanish improved. –Christophe
El servicio es muy importante y cambió mi vista del mundo. Conocía muchas personas nuevas en el viaje. Fue el viaje mejor de mi vida y nunca voy a olvidarme esta experiencia. –Ilan
The service was very important and changed my world view. I met many new people on the trip. It was the best trip of my life and I will never forget this experience. –Ilan
Este viaje fue verdaderamente inolvidable. Las actividades, mis compañeros, los lideres, y la experiencia en general valen y valdrán mucho para mi. El viaje fue muy importante en el desarollo de yo mismo. Conocía muchos amigos con quienes el nivel de amistad ha llegado a una profundidad que no creía posible. Es imprescindible que todos tengan una oportunidad como este. –Leo
This trip was truly unforgettable. The activities, my friends, the leaders, and the experience in general were valuable and will keep being valued by me. The trip was very important in my self-development. I met many new friends with whom our level of friendship reached a depth that I didn't think possible. It's essential that everyone have an opportunity like this.
El viaje fue muy bueno. Nosotros viajamos en la Amazona, una gran selva. También nosotros visitamos un misterio del mundo, Machu Picchu. Luego, algunos amigos y yo trepamos montañas de arena. A veces el servicio estaba triste y a veces feliz. –Joshua E.
The trip was great. We traveled to the Amazon, a huge jungle.   We also visited Machu Picchu, one of the world's mysteries.  Later, some friends and I climbed sand mountains.  Sometimes the service was sad and sometimes happy. – Joshua E.
Las activdades eran muy divertidas y yo hice muchas cosas diferentes pero excelentes. Yo me gusta la comida en el Perú, y el servicio era muy importante y me gustaba. Yo hice muchos amigos que yo voy a recordar. – Robert
The activities were a lot of fun and I did many different yet excellent things.  I like Peru's food and the service was very important.  I made a lot of friends that I'm going to remember. -Robert
El viaje fue fantástico y voy a recordarle para siempre. Los proyectos de servicio fueron muy divertidos y me gustaba pintar y conocer a las niñas en el orfanato y las abuelitas en el asilo. –Jack
The trip was fantastic and I'll remember it forever.  The service projects were really fun and I liked painting and meeting both the girls at the orphanage and the ladies at the nursing home. -Jack
Me encantaba todas las personas en el viaje. Los lideres son muy simpáticos y responsables. Las actividades generalmente eran muy divertidas y interesantes. –Sydney
I loved every person on the trip.  The leaders are very nice and responsible.  The activities were overall fun and interesting. – Sydney.
Me encantaba el viaje. Conocía muchos amigos magníficos. Fue una experiencia única de mi vida. Yo voy a recordar mi tiempo en Perú para siempre. –Molly
I loved the trip.  I met a lot of magnificent friends.  It was a once in a lifetime experience.  I'm going to remember my time in Peru forever. -Molly
Me gustaba este viaje. Me gustaba hablar con gente nueva, y disfrutaba el servicio. –Rickey
I liked this trip.  I liked to talk to new people and I enjoyed the service.  -Rickey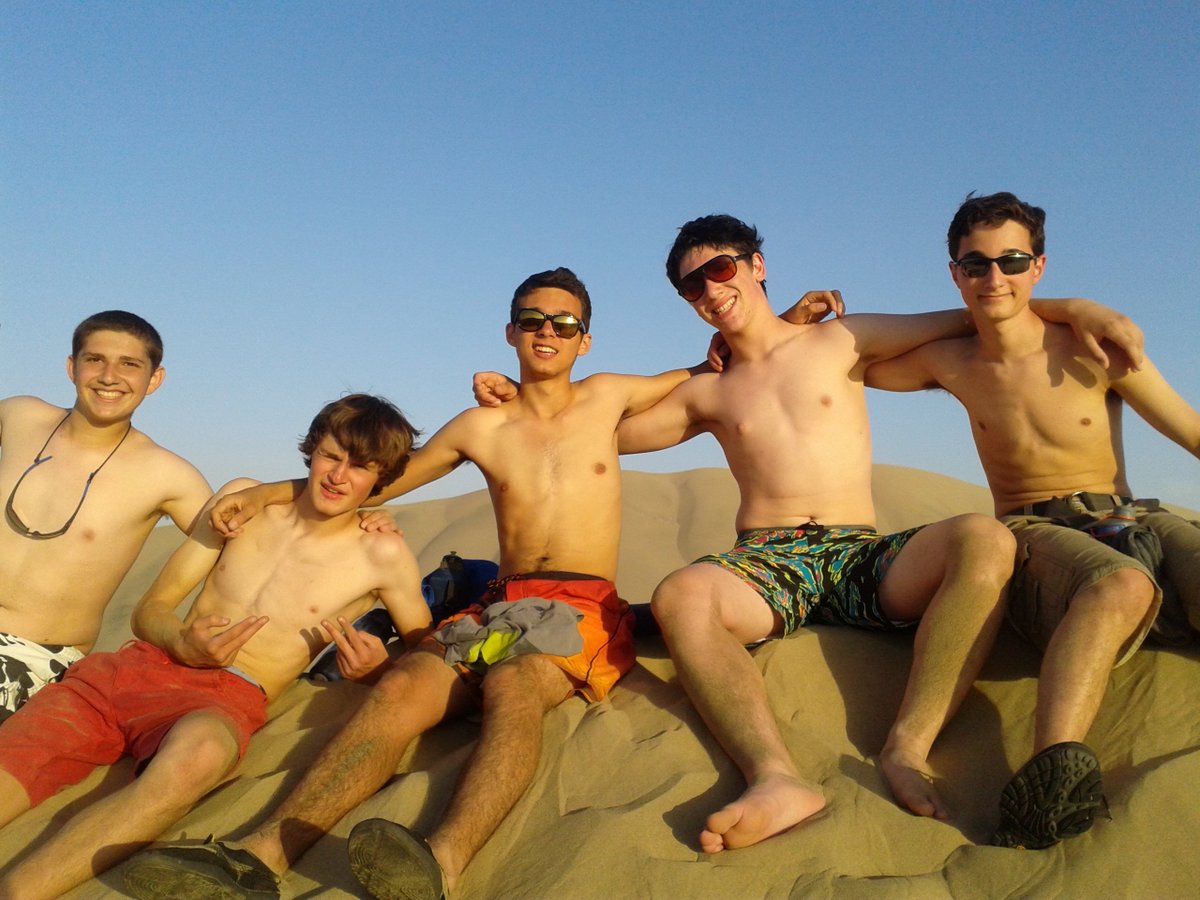 Fue un viaje muy increíble y lleno de aventura. Yo tendré muchos amigos del viaje por la vida entera. ¡Yo quiero ir en otro viaje! –Rachel
It was an incredible trip filled with adventure.  I'll have a lot of trip friends for my entire life.  I want to go on another trip! -Rachel
El viaje fue fantástico. Los lideres eran simpáticos, cómicos, y generalmente fantásticos. Los sitios como Machu Picchu y el lago Titicaca eran muy impresionantes. Los otros miembros del grupo eran personas que nunca voy a olvidar. Los proyectos de servicio fueron buenos. Me encantaba el viaje y el Perú. – Marc
The trip was fantastic.  The leaders are nice, funny and overall fantastic.  Places like Machu Picchu and Lake Titicaca were very impressive. The other trip members are people I'll never forget.  The service projects were good.  I loved the trip and Peru.  -Marc
Había mucha aventura en este viaje y me gustó mucho. Los proyectos de servicio han cambiado mi vida porque he visto muchos problemas del mundo y ahora sé como arreglar los problemas. Mis habilidades de español han mejorado porque tenía la oportunidad de hablar con personas nativohablantes. Estando en un país diferente me he dado cuenta que suerte tengo. –Joshua R.
There was a lot of adventure on this trip and I liked it a lot.  The service projects have changed my life because I have seen many world problems and now I know how to fix them.  My Spanish skills have improved because I had the chance to talk with native speakers.  Being in a different country I've realized how lucky I am!  -Joshua R.
Muchas gracias and many thanks for sharing your children with us this summer- we had a wonderful time and we know they did, too! We're headed back to Lima now to wrap up our trip where it all began. Hasta pronto!
Do you want to explore Machu Picchu, the Sacred Valley and the desert of Huacachina & more? Join this 11-day Peru student travel program with Westcoast Connection.