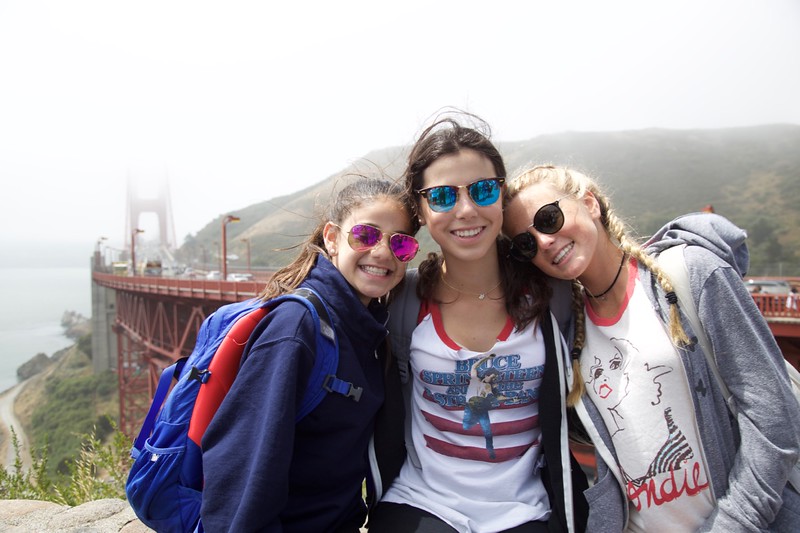 Welcome to California! We've has had an unreal start so far! Our journey began in beautiful San Francisco where fun was had by all!
There definitely have not been any dull moments. Our trip members have been busy enjoying all the attractions that San Francisco has to offer. You could find trip members walking through the creaky halls of Alcatraz or sipping Clam Chowder at Pier 39. We even had the pleasure of watching some of San Fran's epic street dancers break dance. Boy do they have moves! Walking across the Golden Gate Bridge was something all the members accomplished! Andrew G, Melaina G, Kylie P and Jackie A were the first to complete the unforgettable walk across the bridge!
How many people can say they walked across The Golden Gate Bridge?! It was a pretty amazing experience and the trip members took gorgeous photos of the breathtaking view. On the other side of bridge, Sausalito was a quaint little town right on the water. Everyone enjoyed spending the afternoon doing some sightseeing, checking out cute little boutiques or enjoying some gourmet California cuisine. Our final night in San Francisco was one to remember. We visited the Oakland Coliseum to watch the Oakland Athletics take on the San Francisco Giants! It's very rare to be able to be at a baseball game between two rival teams and it was epic!! Hot dogs, cotton candy and don't forget the Cracker Jacks were a few of the tasty treats everyone indulged in. Don't forget the 7th inning stretch which is always a fun time too! Our time in San Francisco was incredible and then we headed to gorgeous Lake Tahoe. To begin our incredible time in Tahoe, we went White Water Rafting on some pretty crazy rapids! Wow! It was unbelievable. The trip members spent the day enjoying the beautiful hot California sun as well as water sports.
Definitely a highlight of the day was spending the afternoon on a yacht on the gorgeous Lake Tahoe. Not only did we have an amazing day full of activities but it was one our trip member's Sydney C's birthday! What better way to spend your birthday then on a private yacht on the beautiful lake. Our trip members competed in a cut throat kitchen competition where each team had to come up with the most delicious dessert only using selected ingredients. The groups exceeded anything that we could have imagined and made incredible desserts! Our time in Lake Tahoe was incredible but we still had one more camping stop before we visit the fabulous Los Angeles! Ventura was where we spent the Fourth of July enjoying the beach, eating some gourmet food and watching the amazing fireworks. We have been having the most amazing time lifetime cannot wait for the next week! See you soon Los Angeles! We will be sure to post more about our adventures!
Sincerely,
The Westcoast Blogger