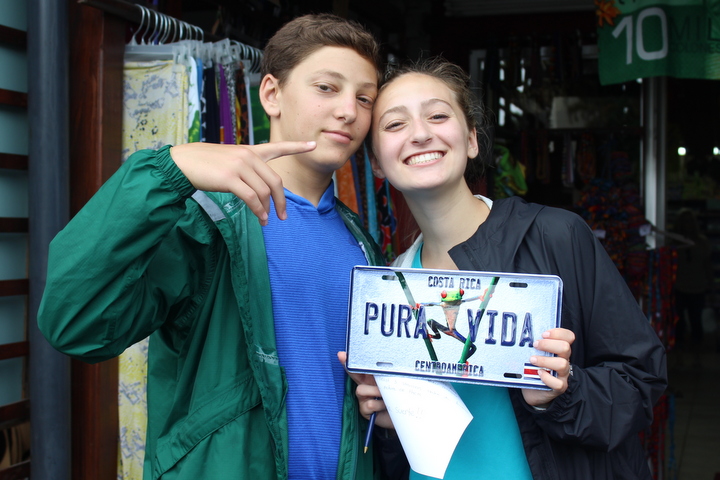 Saludos de Costa Rica! Las 3 o 4 dias pasados fueron cheveres.  Despues de llegar a Flamingo el lunes, fuimos a nuestro nuevo hogar en un lindo hotel.  Todos los dormitorios estan junto a la piscina y tenemos un lugar comun muy accesible durante el tiempo libre.  Durante la noche el lunes, fuimos a la playa para poner los pies en el oceano fresco y tener la arena entre nuestros dedos de pie.
Greetings from Costa Rica! The past few days have been a blast. After arriving to Flamingo on Monday, we settled into our new home at a beautiful hotel. All the rooms face the pool, so we have so much fun in the common area during our free time. Monday night we went to the beach to dip our feet in the warm Pacific Ocean, and get some sand in our toes.
El martes fue tan divertido!  Nos levantamos muy temprano para ir al oceano por catamaran a nuestra destinacion para hacer snorkeling.  Estuvimos en un barco por una hora para llegar a un arrecife fenominal.  Pasamos unas horas jugando en el oceano y vimos algunos peces.  Tambien algunas campistas aun afrontaron sus miedos del oceano.  Despues de algun tiempo en el agua, disfrutimos un merienda y un agredable paseo por el hotel.  Nuestra primera manana fue increible.
Tuesday was such a fun day. We woke up early to get on a giant catamaran to go to our snorkeling destination. We were on the boat for about an hour to get to a beautiful cove with a reef. We spent a few hours playing in the ocean and snorkeling. We saw some beautiful fish and a few people even faced their fear of the ocean! After our time in the water, we enjoyed a snack and a nice lazy ride back home to land. Our first morning in Flamingo was incredible!
Despues de haciendo snorkling, fuimos al campus de CPI y continuamos con las clases.  Las clases estan muy bien y podemos usar el espanol  que aprendimos en clases para hablar con la gente local que conocimos en los sitios de servicio!
After snorkeling, we headed to the CPI campus and we continued on with our classes. The classes are going great, and we are able to use the Spanish we learn in class to speak with locals that we meet on our service sites!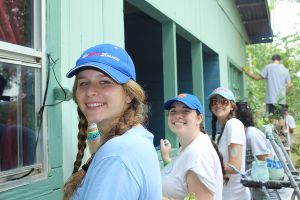 After a day on the water and in the classroom we wrapped up with a Latin dance class. We learned the basics of salsa dancing, merengue and cha cha. We danced first in singles, then in partners, by the end of the night everyone was able to show how much they had learned!
Despues de un dia sobre el agua y en las clases, concluimos con una clase de baile latino tomamos una clase de baile. Aprendimos los pasos basicos de salsa, merengue, y cha cha. Primero bailamos solos y despues en parejas, cuando el fin de la loche llego, todo el mundo tuvo la oportunidad de monstrar todo lo que habian aprendido.
Miercoles fue nuestro primer dia de servicio comunitario en Flamingo. Manejamos una corta distancia a la casa de una pareja vieja. El esposo no podia caminar y la esposa es casi ciega. Recientemente ellos perdieron a su hija a causa del cancer. Por lo tanto estabamaos muy feliz de poder alludar a una familia tan nesecitada. Pasamos la manana limpiando el exterior de la casa la cual estaba llena de telas de arana. Cuando terminamos de limpiar el exterior, nos dedicamos a pintar la casa de un verde muy bonito. Fue una experiencia increible poder ayudar a una pareja nesecitada.
Wednesday was our first day of community service here in Flamingo and it was a very special project that we were involved in. We drove a short distance to the home of an elderly couple who were in need of some assistance. The husband is unable to walk, and the wife is nearly blind and because of that, their small home was falling into disrepair; it was in need of a serious cleaning and a fresh coat of paint. They recently lost their daughter to cancer, so we were happy to help in any way we could. We spent the morning cleaning the exterior of their house until all the cobwebs and dirt were gone. Once we finished that, we began to paint the house a beautiful teal color. It was so great to be able to help a family in need.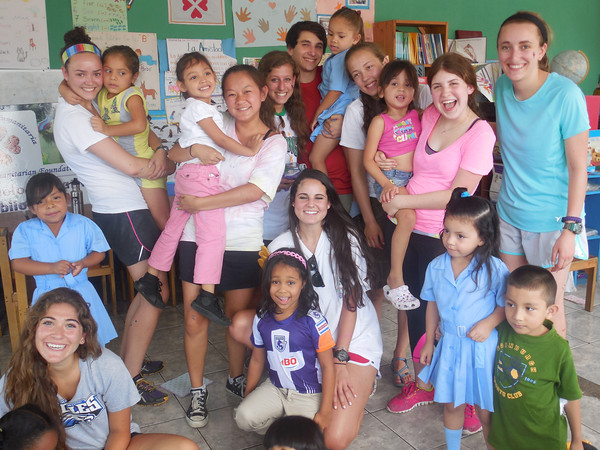 Despues de hacer servicio comunitario, volvimos a CPI  a continuar nuestras clases de espanol. Despues fuimos a la playa por una fogata a encontramos con otros dos grupos de westcoast connections. Conocimos nuevas personas y disfrutamos nuestro tiempo al lado de una fogata y tocamos musica en la playa.
After our community service time, we headed back to CPI to continue our Spanish lessons. Wednesday night we had a great time. We went to the beach for a bonfire with two other Westcoast Connection groups. We met new people, enjoyed roasting marshmallows and playing music on the beach.
La proxima dia fue un dia increible. Nos levantamos muy temprano para terminar de pintar la casa de la pareja. La pintamos de dos verdes diferentes y fue muy bonita cuando acabamos! La senora de la casa nos hablo y nos comento cuanto nos agradecia por haberle pintado la casa. Despues fuimos a CPI para tomar nuestras ultimas clases de espanol en Flamingo. Luego volvimos al hotel y tuvimos una fiesta en la piscina. Estamos muy emocionados por las actividades que vienen y para terminar nestro viaje sabiendo mas acerca del mundo que esta alrededor de nosotros.
The next day we woke up early to finish painting the elderly couple's house. We painted it two shades of green and it looked absolutely beautiful when we finished! We got to hear from the señora of the house and she was incredibly thankful for all the work we accomplished. After our community service, we headed back for our last Spanish classes of the week. Thursday night we got back to the hotel and had a fun pool party. We are so excited for our upcoming activities and to finish our trip with more knowledge of the world than when we left home!
The Westcoast Blogger
If a Westcoast Connection adventure sounds like something you'd like to be a part of, explore our 14-day Costa Rica student travel tour!