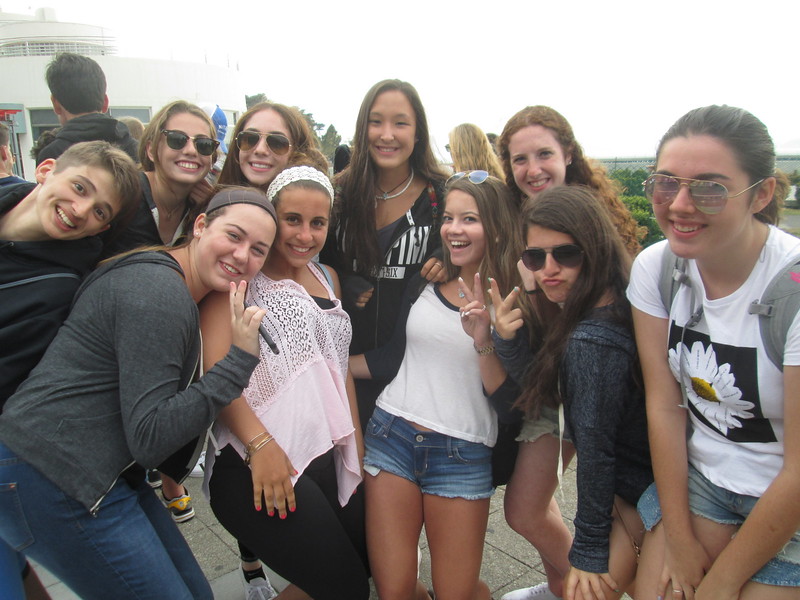 And so it has begun! California & the Canyons has started off on the right foot! Our trip members have already made new friends with one another and our staff is loving the positive energy from the teens.
We commenced our trip by visiting San Francisco's Chinatown. Trip Leader Zak brought a group of trip members to the hidden fortune cookie factory. There they watched how fresh fortune cookies were made with traditional flare. The group was able to sample some of the cookies as well! On our drive back to the hotel, our brave trip members began a rap battle. Josh, Matt and Ben S. were brave enough to creatively craft lyrics about their newly made friends along to a hip hop beat. On June 30th, our first full day, we continued our city tour by crossing the Golden Gate Bridge, which offered breathtaking views of the San Francisco Bay. We entered the sunny town of Sausalito later that afternoon, where William, Spencer and Trip Leader Gabe were scouring the rocks by the water to observe crabs in their natural habitat. Later that evening, we watched a professional baseball game between the Oakland A's and the Colorado Rockies. Manuel used his baseball expertise to explain the rules of the game to those who were having trouble following. On July 1 we celebrated Canada Day! The bus was decorated with festive red and white streamers and our Canadian staff sang the national anthem "Oh Canada" in French and English to commemorate this historic day. The trip members learned some unique Canadian facts and characteristics that define our neighbors to the north. Now everyone on our bus will be able to tell you the three ingredients in poutine and that you can recognize any Canadian if you notice themover-apologizing. What a polite country!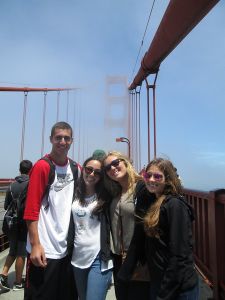 After the Canada Day festivities we headed to Alcatraz Island. Although the prison has been closed since the late 60s, the trip members had the unique opportunity to meet an actual prisoner who was held there for bank robbery. Dani S. even got the chance to ask him a few questions about his prison experience.
Later in the afternoon, the group split up to play a game of "Trade Up" at Ghirardelli Square. Each group received a pen and their task was to trade that pen for something of greater value with people in the area. The eventual items that they traded up for were pretty funny. Each group presented their story of how they attained their final products. The winning group including Louis C. and Louis T. who traded up their pen for several other items and eventually acquired a selfie stick! Another group managed to trade a protein bar for $26 cash.
Our trip has been pretty action-packed thus far with some twists and turns along the way (literal twists- we visited Lombard Street- the crookedest street in the world!) We're looking forward to making more friends and hilarious memories along the way!
Peace out San Fran! It's time for Lake Tahoe!
– The Westcoast Blogger
If you want to be part of an experience like this, travel with us in our 14-day summer program for high school students in California, from San Francisco to San Diego.