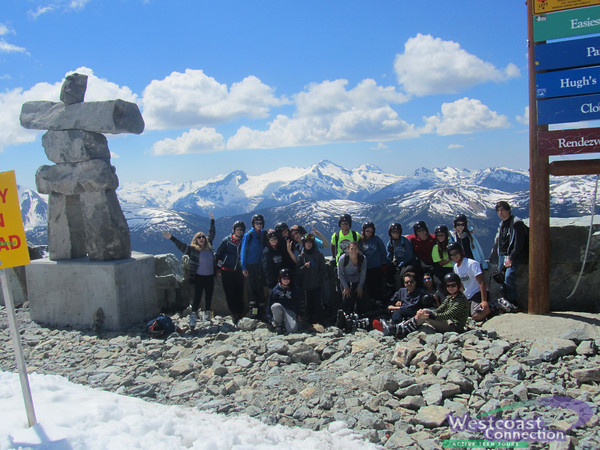 Hello Parents of Northwestern Odyssey,
We've been having so much fun that it has been hard to find time to write! Here are some updates from our past week in Canada.
In Whistler, some of the group went on a peak to peak gondola ride between Whistler and Blackcomb mountains.  The views were breathtaking and we all took a lot of awesome pictures. On the chair lift up to the gondola, Julian and Remy were very excited when they saw their first bear (happily from a safe distance). In the lodge at the top of Blackcomb, some of our girls spotted Josey Loran from the TV show "Make it or Break it" and snapped a photo with her.  At the top of the mountain, Hannah, Parker, Elayna, Juliana, Audrey and Jenn had a lot of fun playing "alibaba et les 40 voleurs" which is a singing and dancing game. Some trip members skied and snowboarded and some mountain biked. On the mountain biking trails, Kait, and Justin S. tried the "Disco Boy" trail and watched some bike jumping. The skiers and boarders enjoyed the clear weather. Alec was really excited to snowboard and his positive attitude was contagious to the whole group.
Next up was our beach stop in Penticton. The weather was beautiful and we all had an amazing day. Mariel, Brad, and Nicole, all learned to wakeboard for the first time. They did an excellent job! Maxime, Josh S, Julian, Adam K. and Justin A. tried tubing- Josh S. impressed us all in that he never fell off once! For lunch, Haley and Izzy volunteered to help out by cooking hamburgers and hotdogs. Their grilling skills proved to be excellent as lunch was delicious. In the evening we stayed at Gallagher Lake campground where we spotted two mountain goats and a deer. We had a gorgeous site, just steps from a small lake.
Presently we are in Banff National Park in the heart of the Canadian Rockies. The drive getting here was gorgeous crossing through Rogers Pass. Today is our trip director Shelby's birthday so we started our day by singing Happy Birthday to her and presenting her with our official trip birthday hat. The birthday hat is shaped like a blue squid. In the morning we went to the Columbian Icefields in Jasper. The scenery on our drive was incredibly beautiful.  At the Icefields we learned that the ice we traveled on is as thick as the Eiffel tower is tall. We were given time to explore the glacier and Mitch, Mark, Marris, and Max P. tried drinking the glacier water. Max P. says "the water tasted amazing!"  We also learned that in Jasper the temperature can get as low as -55 degrees Celsius. We definitely chose the right season to visit!  After exploring the glacier we headed to Peyto Lake, an extremely blue lake that is shaped like the head of a dog.  The weather was beautiful for the hike down to the lake.
We saw the final day of this year's Calgary Stampede.  It was really exciting to see all of the great rodeo competitors. Alec, Chad, and Steven reported that they really enjoyed seeing the rodeo show and Drew really enjoyed checking out the carnival.
Today we will be hiking at Lake Louise and can't believe how beautiful it is here!
From the Trip 33 blogger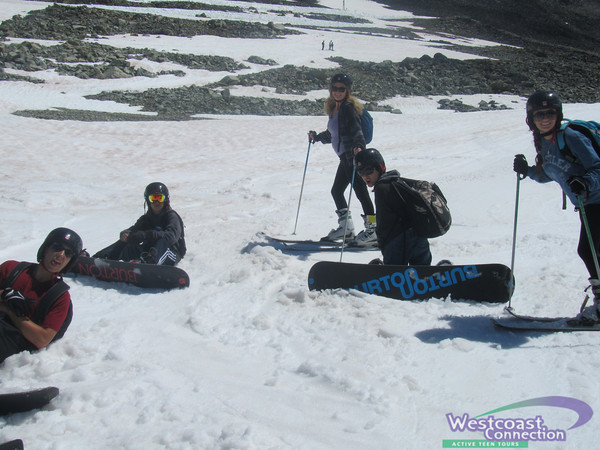 Interest in learning more? Explore our Canadian student travel programs and start planning your next adventure with Westcoast Connection!