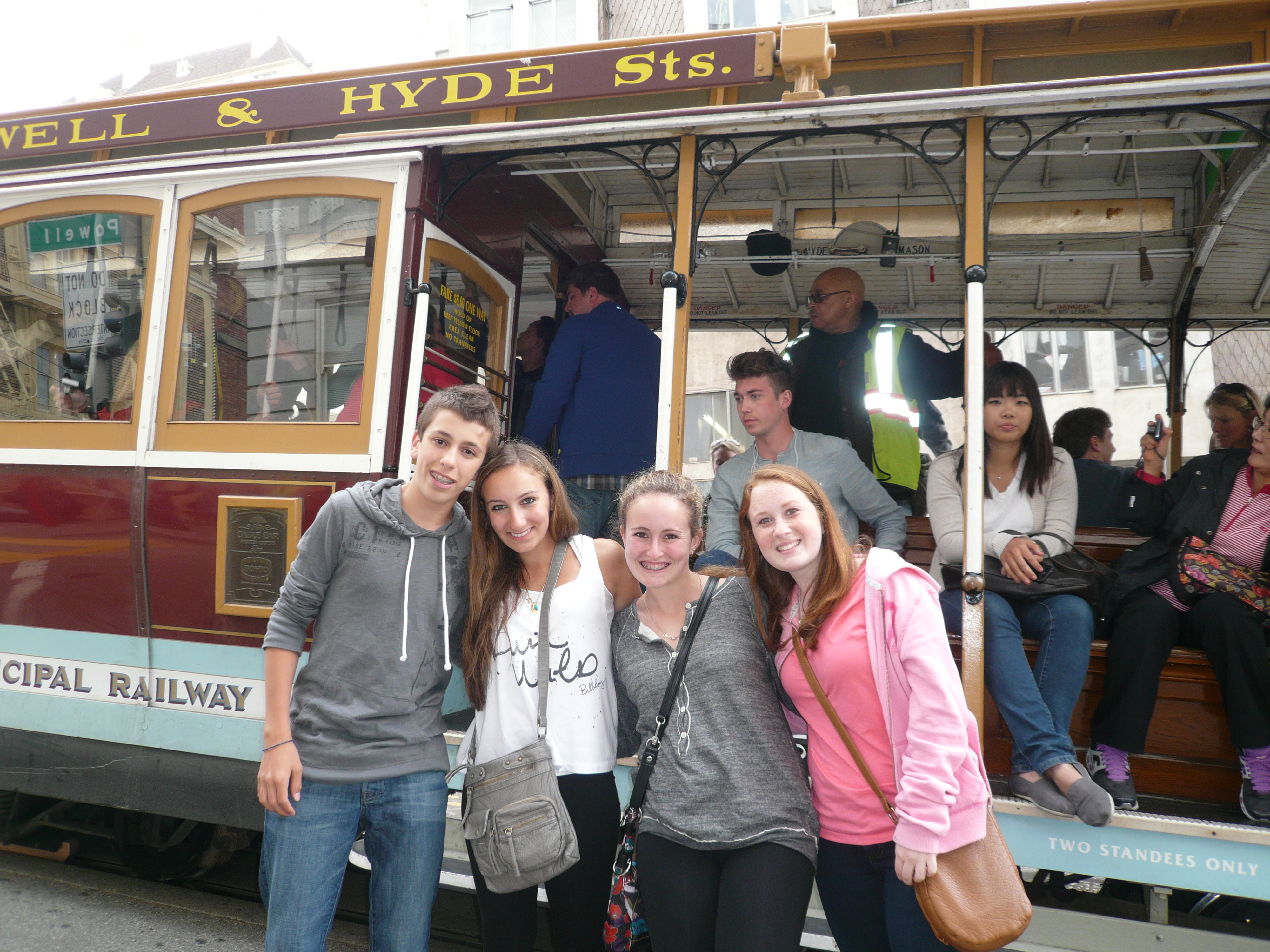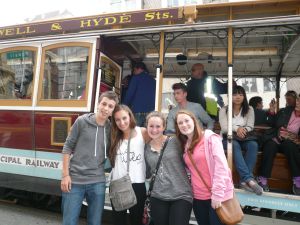 Greetings AmVoy #2 Parents,
Wow, can you believe that just a few days ago we were in Portland? Let's get you up to date…
The day started off with a trip to the Portland airport where we prepared to jet to San Francisco. While waiting to board the plane, the Southwest Airlines crew helped us bring the party to the terminal when they played "Party Rock Anthem" on the loud speakers at our gate. Ronni and Sam D. started off the flash mob and in less than 30 seconds, the whole group was up and dancing!  A huge audience gathered around and began to sing, clap and even videotaped the performance. People thought we were a famous traveling dance crew, and boy did we really feel that way! Soon after the performance we safely boarded the plane and settled into our seats to get ready for take off.
Lucky for us, Jared played a Richard Simmon's airline safety video that morning with a workout flare, so we were thoroughly prepared. As we lifted up off the ground, the whole group threw our hands up in the air as if we were on a roller coaster (the people sitting around our group thought we were crazy)! The plane ride was relaxing … until we landed and Grant and David led us in singing "More Bounce in California." We got quite a few stares when we made it to baggage claim!
From there, we checked into the Westin and headed into San Fran to ride the famous cable cars. While waiting to get onto the cable cars, Ronnie, Steven and Jacob joined the one-man-band in singing "My Girl!" No wonder people think we are a traveling choir group! Jeremy, Lexi and Sam H. were amongst the many taking pictures as we rode the cable car.
On our way to Chinatown, Grant saw Grant Street and the Grant Hotel and got very excited. In Chinatown, we visited a fortune cookie factory and were able to try fresh cookies! Emily B. even tried chocolate fortune cookies for the first time. Some of us also went tea tasting and learned that chai is tea in Chinese. So, when you go to Starbucks and order chai tea, you are ordering tea tea. Dinner at the Chinese restaurant was a ton of fun. Authentic dishes served family style. Steven, David and Grant told the waiter that it was Noah's birthday; he got a fortune cookie with a candle in it!
On the bus ride back to the hotel we took a couple of minutes to reflect on our day by asking for volunteers to talk about their roses and thorns. Matt M. said his rose was being able to use his new walking stick and Emily K. said that her rose was going on a cable car for the first time! Back at the hotel, we had a chance to go swimming in the hotel's amazing pool and hot tub, use the workout room, and just relax. Jason was excited and super happy that he got the chance to use the treadmill!
The following day we got up and went to 'the Rock.' In keeping with the traveling choir group persona, we all sang along with staff Jess to Wheels on the Bus, the Itsy Bitsy Spider, and Twinkle Twinkle Little Star! When we arrived at the pier, before taking the ferry to alcatraz, we played Yee-Haw (a trip favorite). A group our size screaming "Yee-Haw, Hoedown, Haybarn and 4 Box Gear Shift" in a big crowded city draws quite a bit of attention. When we got to Alcatraz, we had a brief trivia session with our tour guide and learned really cool facts about the prison. Did you know that Alcatraz was used as a prison for civil war soldiers and that it is the most visited National Park in America? Jeff knew quite a few of the answers and impressed the guides (and us!). We walked around Alcatraz, aided by an audio recorder that we were all issued. We took pictures in the cells and learned about the attempted escapes. Especially after watching the MythBusters clip on the bus, we had a long debate over whether anyone successfully escaped. Andrew found the grenade marks from a riot in the 20's to be fascinating.
When the tour ended, it was lunch time. A bunch of us visited the famous Boudin bread factory for lunch. What could be better then fresh clam chowder in a warm bread bowl for lunch! Jacob, Danielle and Ethan found the alligators, teddy bears and lobsters made out of bread to be fascinating! Underneath Jason's soda cap  was a fortune that told him to call his father and Sam R. took it as a sign and did!
We then walked around Fisherman's Wharf and took pictures by the huge sign. We sang the whole way there and back walking along the water!
As we got on the bus for dinner and the club, "I Got A Feeling" was blaring on the speakers in preparation for a night of dancing! It was then on to Mel's Dinner, a 50's style restaurant. The dance club afterwards was one of our best nights yet. Matt L. who swore he wouldn't dance was spotted doing the cha-cha slide and dancing to the Time by the Black Eyed Peas! Rachel and Sam H. had so much fun showing everyone how to fist pump! Jeremy, Jordan and Noah constructed a dancing chain, holding onto the shoulders of the person in front of them and we all sang to "Party in the USA" when it was played. Sarah and Emily K. rocked out to the running man together on the dance floor and Sam D. and Aja led a dance circle when the Macarena was played! You should have seen the DJ's face when we started doing our flash mob to "Party Rock Anthem." Oh, what a night! Everyone came off the dance floor exhilarated.
Our last day in San Fran started with a delicious breakfast at Panera Bakery! Ariel mentioned during breakfast  that it was the best bagel that she ever ate! From breakfast we went straight to Alamo Square, which is where the opening credits to Full House were filmed. Of course, we watched the introduction on the bus and played Full House trivia after the fact. Aja and Lexi were ecstatic (Aja was literally jumping with joy). It was then on to the Golden Gate Bridge. The bridge was so clear that we were able to see from end to end perfectly which we are told is a rarity! When we were on the bridge looking down, Emily B., Joli and Steven spotted dolphins. It was as if they knew we were going to be there and purposely put on a show for us, jumping up and down!
We had lunch in Sausalito, a small fishing town on the other side of the bridge. It reminded some of us of Italy, complete with bistros, delis and shops of different sorts where everything from pasta, pizza, sandwiches and more were available. Allie said that her panini and baked potato were amazing! The hit for many of us was Hamburgers. A dive burger joint with the most delicious sandwiches!
Afterwards, we visited Lombard street, which holds the title of being the crookedest street in the world! We enjoyed watching the cars maneuver the switchbacks. We burned a few calories walking the hills of San Fran to our next stop, Ghiradelli Square. The ice cream and chocolate was to die for! David and Grant said that they must have gone back at least seven times to get free samples, Jordan mentioned that he was in heaven drinking his milk shake and Courtney mentioned that her big chocolate fudge brownie ice cream was way to big to finish while Rachel munched on delicious chocolate covered strawberries!
The baseball game was our evening activity. Outside the stadium, Gabi and Sam D. were having a blast yelling "Go San Francisco Go" to everyone who passed us and one passerby even gave them a San Francisco Giants sign to hold over their heads because she was so impressed with their enthusiasm! During the game, we saw "Welcome Westcoast Connection" written on the large screen. We all took pictures and yelled on the top of our lungs "that's us!" Erika also began to yell a little bit later "Go Devils Go". She didn't even stop after everyone reminded her that she was at a baseball game, not a hockey game and that we were in San Francisco and not New Jersey! As a group, we tried to start the wave and get featured on the big screen but were unsuccessful! When the game was done and we were walking back to the bus, we started singing again. This time it was our evening mix.
By the time you read this, we will be in Lake Tahoe.  Be prepared to hear more about the adventures of AmVoy #2 in the next few days.
Jared & the AmVoy #2 Team
The Westcoast Blogger