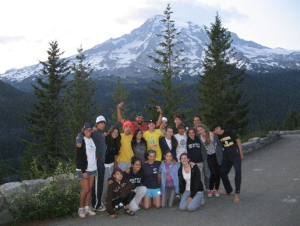 In the great outdoors with the Northwestern Odyssey!
The Westcoast Blogger
Greetings from Mt. Hood, Oregon! We have reached the final leg of our journey together and it's full of adrenaline rush activities! After our stay in Seattle we headed off to Mt. Rainier where we spent 3 nights in a rustic campground and hiked around the mountain.
From Mt. Rainier we headed to Mt. Hood. Along the way we went white water rafting! Everyone's hearts were pumping as we went down the Salmon River. The scariest seat on the raft was at the very front called the Animal. Although they were anxious, Ariel and Allison even had a go at the most frightening (and wet!) place on the raft.
After the rustic campground at Mt. Rainier everyone has appreciated the facilities (like indoor plumbing!) here at Mt. Hood. The girls, Dana, Greer, Celeste, Sarah, Hannah G. and Rachel challenged Nikko, Max, Andrew F., Will, Matt and Andrew L. to a game of volleyball in the pool and won! A couple days ago the group competed in a Harry Potter competition. Jacob, Austin and Hannah S. got especially spirited and got elaborately dressed up to show it.
Our adventure contines here at Mt. Hood where we will be skiing and doing fun activities at the Ski Bowl!