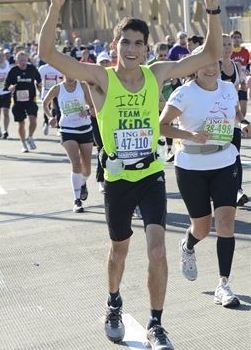 A huge congrats to Izzy Friedman and Cal Egan, WCC/360° staff on our Site Management team, for recently completing the New York City Marathon! The NYC Marathon is 26.2 miles long and is one of the largest in the world. This will be Izzy's third year as our Equipment Warehouse Manager – he was also a Trip Leader on the Californian Extravaganza in 2010. Cal has spent three summers traveling the USA and Canada with us as a Campsite Manager for our North American Teen Tours – "Cal's Kickin' Chicken" has become legendary.
Leading up to the big day, Izzy raised funds for the NYC charity Team For Kids and New York Road Runners who provides free or low-cost health and fitness programs to local children who would otherwise have little to no access to regular physical activity. Having worked with underprivileged children as a soccer coach in Montreal, Izzy felt very connected to their cause. To prepare for the marathon, Izzy trained four days a week for four months.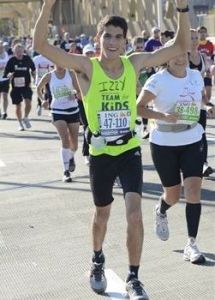 "The marathon itself was an amazing experience. The NYC hospitality was amazing during the run and I didn't need friends/family to cheer me on as I had the crowd who were yelling 'Go Izzy!' since I wrote my name on the shirt I was running in. I was sort of worried about how I would do past the 20-mile mark since I had never ran that much. However, once into the Bronx, I realized I was only six miles from the finish line and begun accelerating my pace. I maintained this fast pace until the end despite the pain and exhaustion but at the end, it was totally worth it. As I crossed the finish line, I was already making plans in my head for when I would complete my next marathon."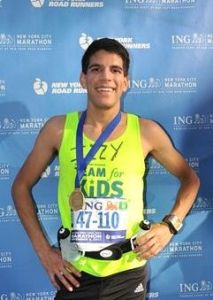 Coincidentally, Cal and Izzy actually ran in the same heat finishing less than a minute apart – but they didn't know that the other one was there until days after the race. "It's a wonder we never ran into each other," Cal says. Cal has been running for about 10 years and completed a half-marathon two years ago. Just 5 weeks before the NYC Marathon, he learned that a family friend had an extra bib for the race and he decided to commit, running or biking nearly every day leading up to the big event.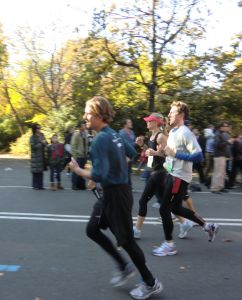 "You start off at the base of the Verazano Bridge, everyone packed in tight, athletes from all over the world. I was feeling pretty unemotional as usual, not scared, not nervous, not particularly excited, but that quickly changed. They set-off a Howitzer cannon to start the race and then start playing "New York, New York" by Frank Sinatra. As I started running up the bridge I was overcome with joy and the grandness of it all. That was when I knew it was going to be a great experience."
Congrats again, guys! Way to go!
The Westcoast Blogger
P.S. – Staff, e-mail us at staff@westcoastconnection.com with what you're up to!