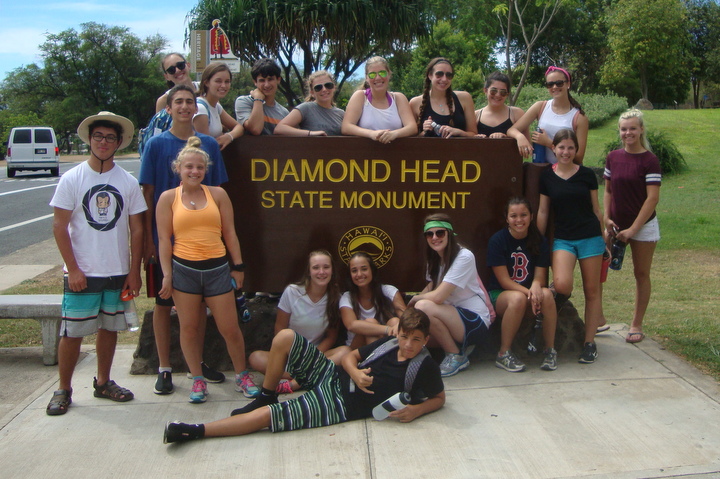 Our final community service project involved working for Habitat For Humanity. Normally, when people hear of Habitat For Humanity, they hear of the glory of the organization — going to build sites, making houses, and presenting them to underprivileged families. When I heard that we were working for Habitat, this was my expectation as well. But what we learned was that there's a TON of background work that goes into making Habitat work, largely due to their ReStore.
Here's how the ReStore works: Habitat takes in old or used goods, refurbishes them, and then sells them back to the public at a discounted rate. All the money they earn goes towards funding materials for making the houses, and the cycle continues. For the two days that we were at the ReStore, that's what our task was. We walked into the warehouse of the ReStore and were told that we needed to clean and reorganize the store, because frankly, the place needed it.
Over the course of two days our kids rose above and beyond what they were expected to do. They were literally doing everything that they could — assembling furniture, moving it, disassembling shelving, moving that, cleaning windows, sorting doors, labeling paint. You name it, they were doing it. After we left on our second day, the store owner said something to two of our trip members (that they later shared with the group) that really stuck out to me: "You guys did as much work in two days as the military guys who come in here do in two weeks."
Wow.
After Habitat, the trip was beginning to wind down, and we were in the homestretch.
On our last full day of the trip, we traveled to Diamond Head State Monument, home of Diamond Head Crater. We loaded up the vans and headed out to the monument. Once we got there, we saw our task. Hike up this giant mountain? It's huge. It's famous. This is crazy. As we set off, there was only one thing on our minds: we have to finish. We had completed all the other tasks of the trip, no matter how hard, so we could surely get through this.
We got through it. And the views were amazing.
We could see the entire island, from the metropolis of Waikiki to the outskirts where we had worked with the Boys & Girls Club earlier in the week. The road to get to the top of the mountain was long, but was absolutely well worth it.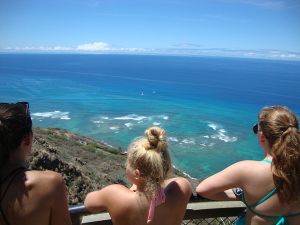 After the hike, we spent one last day at the beach, enjoyed dinner at Jimmy Buffet's and then went back to the hotel to reflect on this eighteen day journey we had all made together. We reflected in two ways: one, we completed "The Memory String" activity, where one person starts with the ball of string, says their favorite part of the trip, then wraps part of the ball around their wrist before throwing it to someone else in a circle, where the activity continues. This goes on until everyone has part of the string around their wrist, and the string is cut so everyone has a makeshift bracelet to remember the trip by. In this activity, memories of the past two and a half weeks came pouring out, including some of the following:
the time when a little boy, Amari, refused to let go of one of our trip members when we were about to leave the Boys & Girls Club
the bonfire at the Nature Preserve at Eco Maui
swimming through waterfalls at Twin Falls
memorable car rides, jam sessions, and inside jokes
the time Brad ripped his pants while lifting a couch at Habitat For Humanity (conveniently left out of the previous description)
favorite meals, including an authentic Hawaiian luau
reminiscing of Waimanalo Beach and all of the other amazing scenery of the trip
After we completed The Memory String, it was time for Paper Plate Awards. Paper Plate Awards works the following way: you draw another person's name out of a hat and are given a paper plate. You are given a half hour to decorate their paper plate with an award that is unique to them. Go.
After a half hour we presented each other's paper plates. Tears were shed, laughs were had, etc. In a short amount of time, everyone had given and been given something incredibly moving, powerful and personal to them. I, for one, know that I will be keeping my paper plate and memory string for a long time to come.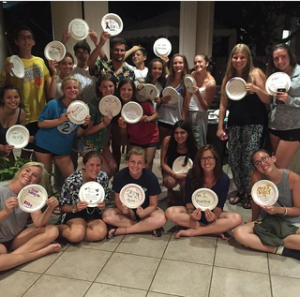 Rewarding work. Unforgettable experiences.
As I sit typing out the final words of the blog on this trip, I'm reminded of those two ideas I had for this trip in my initial blog post. I think it's safe to say that this trip exceeded those expectations, no matter how ambitious or hyperbolic they sounded at the time.
I'm also reminded of a Disney movie — Lilo & Stitch, cliché as that may be. In an early scene of the movie, Lilo, a name that we actually gave one especially endearing little girl at the Maui Boys & Girls Club, tells us:
"Ohana means family. Family means no one gets left behind…or forgotten."
In one of the movie's final scenes, Stitch, our lovable and furry protagonist, drops this gem on us:
"This is my family. I found it, all on my own. It's little, and broken, but still good. Yeah. Still good."
Over the course of the last eighteen days, all the members of the Westcoast Connection Hawaii Community Service trip found a new Ohana. All on their own. No one got left behind, or forgotten. And for that, we are all much better for the experience.
For the final time, mahalo for reading and aloha'oe!
P.S. Throughout our trip we had many "car challenges" where members of each car would play against each other in various sorts of competition (most Hawaiian shirts spotted, guess the song, etc.). Our last one was to recreate some of Brad's action shots. We had a lot of fun doing this; there were great impersonations! Enjoy these funny shots in the last photo upload
The Westcoast Blogger
Do you want to make a difference? Be a volunteer with our 18-day Hawaii student travel program, meet its people and win their hearts.