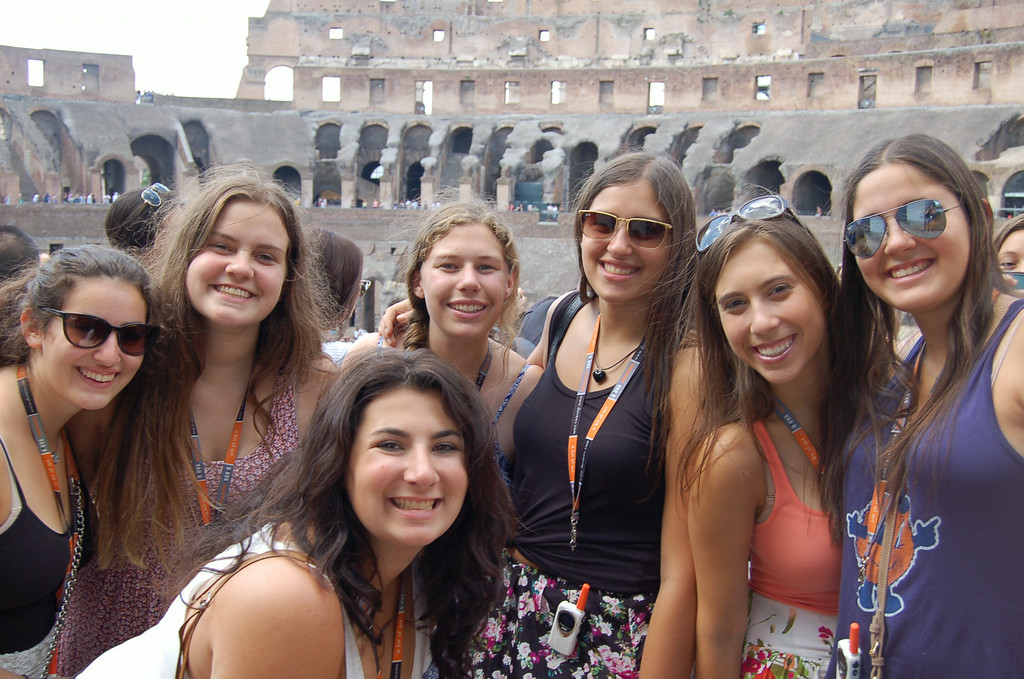 After all the excitement from two weeks of travel, all of us were ready for a few days of beach relaxation in Rimini, a resort town on Italy's Adriatic coast. But before the relaxation, we had some more excitement waiting for us… hitting up Italian nightlife at Rimini's Life Disco! After settling in to the hotel and heading out for a group dinner, we all boarded our private double decker bus to the club for a fun evening of dancing! We were excited to hear that the club had invited a special guest DJ "Billy the Kitt" for the night, and we all had a blast dancing and hanging out together at the disco-club.
The next day was all about the beach and chilling out on the sand. A few of us had some laughs that morning when Logan, Nicki H and Carolyn  decided to bury Emma in the sand. Corey and Harry also enjoyed playing volleyball in the surf, while Paulina and Nicki P collected seashells. After a break for lunch, some of us headed back to the beach while others explored town together. One attraction was the arcade that Ally really enjoyed, as well as the most amazing gelateria we've been to as of yet on the trip — a place called "3 bis." Rachel N was really fond of the flavors she chose, especially the weekly special: caramel-praline. We finished our great day with a round of mini golf, for which Zack dressed perfectly in high socks, leather shoes and a collared shirt tucked into his chino shorts! We all had a ton of fun, especially watching some of us attempt to play with technique and sophistication but still go way over par, like Noah. By the end of the night, we were all totally goofing off and laughing about our "mad skills" (aka lack of skils) at mini golf.
The following day we said goodbye to Rimini in order to head to our next destination: Rome! After we arrived at the hotel, we had a few hours to get ready for an exciting evening at the Spanish Steps, followed by dinner. But the highlight of the evening was when we passed landmarks like the Pantheon and Trevi Fountain illuminated at night. Syndey T and Jesse enjoyed throwing a coin in to the Trevi Fountain, as is the Roman tradition. Sam, Jamie and Sara enjoyed snapping pictures of the Pantheon and the fountain at the center of the square where it's located.
Our next day in Rome was filled with activities. First on the schedule was the Vatican City, which Nicole B was particularly excited to see. We all got to visit the Sistine Chapel and Saint Paul's cathedral on our guided tour, which were both breathtaking. Scottie, Max, Hannah, Zane, Geneva and Jolie all enjoyed exploring these important holy places in the Vatican City, as they looked up and down at the floor to ceiling splendor of these incredible sites.
After lunch, we all went to the Coloseum, and we were all very excited to be at one of the most significant landmarks of Rome. Aaron was particularly inquisitive, asking questions about how the stadium was used for mock naval battles. Rachel W, Surya and Shannon also took the opportunity to pose here as Roman statues would, standing together on an empty pedestal for an amazing photograph.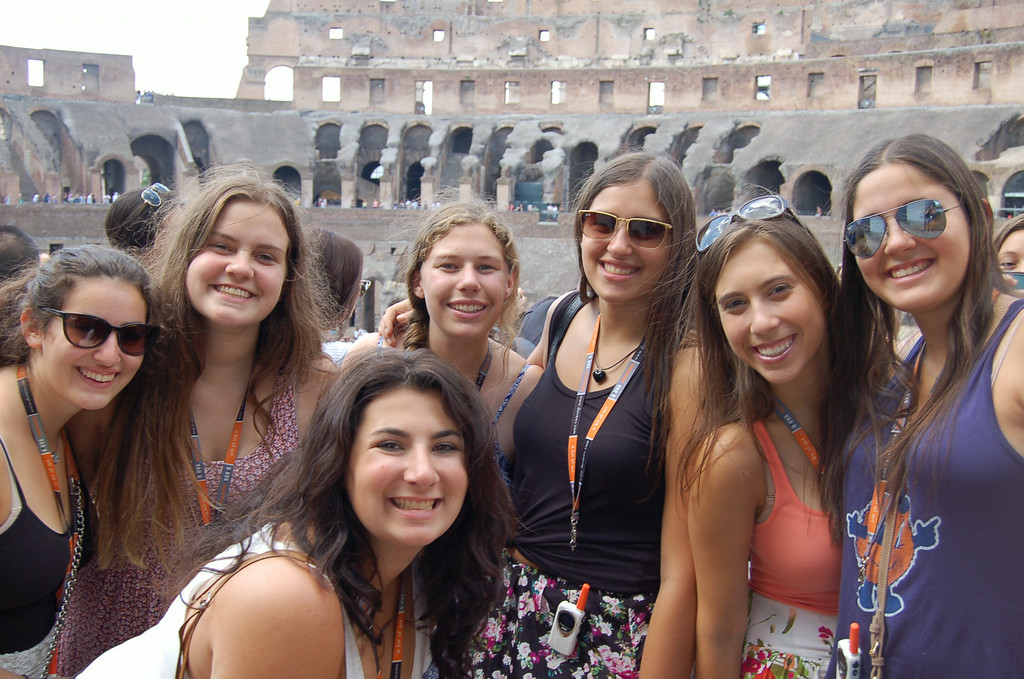 Our Roman adventures continued the next day. We started by visiting the San Callisto Catacombes, which make up the first Christian cemetery in Rome and are constructed underground out of volcanic ash. Eleven popes were buried there, as well as Saint Cecilia. Haley, Sydney M, Bailey and Claudia enjoyed the visit, especially due to our amazing tour guide who somehow managed to make our visit to a mass cemetery a cheery experience!
After the catacombes we visited the Borgehese Gardens — a massive park in Rome filled with beautiful trees, plants, fountains and monuments. In the park, we all got really into our game of Songapalooza. For this game, teams of six were all given the same word for which they had to come up with songs containing that word. Megan was really good at this game, proving that she is indeed a "song encyclopedia." Lindsey also showed us she is a surprisingly talented rapper! Next we played a massive round of "Koomcha," where Morgan helped our new trip members Gabe and Jacob learn our crazy, goofy game.
To finish off our amazing day, we all went out for a classic Roman-style toga party dinner, complete with togas for us to wear! We all felt transported back 2,000 years as our waiters brought us our food by the light of torches and singers entertained us. The singers even got some of us up off our feet, like Isabel and Lee, who had a blast laughing and dancing.
And now we're off to continue our Italian adventures in Pompeii. Seriously, how lucky are we? Ciao for now!
The Westcoast Blogger