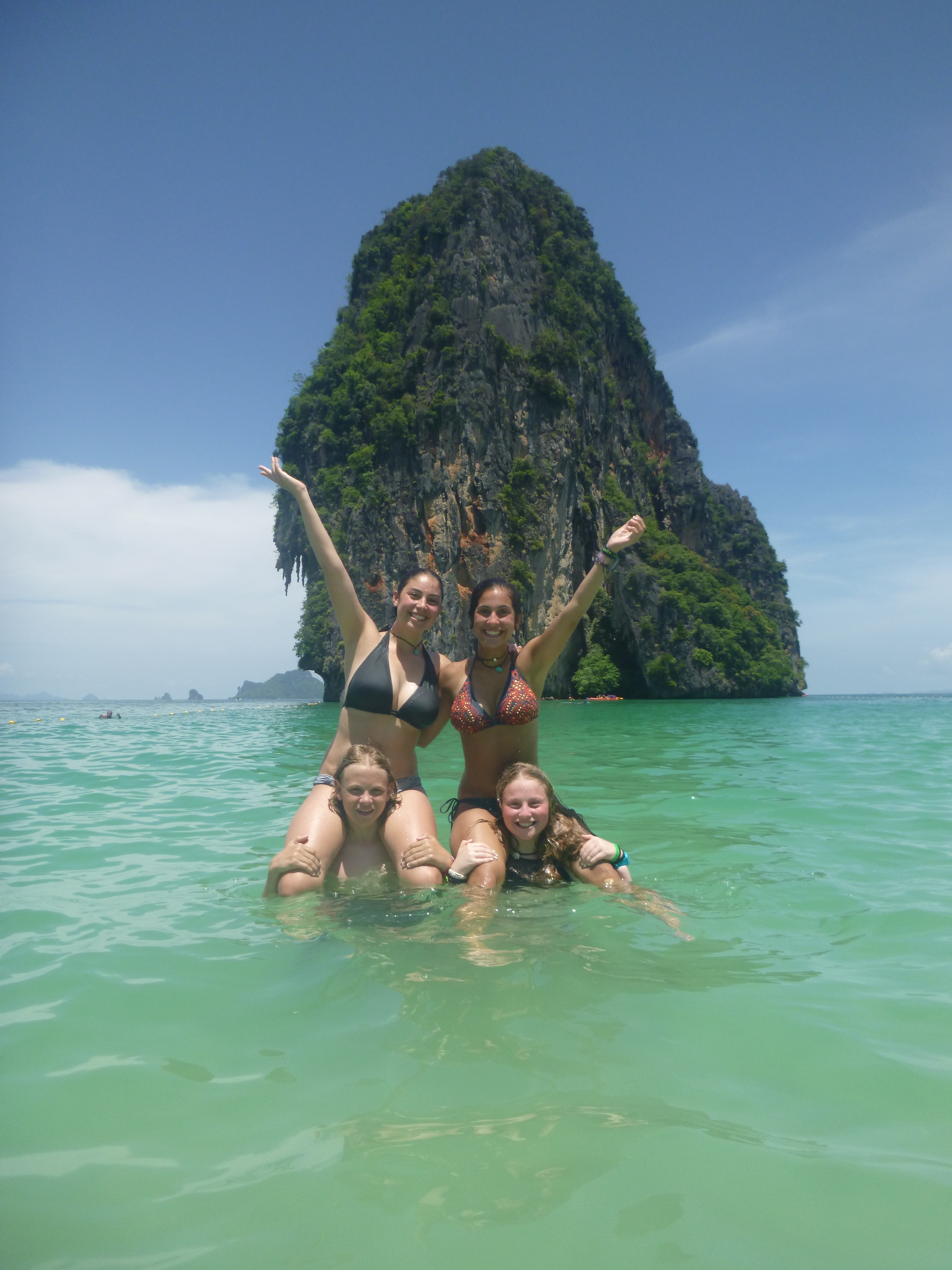 Our trip spent lots of time in the central region of Thailand, the northern, mountainous region, and now on the last leg of the trip we had time to explore the beaches of the south, specifically in the city of Krabi.
The southern area of Thailand has lots of water with hundreds of islands right off the coast. Because of this, most of our activities in Krabi dealt with water.
On our first full day, the group grabbed a paddle, a partner, and a kayak to explore the mangrove swamps and the cliffs right on the coast. We weaved in and out of the trees that were growing out of the water, and were even able to kayak into some caves! Near the end of the kayaking, the guides led us to a hidden beach where everyone was able to dock their kayaks and do a little swimming. This was also the spot where we had our first monkey sighting! After countless pictures of the monkey and a time to cool off we got into our kayaks once again to finish our tour. Once we put the kayaks away we had lunch right on the water and headed back to our resort for some relaxation and massage time.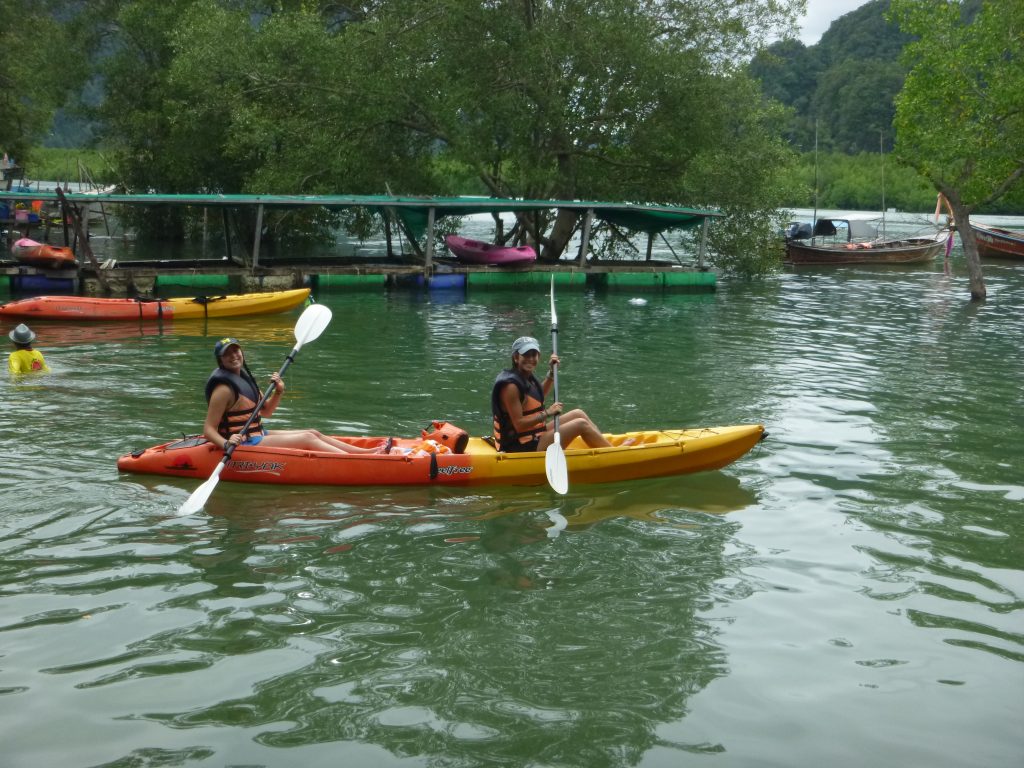 The next morning everyone hopped into a long-tail boat for some snorkeling and swimming. The first area everyone headed to was a sand bar that connected two small islands. We compared the scenery at this beach to screen savers on a computer… absolutely beautiful. Everyone swam, snorkeled, and even had lunch on the sandbar before moving on. The next island we visited was a little more inhabited. There were food stands and a huge beach to hang out at. The group went for hikes, played Frisbee, got a tan, and went swimming. After a long day in the sun everyone needed a lot of rest because the next day we were off for snorkeling and scuba diving at Ko Phi Phi! Everyone woke up extra early so we could get to our diving spot with plenty of time to have fun! After a lot of instructional time and practice, the group had a chance to scuba dive with a professional diver. Freddy, our avid fisherman trip member, was a natural diver and this was truly one of the highlights of his trip. When we were not scuba diving, they got to snorkel or jump off of the boat into the water! Everyone was exhilarated after such a busy day of water sports, which was perfect because our last day in Krabi was spent at the famous Railay Beaches.
There are two main Railay Beaches, East Railay Beach and West Railay Beach. Everyone started the day at East Railay Beach. The unique aspect of this beach is that it has a huge cliff jetting out of the water about fifty feet away from the swimming area. It was very accessible and everyone had the opportunity to explore. Sam L. was especially into checking out the shallow sea caves that were in the cliff. After some good swimming, and relaxing at that beach, it was time for lunch, which was located at the beach on the other side of the island.
In order to get to West Railay Beach we took a hike across the island. On this hike everyone waded through some water, walked through a cave and saw a ton of monkeys! The group did a fantastic job following the island's rule of not feeding the monkeys, but the monkeys were definitely ready for a snack in case anyone slipped up!
After lunch, we had some more time to swim, play games, and get massages on the beach. It was a great way to end our stay in Krabi and the southern region of Thailand.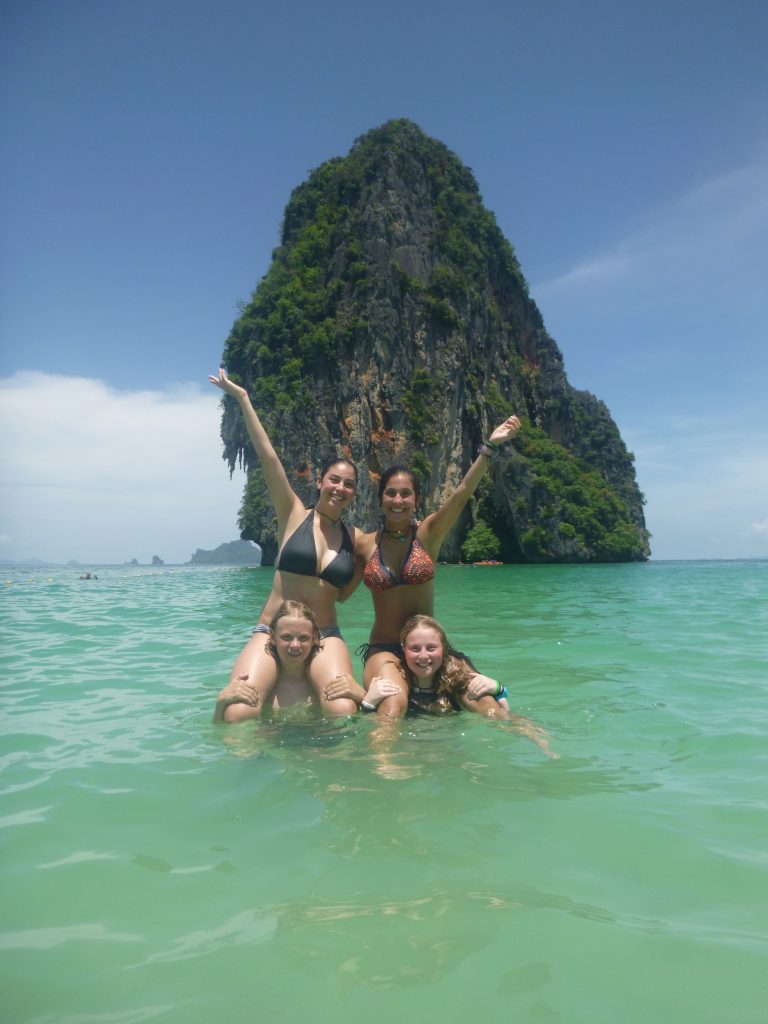 The next day, everyone boarded the plane back to Bangkok for a little more fun before starting the trek back to the good ole USA! On our last day in Bangkok, we explored two famous markets, the Railway Market and the Floating Market in Amphawa. The railway market offers produce and seafood and is literally located on railroad tracks. At 8:30 am every morning the food stands and customers move to the side so that that train can come through. Once the train leaves, the market quickly gets back to business. After enjoying some delicious fruit smoothies at the railway market everyone got back into the bus and headed to the floating market.
This market had more of a variety of items for sale. It had a lot of food stands but also had some great souvenir stands. In order to shop at this market everyone needed to get into boats and float through the narrow canals that were full of vendors. Samara R., Samara L, and Lila tasted some different soups, while Jessica and Rylee bargained for a great deal on foldable hats!
When the shopping was over, everyone headed back to the hotel so that we could hold our final banquet and enjoy our last bit of time together.
It is hard to believe that our twenty-five day trip has come to an end. Everyone has experienced so much with one another and has grown very close. From Bangkok to Chiang Rai, Mae Salak, Chiang Mai, and Krabi, everyone has seen an immense amount of natural and man-made beauty. From boat rides, service projects, zip lining, and scuba diving, everyone has made memories that they will never forget. Even though everyone is sad to say goodbye to Thailand, we are extremely excited to see all of you back at home! Khob kun-krub/ka, Thailand!
The Westcoast Blogger
Do you want to be part of this community service program? Check out our Thailand trips for students and get ready for the experience of a lifetime with Westcoast Connection.