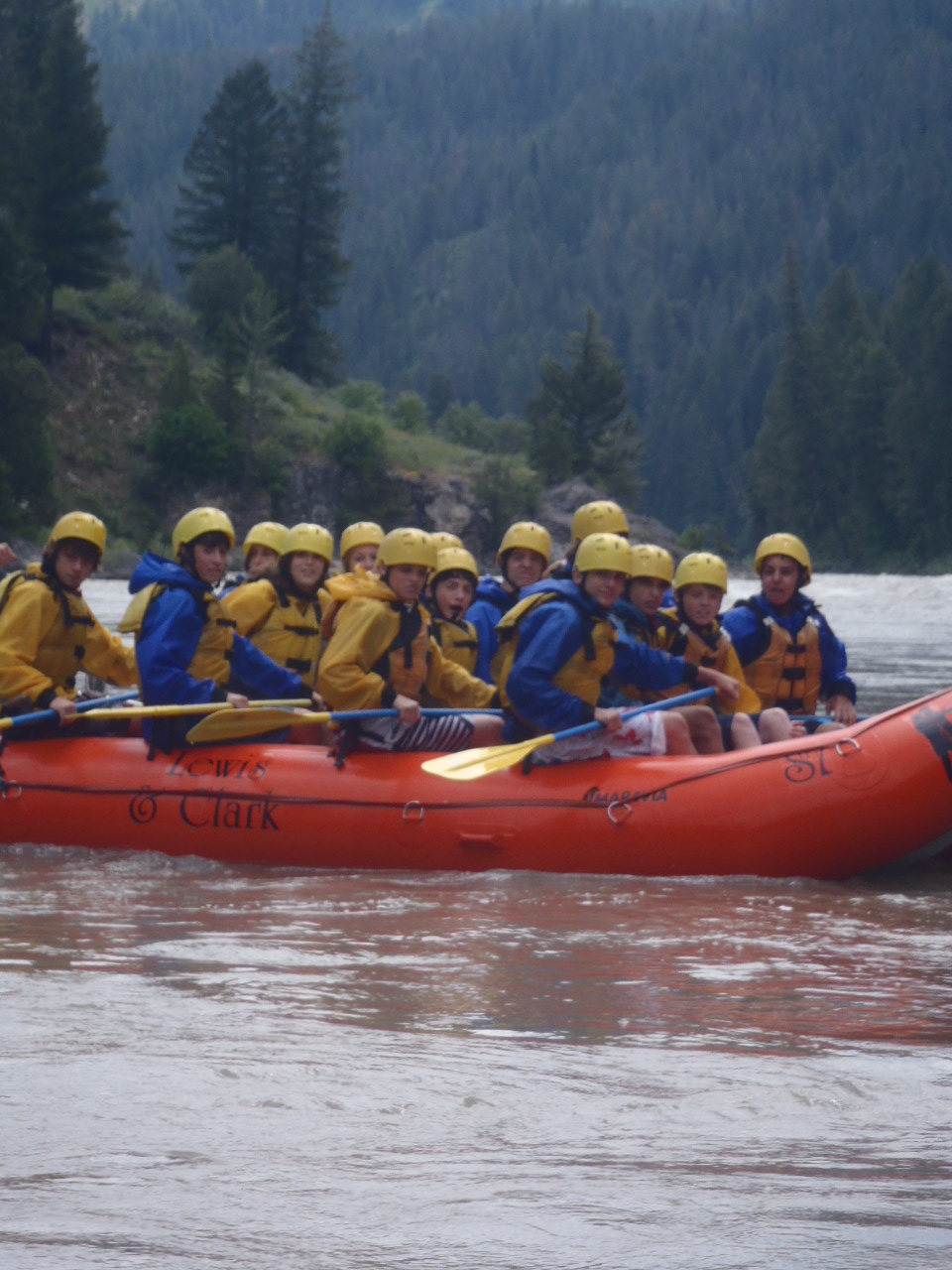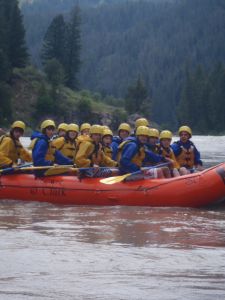 Dear Parents,
What can you say when your summer comes to an end? Sure, there are a few more weeks until school starts, and some of us may be off to Lacrosse camps, Football Camps, Band Camps, Equestrian Camps or vacations with our families; but with the end of the Northwestern Odyssey, one of the highlights of our summer is coming to an end. We've missed our families and friends back home, but in the mean time we've made new friends, become a family and had the chance to grow and take on new challenges, adventures and skills.
Since we last spoke, we've had some fun things to talk about. Our big adventure for Jackson Hole was a whitewater rafting trip down the Snake River. The water was fast and cool, so our ride was a blast! Our river guides expertly navigated us over the rapids and around the bends – some of us chose to overcome our fears of the cold and jump right in on at a calmer point of the river so Caroline, Lea, Erica, Marc, Alex, Spencer, and Haley took the first plunges.  All in all the raft trip goes down as one of the top activities of the trip.
After a nice little movie night in the condos, we were off to bed getting ready to depart on to our next (and final) destination. The drive to Park City was bitter sweet. We were excited for the events that this former Olympic site held, but all of us could sense that our time together really was coming to an end. No more "Dog Days" in the morning, programming during the day, and nights in tents or hotels chatting it up with our friends. We checked in and immediately began to enjoy the pool; it was to no one's surprise that Jay, Spencer and Danny were in the water first…these three have probably enjoyed more pool time than anyone else on tour. Rebecca got help from Sydney in wrapping and packaging up her numerous snow globes (a regular question for every stop was, "can I get a snow globe here?") while some of us lounged around the pool deck. After dinner we hit Main Street and enjoyed an ice cream. The experience blew Jeff's mind as he's never experienced this town without snow.
On our last full day we made our way to the mountain to have a ride on the Alpine Coaster and Zip Rider. Almost everyone was up for the challenge of the long slide down the side of the mountain, resting securely in our harnesses, Eric G. overcame his fear and went for a screaming ride all the way down. Hannah was a little concerned but with the support of her Trip Leader Mariel she did it too! Following that we tried our hand at Alpine Coastering. Doubling up on the carriages we enjoyed a long, lazy ride to the top, only to round the bend and go zooming back down again. We explored Main Street one last time and returned to the hotel for a relaxing afternoon of time in the pool, packing and getting ready for this evening`s banquet. The food was great, the sodas were cold and the music was loud, could we ask for a better party to celebrate the time we had together? One thing that we all agreed on as the last song of the night played is that we had simply the best summer ever!
Thank you Northwestern Odyssey; without Zach A., Spencer, Steven, Adam C., Tucker, Alex, Caroline, Drew G., Ali, Eric G., Jay, Max, William (Bill), Haley, Erica, Rebecca, Zachary L., Jared, Sidney, Harrison, Michael (Ron), Eric M., Alexa, Andrew P., Zach P., Zac P., Adam P., Jon, Jeffery, Hannah, Lea, Andrew S., Zachary S., Andrew T., Ty, Sydney, SJ, Danny, Drew and Marc this summer would have not been the same. Thanks for simply the best summer ever!
The "Odyssey" Staff
The Westcoast Blogger